Hillary feels the Bern despite narrow win in Iowa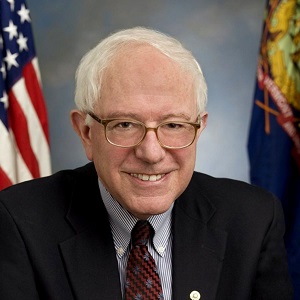 (2 February 2016)
Yesterday's Iowa Caucuses were the opening salvo of the lengthy US primary season as the rubber finally hit the road for the candidates for the Democrats and GOP after almost a full year of campaigning. Conservative Ted Cruz beat Donald Trump for the Republicans while the heavily-favoured Democratic frontrunner Hillary Clinton barely edged out the maverick socialist Senator Bernie Sanders by the narrowest of margins.
While Iowa is not seen as a bellwether for future primaries or the eventual nomination due to its unrepresentative demographics, it can nonetheless raise campaign profiles and give a boost for fundraising. This is surely going to be the case for Bernie Sanders who has come out of nowhere from the extreme left wing of the party to challenge Ms. Clinton, the heir-apparent to Barack Obama as the next nominee for the Democrats in the November Presidential election. Sanders can claim a moral victory in Iowa as he only lost to Clinton by 0.2%.
But can Bernie Sanders really beat Hillary Clinton for the nomination? It seems unlikely according to most political analysts given Hillary's strengths in minority communities and in the South. Although she is widely expected to lose the upcoming New Hampshire primary on February 9th which is next door to Sanders' home state of Vermont, Clinton should do much better in Nevada on February 20th and especially in South Carolina on February 23rd. March should also see Clinton dominate Sanders since most of primaries will be held in southern states. The wild card here may be the possibility that she could be indicted in the
ongoing email scandal
in which she may not have followed State Department policy by using an insecure personal mail server rather that a government server. An indictment would give greater currency to the notion that she is untrustworthy and dishonest.
The Bernie Sanders horoscope
Bernie Sanders' horoscope (September 8, 1941, Brooklyn Heights, NY) reflects much of his current success. There is some question about his birth time, as the commonly used time of 12.27 p.m EDT comes from an indirect and somewhat unreliable source. Therefore, we should take Sanders' house placements and Scorpio Ascendant with a grain of salt. But we can still see some favourable patterns in play here. Key among them is the ongoing Jupiter-Rahu conjunction at 27-28 degrees of Leo. This closely conjoins Sanders' Rahu (29 Leo), a planet of ambition and material gain.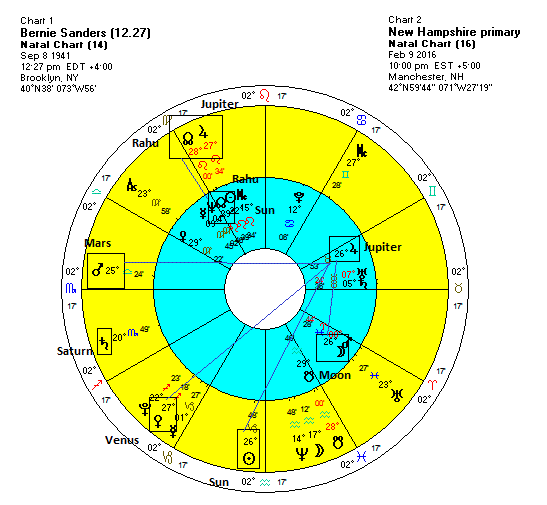 If Sanders really was born at 12.27, Rahu (i.e. the North Lunar Node) is very well placed in the 10th house of status and just a few degrees away from the cusp of the all-important 11th house of gains. Political victories usually require a strong 11th house through transits or dasha period lords. Even if the 12.27 time is wrong and Rahu is in some other house, that double boost from Jupiter-Rahu to his Rahu is usually very good for getting what you want and achieving your goals. Jupiter's presence in this alignment is critical obviously, since Rahu-to-Rahu conjunctions are often difficult. But Jupiter transforms Rahu's effects and puts the emphasis on achievement and fulfilling one's ambitions.
On the night of the New Hampshire primary on February 9th, there will be a nice alignment of Sun, Venus and Mars to his Moon (26 Pisces) and Jupiter (26 Taurus). This is the kind of pattern that coincides with success so it looks like Bernie will win easily as is widely predicted.
But going forward, we can see that the Jupiter-Rahu conjunction is retrograde and slowly moving away from his natal Rahu. This could diminish his momentum in the coming weeks. More ominously, Saturn is due to station at 22 Scorpio on March 25th and will thereby form an exact tense square aspect to his Sun at 22 Leo. The month of March has the greatest number of primaries so this does not bode well for his performance at that time. But we can also see a possible buffer offered by Jupiter which is due to conjoin his Sun also in March and April. But this may not help Sanders in early March, especially on March 1st, Super Tuesday, when 14 states hold their primaries. As an added burden, Mars will oppose his Saturn on that day. It is hard to see Sanders' continuing his early momentum into March given this Saturn influence.
The Bernie Sanders Campaign horoscope
It is a similar story if we look at the horoscope for his campaign. While he did publicly declare his candidacy on April 30th, he officially launched his campaign on May 26, 2015 at 6.00 pm in Burlington, VT. He is riding high now in the wake of the Iowa Caucuses because that Jupiter-Rahu conjunction is in the 11th house of gains and rapidly approaching at conjunction to the Moon at 24 Leo. Also the transiting Sun is now opposite his Jupiter while Venus, Pluto and Mercury all aspect the 10th house Venus in Gemini. This is an additional reason to think that February will go well for him.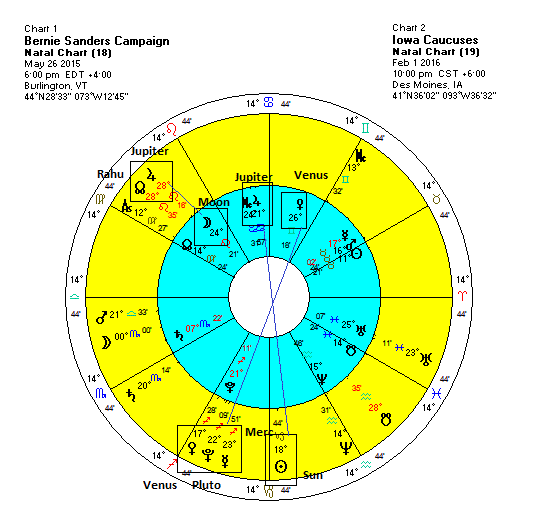 Unlike his natal chart, this chart offers some evidence that Sanders may continue his momentum early into the month of March when Jupiter exactly conjoins the Moon. However, other transits look more difficult. Mars will conjoin the natal Saturn and oppose the stellium of Sun, Mars and Mercury in Taurus in the second half of March. With several key states voting on March 15th including Ohio, North Carolina and Florida, Sanders looks unlikely to do well. And with Mars turning retrograde on April 17th while in aspect to natal Ketu, the Sanders campaign could see its troubles multiply into April. It is possible that Bernie Sanders will suffer a major defeat in mid-April. This loss may even effectively put him out of the race, even if mathematically he is still in it until May.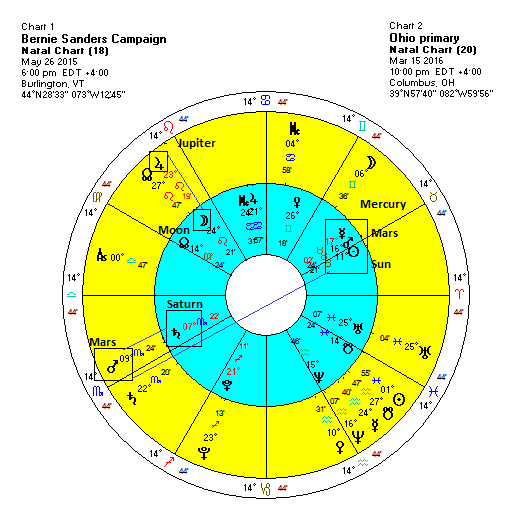 Overall, my assessment of the astrological influences on Bernie Sanders suggests he will not be able to beat Hillary Clinton to be the Democratic nominee. The race may be competitive into March but he will likely fall well behind by March 15th. The race could be more or less over by mid-April. I hope to take a closer look at Hillary Clinton's horoscope before the South Carolina primary on February 23rd.