Predictions & Forecasts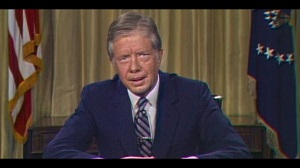 Inflation 2021: a repeat of that 70s show?
(10 June 2021)
As many countries inch closer to economic re-opening, financial markets are keeping a close eye on rising inflation. This morning's May CPI data for the US rose 5% on an annual basis, the highest since 2008 just before the meltdown. Core inflation also rose 3.8%, which as more than expected. Of course, the question is whether this inflation will be "transitory", to use the Fed's term, or the start of a protracted period of rising prices perhaps along the lines of the dark days of the Carter administration in the 1970s.
Certainly, the Fed's transitory view is entirely plausible since there was bound to be a hangover from the huge fiscal and monetary stimulus after the Covid crisis. The bond market seems to be in this camp as yields have continued to trend downwards over the past few weeks. And despite today's high inflation number, yields fell again with the 10-year closing at 1.45%. If inflation was likely to increase down the road, yields would be rising rather than falling as traders would demand more premium to cover any anticipated loss of value.
Read more...
---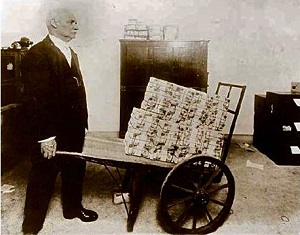 US stocks mixed on inflation concerns
(3 June 2021)
US stocks have moved sideways over the past two weeks as inflation risks continue to weigh on sentiment. While the economic outlook is encouraging for 2021 amid re-opening and the successful vaccination campaign, some uncertainty remains. Government income support is gradually being withdrawn in coming weeks as many states are ending the unemployment benefit top-up in an effort to get people back to work. The winding down of fiscal stimulus could thus temporarily weaken consumer demand and undermine the strength of the recovery.
Despite rising inflation, stocks did manage to rebound in late May, albeit to a lower high. I thought we might have seen a bit more volatility at that time, especially given the Saturn retrograde station on May 23. That said, we have seen some modest downside this week in the wake of Mercury's retrograde station on May 29. While retrograde stations aren't always bearish, they nonetheless carry an increased risk of downside.
Read more...
---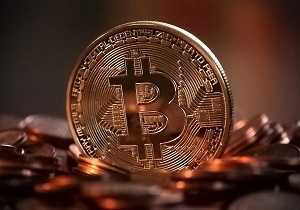 Bitcoin falls 50% in crypto crash
(20 May 2021)
The speculative mania in cryptocurrencies has suffered a body blow over the past week as the price of Bitcoin has fallen 50%. Bitcoin had traded as high as $60,000 in early May but briefly touched the $30,000 level on Wednesday. It has recovered somewhat today and is currently valued at $42,000. Other currencies like Ethereum and Dogecoin have followed suit as the air has suddenly gone out of the crypto balloon. As it happens, the troubles coincided with Elon Musk's much-anticipated appearance on Saturday Night Live on May 8. Musk is a big booster of crypto and his company Tesla even bought a large stake in Bitcoin and was preparing to accept payment for his cars in Bitcoin.
But things changed recently as Bitcoin's massive energy use and greenhouse gas emissions have become a lightning rod for criticism. Last week, Musk himself was forced to admit that Bitcoin's huge carbon footprint essentially disqualified it from becoming a viable alternative currency in its current form. Musk also backtracked on his promise to accept Bitcoin as payment for Tesla vehicles.
Read more...
---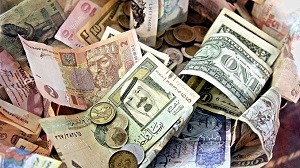 Stocks dive on inflation fears
(13 May 2021)
Inflation fears have hit financial markets this week as April's annual rate of 4.2% was the highest in 13 years. Most commodities like oil, copper and oil have enjoyed sharp price increases in 2021, but this huge CPI number now forces investors to consider the risks of possible Fed tightening sooner than expected. Inflation is bad enough for markets, but premature Fed tightening would be worse as it would mean less liquidity and faster tapering of the Fed's QE asset purchases.
This week's decline is not unexpected given the difficult planetary alignments. As I have noted previously, the month of May looked much less bullish for stocks than April due to the prominence of Saturn. This week Saturn has come under the double afflictions of Rahu (North Lunar Node) and Mars. Saturn is a bearish planet, of course, and this double dose of negativity translated sharp falls across many markets. The S&P 500 was down more than 4% from its high last week, although today did see an oversold bounce as dip buyers stepped in at key support.
Read more...
---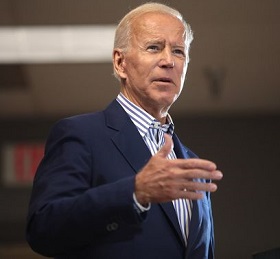 Saturn threatens Biden's honeymoon
(6 May 2021)
By all accounts, Joe Biden has taken firm control of the reins of power in Washington, DC during his first 100 days in the presidency. Biden has overseen the successful vaccine rollout and authored bold stimulus and infrastructure proposals worth more than $5 Trillion. The infrastructure plan is also designed to tackle growing inequality by raising taxes on the wealthy while making improvements in education and housing that benefit lower income people.
Despite the usual partisan criticisms, these initiatives seem fairly popular so far with Biden enjoying a 53-41 approval rating. But as history shows, the honeymoon of new presidents doesn't last forever. In Biden's case, I suspect that things may take a turn quite soon.
As I have noted previously, Biden is likely to have to face some very challenging situations here in the month of May.
Read more...
---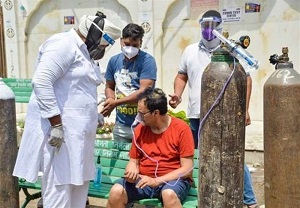 India's Covid crisis
(29 April 2021)
Tragedy continues to unfold in India this week as Covid infections are setting new record highs with each passing day. Official statistics list 379,000 new infections and more than 3000 deaths today but experts suggest that the real numbers may be several times higher than that. Many countries are now sending relief supplies of oxygen and vaccine ingredients to help India meet the challenge of this deadly second wave.
With the vaccination program still in its early stages, the ongoing crisis seems likely to continue for the short term at least. As I noted in a post two weeks ago, the horoscope of India (Aug 15, 1947) is highly afflicted until at least late May. At that time, Saturn is due to turn retrograde and thus it would begin to separate from its opposition aspect from Venus, which is the all-important lagnesh (1st house ruler) in the chart.
Read more...
---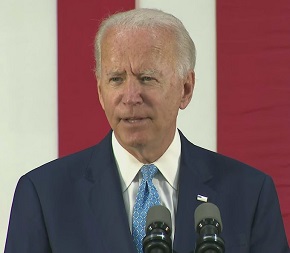 Biden plan to hike capital gains tax surprises markets
(22 April 2021)
Stocks fell suddenly this afternoon on reports that President Biden intends to nearly double the capital gains tax for wealthy investors. While Biden has made no secret of his intention to increase taxes on the rich, the news caught the market off-guard. Stocks had been fairly choppy already this week as renewed virus concerns has damaged the economic outlook in several countries.
As I noted in last week's post, stocks are increasingly vulnerable to declines in the weeks ahead as the bullish influence of Jupiter may be starting to weaken. US stocks have been quite buoyant thus far in April as Jupiter approached its alignment with Pluto. While this 30-day degree alignment is not a traditional full-strength Vedic aspect, it nonetheless has coincided with some optimism. After its exact alignment on Tuesday, April 20, however, its positive energy may begin to diminish.
Read more...
---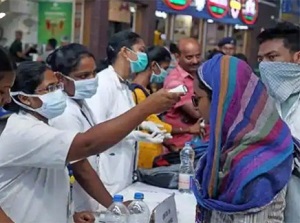 Covid update: India confronts surge; US sees uptick in cases
(15 April 2021)
Despite the rollout of several effective vaccines across the world, there has been a troubling rise in Covid infections in recent weeks. New, more contagious variants are being blamed for these second and third waves of the virus which has forced new lockdowns in Europe, Brazil, Canada and now India. India's recent surge in cases to over 200,000 a day greatly exceeds the size of its first wave in 2020, as it now holds the distinction of recording the highest number of daily new cases of any country.
The US has also seen a modest rise in total cases in recent weeks, even though 37% of the population have received at least one dose of the vaccine. The more transmissible variants from the UK, Brazil, South Africa and now India may well be driving the new infections as states such as Michigan, Florida and Pennsylvania may soon be faced with the prospect of locking down yet again.
Read more...
---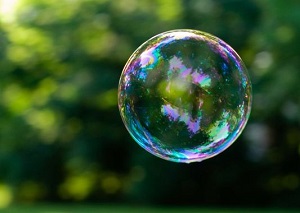 Are stocks in a bubble?
(8 April 2021)
If the Fed has its way, the party may never end. US stocks cruised to a new record high today as the Federal Reserve again reassured investors that its easy-money policies would remain in place for the foreseeable future. Stock indexes have nearly doubled from their Covid lockdown lows in March 2020 as the Fed's QE asset purchases has successfully enticed capital into riskier instruments like stocks in an effort to stimulate economic growth.
While the gains have been impressive over the past 12 months, some observers are beginning to wonder how long the good times can last. All theses government and Fed interventions raise the possibility that the 12-year old bull market may have entered an unsustainable bubble stage. And yet as inflation expectations rise alongside bond yields, it is still possible that the rally could continue for a while yet as the trapped Fed has no other options but to further inflate the bubble or else face systemic insolvency.
Read more...
---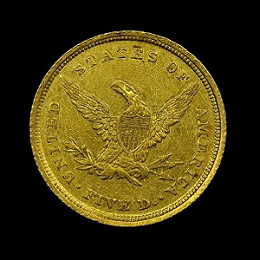 Gold falls below $1700 as dollar rallies on reopening hopes
(31 March 2021)
It seems nobody likes gold these days. Bitcoin grabs all the headlines as it approaches $60,000, while gold has been in decline ever since its record high of $2089 last August. More recently, gold has trended lower as optimism surrounding the vaccine rollout and economic re-opening has bid up the US dollar and taken bond yields sharply higher. Typically, gold is inversely correlated with the dollar and long term yields.
This week gold retested its early March low of 1673 before rebounding today to $1715. Gold's weakness this week is a reflection of difficult planetary set ups. In terms of transits, both the Sun and Venus are under affliction by Saturn and Ketu (South Lunar Node).
As a general rule of thumb, the price of gold tends to fall when either the Sun or Venus comes under the influence of malefics such as Saturn or Ketu.
Read more...
---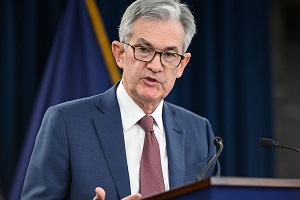 Bond yields remain elevated as Fed warns on inflation
(24 March 2021)
Bond yields have moved back up to their pre-Covid levels in recent weeks as investors reassess inflation risks amid the optimism of the vaccine rollout and the growing prospects for economic recovery. Yesterday, Fed Chair Jay Powell cautioned that inflation would likely rise this year but it would be "transitory" and unlikely to last. That may well be, but financial markets will likely have the last word in the matter as commodity prices have soared in 2021 and there are increasing number of reports of material shortages and production bottlenecks.
While rising bond yields can be positive and reflect a return to normal, they also may introduce a new logic for investors. Suddenly, the 10-year Treasury bond is yielding 1.62% which is about equal to the dividend yield of the S&P 500. If yields can stabilize in this 1.5-2% area, then that would suggest a diminishing fear of inflation. And that could make Treasuries more attractive relative to stocks, which could produce some downside for equities as portfolios are rebalanced.
Read more...
---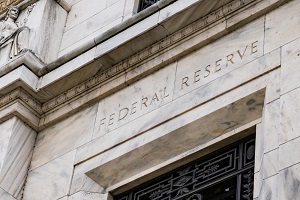 Markets rally as Fed promises no hikes until 2023
(17 March 2021)
To no one's surprise, Fed Chair Jerome Powell has refilled the punch bowl yet again. In today's FOMC meeting, Powell reaffirmed his commitment to an ultra-loose monetary policy of zero percent interest rates and $120 Billion a month in QE asset purchases. Despite recent inflation worries and sharply rising bond yields, Powell asserted there would be no rate hikes until 2023 at the earliest. Markets rallied modestly to new all-time highs as investors anticipated stronger growth in a post-Covid world.
Jupiter is still very much in the driver's seat here. Since Jupiter is a bullish influence, markets tends to rise whenever it forms a close alignment with a slower-moving outer planet. This seems to be the case at the moment as Jupiter approaches its 30-degree alignment with Neptune, which is exact on March 20. While this is not a major Jupiter aspect by either Vedic or Western reckoning, angular separations of any 30-degree multiples can often coincide with a rise in stock prices.
Read more...
---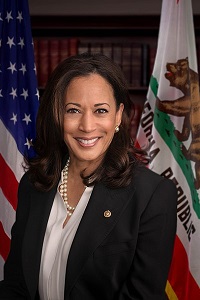 Biden health questions raises possibility of President Harris
(11 March 2021)
Recent events have renewed concerns about President Biden's health and mental condition. In the latest incident, while giving public remarks, Biden forgot the name of his Secretary of Defense (who was standing right behind him) and could not remember "the Pentagon" as the building which houses the Department of Defense. While the mainstream media has largely given Biden the benefit of the doubt about these kinds of gaffes, there are nonetheless more questions being asked about his fitness for office.
Last month, I suggested that serious
afflictions in President Biden's horoscope
in May and June could indicate either a personal health problem or a significant setback in the fight against Covid. While I'm still uncertain, new concerns about Biden's cognitive decline suggests that the personal health problem scenario needs to be examined more carefully.
To recap, Saturn is due to station retrograde at 19 Capricorn in late May.
Read more...
---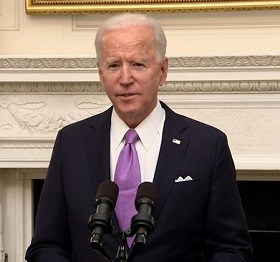 Dow hits new record as Congress passes Covid stimulus bill
(10 March 2021)
US stocks rebounded strongly from last week's lows as Congress finally passed the $1.9 Trillion Covid stimulus bill today. President Biden is expected to sign it into law on Friday. This bullish outcome was not unexpected as I noted in last week's update that bullish Jupiter would likely assume a greater influence on sentiment this week. Stocks began their rebound when Jupiter conjoined Mercury last Friday (March 5). The market rallied further this week as Jupiter formed a 30 degree alignment with Sun and approached another 30-degree alignment with Neptune.
The month of March is shaping up to be a battle royale between bullish Jupiter and bearish Saturn. March began with some apparent additional fallout from the ongoing Saturn-Uranus alignment that was exact on Feb 17 -- just one day after the interim high on the S&P 500.
Read more...
---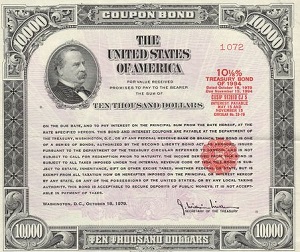 Stocks volatile on bond and inflation worries
(3 March 2021)
Stocks are looking more vulnerable in recent days in the wake of last week's bond market scare. The yield on the US 10-year Treasury bond has remained elevated after the spike to 1.6% as investors are growing increasingly nervous about inflationary pressures. After the recent rally in commodities such as oil, lumber and copper, the bond market is starting to price in higher inflation as rising costs will be passed on to consumers. Bond buyers are therefore demanding a higher risk premium and this is pushing up interest rates at the long end of the curve. Significantly higher interest rates are the last thing the economy needs right now as highly-leveraged companies could soon find it difficult to service their debt.
The planetary influences look quite mixed here as we begin the month of March. The market is still off its mid-February high which coincided almost exactly to the Saturn-Uranus square alignment.
Read more...
---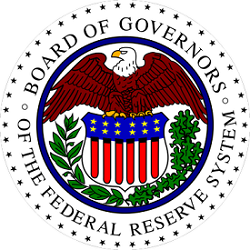 Rising bond yields signal higher inflation ahead
(24 February 2021)
The Covid speculative bubble continues to blow bigger in 2021 as investors buy up everything from Bitcoin to blue chips. With the Fed keeping its QE liquidity taps open, stock markets are back in record territory, while home sales soar with the Covid-driven demand for single-family dwellings. While asset prices have been successfully inflated in keeping with the Fed's mandate, bonds have been the big loser.
As hopes have grown for an economic recovery following the November vaccine announcements, bond yields have steadily risen as the interest rate on the benchmark 10-year Treasury note is now near 1.4%. (N.B. bond yields/rates vary inversely with bond prices.) The Fed typically manages short term rates (now at 0%), but longer term interest rates are still determined by the market. Based on the recent rise in yield, the market is signaling that inflation is coming.
Read more...
---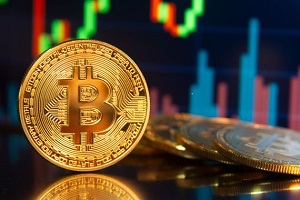 Bitcoin tops 50,000
(17 February 2021)
Propelled by a recent endorsement by Tesla's Elon Musk, bitcoin has resumed its rally here in February, hitting a new record today of 52,000. The cryptocurrency is riding high these days as more mainstream companies like BlackRock and Mastercard are adopting bitcoin either as an investment or as payment. While Bitcoin has tripled in price since November, it remains to be seen if this is merely a speculative bubble or the beginning of a sustainable alternative to traditional fiat currencies.
The recent price increase is due, in part, to the favourable transit of Jupiter. The January pullback coincided with a close 60 degree aspect from Saturn to the natal Moon. Near the interim low in late January, bearish Saturn weakened as it moved past its aspect, and bullish Jupiter conjoined Rahu (North Node) and the 7th house cusp (14 Capricorn). Therefore, Jupiter was exactly opposite the most sensitive point in the chart, the Ascendant at 14 Cancer. This was a very good bullish set-up.
Read more...
---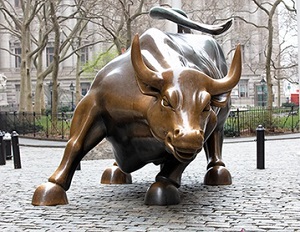 Saturn-90-Uranus: Is this the final year of the bull market?
(10 February 2021)
As US stocks hit another all-time high today, one wonders if this 12-year old bull market will ever end. With the Federal Reserve doing somersaults to keep the bull party going, more observers are talking about the bull market as the default setting for the foreseeable future. Of course, from an historical perspective, stocks do tend to rise over time. But previously, bull markets were followed by bear markets as a reflection of the ebb and flow of the capitalist economic cycle.
But ever since the 2008 meltdown, the Fed has been keen to keep interest rates low and buy bonds and other debt instruments in order to push more investors into risky assets like stocks. The Fed's stated goal is to generate a "wealth effect" by driving stocks higher so that enriched investors spend more freely and thereby boost the consumer-based economy.
Read more...
---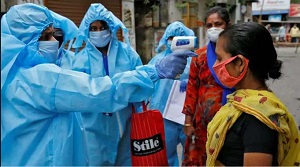 Covid variants complicate pandemic recovery
(3 February 2021)
As the world enters its second year of the pandemic, progress is very much a mixed bag. On the plus side, several highly effective and safe vaccines are now being rolled out in most countries around the world. While there have been significant bottlenecks in production and distribution, there is a widespread expectation that herd immunity through mass vaccination can be achieved by the end of 2021 in some countries.
On the other hand, several new and more dangerous variants of the SARS-CoV-2 virus have emerged in recent months. The new variants from the UK, South Africa and Brazil are more transmissible and have somewhat higher rates of mortality. However, the current second lockdown seems to have helped to limit the spread of the virus so that new case numbers are starting to decline.
Read more...
---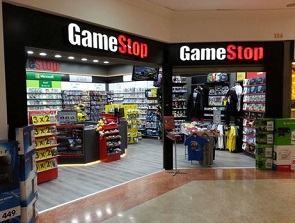 GameStop short squeeze roils markets
(27 January 2021)
Stocks tanked today as nervous investors headed for the exits amid the GameStop short squeeze. The video game retailer (ticker: GME) has become the focus of intense speculation in the past two weeks as members of the Reddit chatroom, WallStreetBets, co-ordinated a short squeeze against large hedge funds that had heavily shorted the stock, largely through the purchase of highly leveraged call options.
As a result of the explosive 20-fold rise in the share price, the older, established hedge funds have lost billions of dollars at the hands of mostly young, amateur traders. This generational David and Goliath story is taking place when the market is at all-time record highs, thanks largely to injections of Fed liquidity, QE asset purchases and near-zero interest rates. The unprecedented speculative frenzy is leading some observers to wonder if the current financial bubble is about burst.
Read more...
---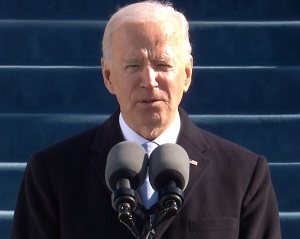 Markets cheer Biden Inauguration
(20 January 2021)
US stocks rallied to new all-time highs today as Joe Biden was sworn-in as the 46th president of the United States. Markets have responded favourably to Biden's promise of more stimulus and more spending amid an ongoing pandemic which has left millions without jobs and without hope. While the economy continues to sputter, the outlook for 2021 is more positive as vaccine rollouts should allow for a full recovery.
The stock rally looks very overbought here as the S&P 500 is trading at 14% above its 200-day moving average. Other indexes are even more stretched as the Nasdaq-100 is trading at 19% above its 200 DMA and the small cap Russell 2000 is trading at an incredible 29% over its 200 DMA. While the powerful upward momentum is clearly bullish, it seems that a significant pullback is only a matter of time.
Read more...
---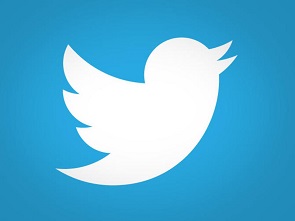 Twitter bans President Trump after US Capitol attack
(13 January 2021)
These are anxious days for the United States. In the wake of the attack on the Capitol building in Washington, DC, Americans are being confronted with some serious questions about the direction of their country. Even though the Trump presidency will end next week, Trump is likely to remain a significant source of opposition over the next four years.
Not even a Senate impeachment conviction in the coming weeks will keep Trump from maintaining his hold over most of the conservative half of this deeply divided country. While a conviction of the impeachment charge would forbid him from holding the presidency again, Trump will still have millions of loyal supporters who will continue to feel aggrieved over this election result.
Read more...
---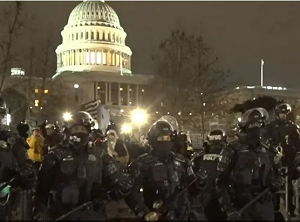 Trump finale: supporters storm US Capitol to block EC vote
(6 January 2021)
Despite all hopes to the contrary, 2021 has basically picked up where 2020 left off. Today, supporters of President Donald Trump stormed the Capitol in Washington, DC and stopped the formal certification vote of the Electoral College. Following a fiery morning rally in which the President Trump claimed the election was stolen, protestors pushed through police barricades to occupy the Senate in an attempt block the Electoral College votes from being cast for President-Elect Biden. The EC vote was not completed and will resume later tonight in preparation for the Inauguration on January 20.
The shocking turn of events may be seen as an exclamation point to mark the end of the term of Donald Trump. The riot in DC overshadowed the Democrat win yesterday in both Georgia Senate seats which guaranteed Joe Biden a more comfortable path to enact his policies.
Read more...
---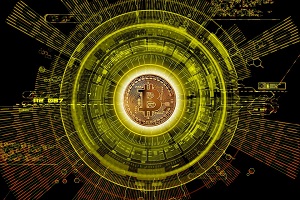 Bitcoin hits all-time high to close out 2020
(30 December 2020)
As the world says goodbye and good riddance to 2020, all is not well in financial markets. To be sure, many stock markets are near all-time highs as the Fed's QE liquidity injections have succeeded in their goal to boost the value of risk assets. This asset inflation has come at the expense of the US dollar as the greenback has fallen to its lowest level in almost three years. More worryingly, bitcoin has made new all-time highs in recent days.
As a reaction to the unprecedented levels of debt and government intervention, Bitcoin has hit record highs this year and traded above $28,000 today. On the face of it, the new highs in bitcoin are a simple reflection of the weakness of the US dollar as the Fed and the US government have borrowed and printed in an effort to prop up the economy during the pandemic. The surge in the supply of dollars is the main reason for the decline in its value relative to most other assets, including bitcoin.
Read more...
---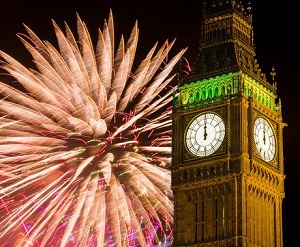 After Covid: the New Year's horoscope for 2021
(23 December 2020)
After enduring this plague year of 2020, most of us feel that January 1, 2021 can't come soon enough. The dreadful Covid pandemic has the world looking ahead with eager anticipation to the New Year. Certainly, 2021 couldn't be any worse than 2020 and indeed there is good reason for optimism as vaccine rollouts are already underway. A return to some semblance of normal life seems within reach over the next 12 months, even if a return to the
status quo ante
may take a while longer.
One way to glimpse into the future is to take a look at the New Year's horoscope. The planetary alignments at the stroke of midnight on January 1 can provide useful clues for what is to come over the next 12 months. A mostly good year will usually feature benefic planets like Venus and Jupiter in prominent positions while more challenging years will typically see Mars or Saturn occupying significant places in the horoscope.
Read more...
---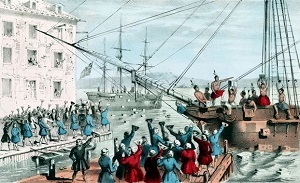 Pluto enters Capricorn: "The Great Reset"?
(16 December 2020)
As 2020 winds down, there is a sense that we are collectively turning the page. The vaccine rollout has begun and promises to put the pandemic behind us in 2021. Also, the new Biden administration will mark a clear break with the Trump presidency and suggests a new direction for the US. Throughout the world, there are some voices now calling for a "Great Reset" -- a fundamental reshaping of the economy and society in wake of the Covid experience. The Great Reset has been championed by international agencies such as the UN and the World Economic Forum to create a more equitable world that shifts the focus away from capitalism towards a more socialist vision.
It is interesting to note that all this talk of a new era coincides with two fairly rare astronomical alignments. As many have noted, Jupiter is due to conjoin Saturn on December 21 in the sign of sidereal Capricorn.
Read more...
---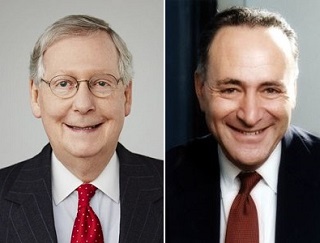 The battle for the Senate: the Jan 5 Georgia run-off elections
(9 December 2020)
With the failure of President Trump's attempts to overturn the election results after Monday's safe harbor deadline, attention is now focused on the upcoming Georgia Senate run-off elections on January 5. Both Georgia Senate seats are up for grabs and the GOP only needs to win one of them for Mitch McConnell (left) to maintain control of the Senate. The Democrats under the leadership of Chuck Schumer (right) therefore have to win both seats in order to gain control of the upper chamber and thereby boost Joe Biden's ambitious legislative agenda on taxes and the environment. Polls suggest both races are very close and could go either way, although the GOP appears to have a slight advantage.
While I may attempt a chart analysis of both contests (Perdue-Ossoff; Loeffler-Warnock) in the coming weeks, I thought I would examine the charts of the Senate leadership since the outcome is more likely to show up more directly in the horoscopes of McConnell and Schumer.
Read more...
---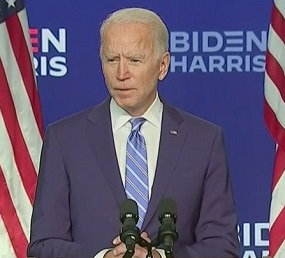 Looking ahead to the Biden presidency
(2 December 2020)
With the presidential transition now fully underway, this is a good opportunity to consider the possible contours of a Biden presidency. No doubt, it will be a sharp contrast to the Trump presidency in terms of style, tone and policy. Although widely seen as a moderate, Biden is expected to nonetheless move the country to the left through higher taxes on the wealthy and a renewed commitment to environmental and climate initiatives. But how is the US likely to fare under his administration?
One useful perspective on this question is to examine the horoscope of Biden's inauguration on January 20, 2021 in Washington, DC. While the exact timing of Biden's swearing-in is significant, the Constitution stipulates that the incoming president assumes the duties of the office at noon. Therefore, a chart cast for noon on Inauguration Day can reveal some of the significant themes and trends that could emerge over the next four years.
Read more...
---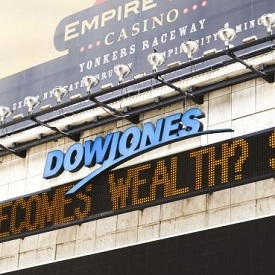 Dow Jones hits record high 30,000 on vaccine optimism and Biden transition
(25 November 2020)
Stocks extended their November rally this week as the latest vaccine announcement reassured investors that the end of the pandemic is now within reach. Markets also cheered the start of the formal transition process of the incoming Biden administration as President Trump finally backed off from his previous objections. The Dow Jones Industrial Average hit a new all-time record high on Tuesday as it closed above 30,000 for the first time.
Despite the lockdowns and widespread economic hardship, stocks have rallied off the March low on unprecedented intervention by the Federal Reserve and other central banks around the world. Markets are now anticipating a return to normal growth in 2021 post-Covid, albeit with continuing support from the Fed.
Read more...
---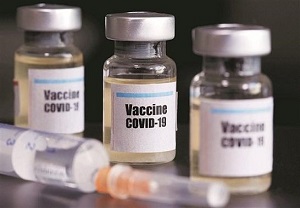 Markets weigh vaccine hopes against new lockdowns
(18 November 2020)
Stock markets have been fairly positive in recent days as the Moderna vaccine news gave investors more reason to hope for a return to normal in 2021. Some of that optimism had faded by Wednesday's session, however, as new lockdowns were announced in various cities and states across the US and Europe. So while markets tend to look 6-12 months into the future, the prospect of fresh lockdowns challenges the bullish view of a slow but steady improvement in the economy.
Stocks have been mostly bullish in November, in part due to the conjunction of Jupiter with Pluto which was exact on Nov 12. Jupiter is a bullish planet, of course, and its conjunctions with outer planets (Uranus, Neptune, Chiron and Pluto) usually coincide with up trends in the market.
Read more...
---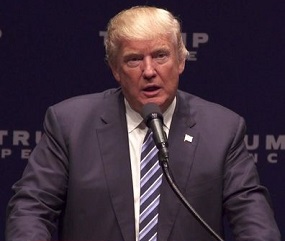 Trump challenges US election results
(11 Nov 2020)
Despite Joe Biden's widening lead in the vote count, President Donald Trump has yet to concede to his Democratic opponent in the US election. Instead, Trump has claimed that Biden has benefited from voter fraud in several hotly contested states. To this end, the Department of Justice this week launched investigations into apparent irregularities in the vote which could form the basis of a formal legal challenge to the results. Since Biden's lead is less than 1% in several states, it is possible that state outcomes could be reversed if significant fraud is uncovered and illegal votes are removed from the tally.
Trump's refusal to concede isn't surprising, since he already stated that he would not accept a loss in the election. While the media and many world leaders have already recognized Joe Biden as the winner and President-Elect, there has not yet been a formal announcement by the overseeing office of the GSA. Given the recounts now underway and possible legal challenges, formal announcement of the winner and certification of the results may take several more days at least.
Read more...
---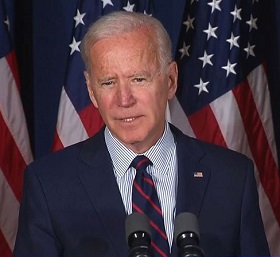 US election aftermath: Biden closes in on presidency
(4 November 2020)
Democrat nominee Joe Biden seems to be on the verge of winning the presidency tonight as the former vice president only needs to win one more state to reach the threshold of 270 Electoral Votes. The several remaining undeclared states are still too close to call as mail-in ballots will decide the final outcome. Not surprisingly, President Donald Trump is already contesting the results and has requested a recount in Wisconsin and an investigation into Arizona's mail-in ballots.
Biden's current lead in the voting is not unexpected as I had previously suggested that the planets on Election Day favoured him over Trump. The current Jupiter-Pluto conjunction at 27-28 Sagittarius aligned very closely with his unequal 10th house cusp (26 Leo) of status and career. Also the Sun conjoined his natal Mercury (19 Libra) today which provided an additional infusion of energy. Since the Sun rules his 10th house of status while Mars rules his 1st house, this 1-10 combination is a powerful signature for public profile and success.
Read more...
---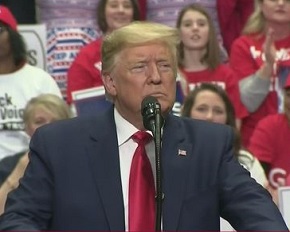 Trump still lagging in polls; stocks plunge on European lockdowns
(28 October 2020)
The campaign has now entered its final week ahead of next Tuesday's election. The national polls suggest President Donald Trump is trailing Democrat nominee Joe Biden by about 7 points. However, some key swing states such as Pennsylvania and Florida are much closer races and keep open the possibility of a 2016-style come from behind win by Trump. Therefore, if he can eke out narrow wins in these states as he did in 2016, he could still end up losing the popular vote by 3 or 4 points and remain president. That scenario still seems unlikely since Biden's lead is larger than Hillary Clinton's was, but as we know, polls are not always right.
From an astrological perspective, the planets still don't favour Trump next week. As I have noted previously, the election night transits look worse for Trump than for Biden. Mercury will station direct on Election Day while in an exact square aspect with Saturn.
Read more...
---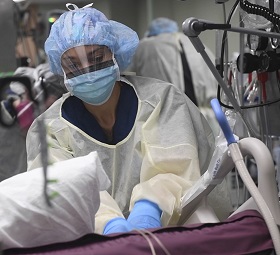 The Covid second wave takes hold
(21 October 2020)
It would seem the second wave of Covid-19 is now underway. The number of infections and hospitalizations are spiking across the world as the coronavirus makes its much-anticipated return with the arrival of cooler weather in the northern hemisphere. As an indicator of the spread of the virus, positivity test rates are now as high as 10% in the US, UK, France and India while most East Asian countries continue to keep the pandemic under control.
Certainly, the experts had predicted a second wave since people tend to congregate indoors more with the fall season. Nonetheless, this autumn second wave also validates my previous astrological assessment using the chart of US president Donald Trump as a proxy for the United States. In a previous post from May 5, I suggested that the
ongoing afflictions to Trump's horoscope
indicated the likelihood of a second wave in late September, with a possible third wave in December.
Read more...
---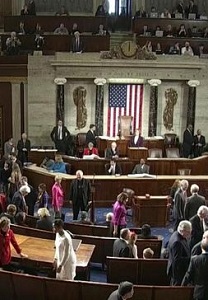 Mercury turns retrograde as hopes fade for a US stimulus bill
(14 October 2020)
This week US markets began to consider the possibility that there would be no stimulus bill before the election as hopes faded for an agreement between the White House and the Nancy Pelosi's House Democrats. After Monday's gains almost matched the early September highs, stocks moved lower this week, as Mercury turned retrograde on Tuesday after the close. Mercury's retrograde stations are often bearish for stocks as the backward movement of the planet of commerce often correlates with pullbacks.
This political situation feeds into the larger question is whether this week's pullback may be a preview of a larger decline given the ongoing uncertainty about the outcome of the US election on November 3. While Democrat Joe Biden is well ahead in the polls, investors remain concerned about a possible contested election where President Donald Trump finds a way to appeal the result to the Supreme Court. A contested election result would be bad news for markets.
Read more...
---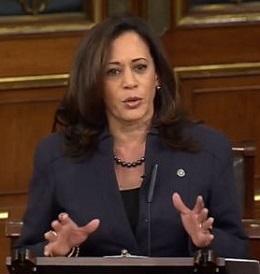 VP debate preview; Trump treated for Covid
(6 October 2020)
The roller coaster of 2020 never stops it seems. President Donald Trump was diagnosed with the coronavirus last Friday but has returned to the White House after a short hospital stay. Trump's condition has improved since the weekend although doctors are watching him carefully in the event of further symptoms. In some patients, the second week can be worse than the first week.
Trump's diagnosis is reflected in a difficult planetary alignment. As noted last week, the month of October was likely going to bring bad news for the president since he was experiencing an unusual multi-planet alignment of malefic planets. The Lunar Nodes, Rahu and Ketu, have returned to their natal position where they also conjoin Trump's Sun and Moon, since he was born on a lunar eclipse when the Sun is conjunct Rahu and the Moon is conjunct Ketu.
Read more...
---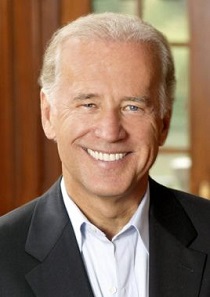 Biden wins first debate against Trump
(30 September 2020)
Democratic nominee Joe Biden came out on top after Tuesday's chaotic debate with President Trump. The 77-year old former vice president's steady and reassuring performance against an often-agitated Trump laid to rest concerns about his cognitive abilities. Biden's debate win moved the election betting odds another 3% in his favor after the debate. Biden now holds a comfortable 18-point lead in the political betting markets to go along with his 6-point lead in the national polls.
Biden's win came despite some difficult transits that I noted in last week's post. For example, I had wondered if Mercury's opposition to Biden's Moon might have confounded his attempts to logically communicate his message to voters since this combination tends to be more commonly associated with more imaginative and impressionistic thinking. In a way, we could say that Trump's constant interruptions did prevent Biden from communicating his platform clearly.
Read more...
---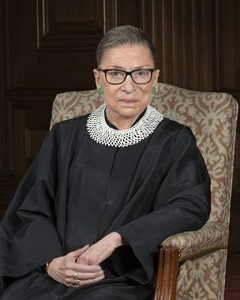 The passing of RBG reshapes the race ahead of next week's debate
(23 September 2020)
Last week's passing of Supreme Court Justice Ruth Bader Ginsburg has introduced a new dynamic into the US election campaign. The loss of the left-leaning RBG could mark a significant rightward shift in the Supreme Court if Trump and the GOP carry through on their promise to appoint her successor. As of now, Trump and the GOP-controlled Senate have the 50 votes necessary to confirm a new justice over the coming weeks, regardless of who wins the election on November 3. The administration's term concludes on January 20, 2021 so even if Trump should lose the November election, the confirmation of a conservative justice such as Amy Coney Barrett or Barbara Lagoa could still take place sometime in November or December.
This development is likely a political boost for Trump. The prospect of another conservative member of SCOTUS will likely increase the enthusiasm and turnout of his voting base.
Read more...
---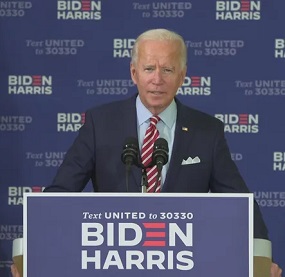 When will the US election be decided?
(16 September 2020)
There are only 47 days left until the US presidential election. However, an increasing number of people do not expect the election to be decided on November 3. Due to a number of contested issues, both Republicans and Democrats have expressed a reluctance to immediately concede the election regardless of the result. President Donald Trump has sought to raise questions about the legitimacy of a sudden surge of mail-in ballots due to the Covid pandemic. And prominent Democrats such as Hillary Clinton have urged nominee Joe Biden not to concede on election night under any circumstances given the varying and confusing array of state rules pertaining to mail-in ballots.
Aside from the mutual distrust of both camps, several million mail-in votes likely won't be counted until several days after election day in any event as some states will accept votes that are postmarked November 3. So even if there is a landslide win for either side, it seems almost certain that the winner won't be declared for up to a week after the election.
Read more...
---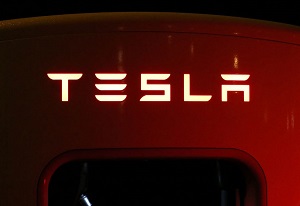 Tesla falls 30% as tech bubble bursts
(9 September 2020)
The Covid tech bubble finally rediscovered the forces of gravity over the past week as big tech firms such as Apple and Tesla saw their share prices fall sharply. Ironically -- but perhaps not surprisingly -- the high-water mark for the tech sector may have been last week's stock splits of market darlings Apple and Tesla. Both high-flying stocks began trading the new post-split shares on Aug 31. Tesla peaked on Aug 31 and Apple just one day later and both have suffered huge declines since. Tesla has fared worse, falling more than 30% from its high last Monday.
We can see how the current planetary alignment may have negatively impacted the Tesla share price. Using the Tesla IPO horoscope for June 29, 2010, it is clear that the current tense alignment of Mars, Saturn and Ketu has highlighted a couple of key points in the chart. First, the Ascendant at 1 Leo is activated by Saturn (1 Capricorn) as it approaches its direct station in that same degree on September 29.
Read more...
---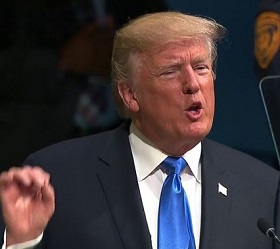 Will Mars retrograde boost Trump's campaign?
(2 September 2020)
With just two months to go before the election, President Donald Trump finds himself trailing in the polls behind Democratic challenger, Joe Biden. While Trump has seen a slight uptick in support over the past few weeks, Biden still enjoys a solid 7-point lead. Trump's polling numbers have trended modestly higher in August as he has benefited from the ongoing rioting and civil unrest in cities such as Portland, Seattle and most recently, Kenosha, Wisconsin. As an early indicator of possible growing support, political betting markets now see a 50% chance of a Trump win in November. This is up from just a 35% chance of winning at the beginning of August. Betting markets are less reliable than polls, however.
This upward trend in support may well continue into September. Previously, I suggested that the Biden-Harris campaign would likely experience a significant setback in September. This was closely related to the Mars retrograde station that occurs on September 9.
Read more...
---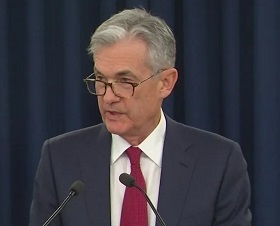 Markets await keynote speech from Fed Chair Powell
(26 August 2020)
US stocks continued their march to new record highs this week as investors look forward to tomorrow's keynote speech by Fed Chair Jay Powell at the annual Jackson Hole Conference. Powell is expected to announce a major shift in the Fed's inflation policy, most likely to allow for more inflation through the notion of "average inflation". So instead of keeping its strict inflation ceiling of 2% per year, the Fed would temporarily accept higher rates of inflation without having to raise interest rates. The higher limit for inflation is designed to give the Fed more leeway in its various stimulus efforts, including more QE (quantitative easing), active management of the bond yield curve, and perhaps even buying stocks directly.
While this would be a major departure for the Fed, a similar approach has been in effect with decidedly mixed results in Japan for 20 years as that country has struggled to fuel any kind of economic growth and inflation given its shrinking and aging population. Needless to say, any hint of more QE is good news for the stock market as the trillions of dollars handed out to banks and hedge funds invariably find their way into riskier assets in search of a return.
Read more...
---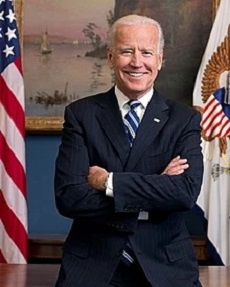 Democrats nominate Biden for president
(19 August 2020)
The 2020 race for the White House entered the home stretch yesterday as Democrats formally nominated Joe Biden to run against President Donald Trump in the November election. Things are looking up for the former Vice-President, as Biden currently enjoys a 5 to 10 point lead in the polls while Trump struggles to gain a foothold amid the chaos of the Covid pandemic.
As I have noted previously, the Biden-Harris ticket has a very good chance of winning this election. Trump's transits on Election Day, November 3, look difficult and are likely to see him losing, at least initially before any possible legal challenge. By contrast, the transits of Joe Biden and his Kamala Harris look better. On November 3, the Sun (18 Libra) conjoins Biden's 1st house lord Mars (19 Libra) and suggests public prominence while Jupiter (27 Sagittarius) aligns with Mercury (28 Libra) and the unequal 10th house cusp/MC (26 Leo). And the Mercury direct station that occurs on Election Day aligns exactly with Harris' Ascendant and should give also confer an advantage to the Democrats.
Read more...
---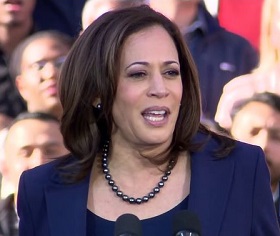 Kamala Harris chosen as Biden's VP nominee
(11 August 2020)
Kamala Harris won the veepstakes today as Joe Biden chose the junior Senator from California as his running mate in the upcoming November election. With Biden enjoying a 10-point lead in the national polls over the incumbent President Trump, Ms. Harris finds herself on the cusp of gaining access to the focus of power in Washington, DC. And with the aging Biden as the Democratic nominee, the Harris pick is all the more significant as many observers wonder if Biden will be mentally and physically capable of completing his first term.
Her horoscope is clearly a good one. As I suggested last year,
Kamala Harris would likely do reasonably well
during the run-up to the primaries, even if she suffered from some telling planetary afflictions during the crucial middle period of the Democratic primaries. Born with Rahu rising, Harris revels in the role of a trailblazer and a person who likes to break with tradition.
Read more...
---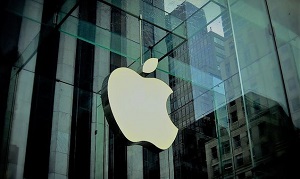 Apple carries the market higher
(4 August 2020)
US stocks have continued to defy gravity in recent days despite a 32% decline in GDP and a disturbing rise in Covid deaths. Last week's strong earnings reports from Big Tech confirmed what many already knew: that Apple, Facebook and Amazon are the only stocks holding up the market. While the rest of the market is lagging badly, Apple and the other tech titans remain in a relentless bull market, fueled by the demand of a population held captive by the coronavirus.
Therefore, the stock market is being kept afloat not only by the machinations of the Fed and the Trump administration, but also by Apple, which is now trading at a new all-time high of $438. The Apple chart is currently bullish as Jupiter is conjunct Mars within a three degree orb. Meanwhile, bearish Saturn (3 Capricorn) is not doing much direct damage yet despite its presence in the 1st house.
Read more...
---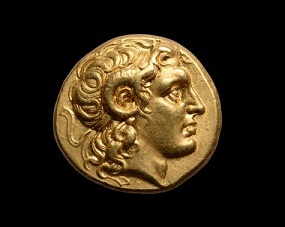 Gold surges to new all-time record high amid US Covid concerns
(28 July 2020)
Gold closed at a new all-time record high of $1944 today as the US dollar extended its precipitous decline. Gold's recent rally is largely the consequence of the falling greenback as the Covid-19 pandemic has forced the Federal Reserve to engage in an unprecedented QE policy of asset purchases. QE ("quantitative easing") is the more polite, 21st-century way of saying money-printing.
In order to avoid a collapse, the Fed buys trillions of dollars of government and corporate debt in order to entice institutional investors (e,g, hedge funds, investment banks) to move into riskier assets like stocks, thus keeping the stock market afloat despite deteriorating economic fundamentals. But all these trillions of Fed-created dollars expand the money supply, and thereby cause the value of the dollar to decline. Alas, not even Fed Chair Jay Powell can suspend the law of supply and demand.
Read more...
---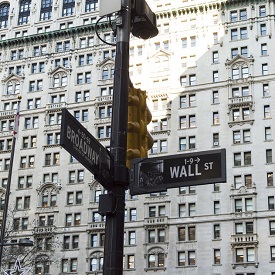 EU Covid bailout boosts stocks
(21 July 2020)
Stocks remained buoyant to start the week after the European Union agreed to a massive $2 Trillion bailout package to combat the economic fallout of the Covid-19 pandemic. After their 30% plunge to the March 23 low, US stocks have climbed back to within just 3% of their February 19 high before the coronavirus crisis.
While unemployment is still in double digits and many people are barely able to get by on reduced wages, many global markets have rallied on the huge injection of cash from the Federal Reserve and other central banks. Corporate earnings have taken a hit, of course, but it is the future outlook that matters most for investors as the market tends to look forward by 6-12 months. Obviously, optimism comes more easily when Fed Chair Jay Powell is busy buying up corporate debt in order push hedge funds and institutional investors into riskier assets like stocks.
Read more...
---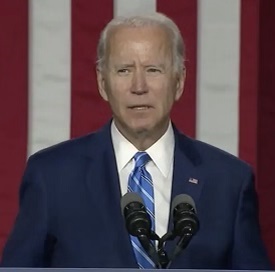 The state of the race: Biden in front
(14 July 2020)
As this strange and difficult year continues to unfold, attention is invariably shifting towards the US presidential election in November. Republican incumbent Donald Trump is trailing Democratic challenger Joe Biden by about 10 points in the polls and most betting markets also have Biden enjoying a large lead. Given the chaotic government response to Covid-19, it seems that Trump's hopes for re-election are remote. At this point, there would have to be some unforeseen developments in order for Trump to win this election.
As we know, Trump's horoscope looks quite difficult on Election Day, November 3. Retrograde Mercury and Saturn are aligned in a square aspect and this raises the possibility of some significant confusion or disruption with the election result.
Read more...
---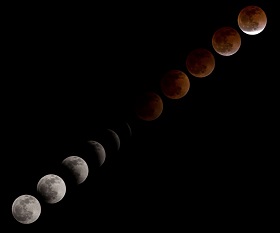 Stocks rise on China optimism following lunar eclipse
(7 July 2020)
US stocks remained buoyant for the most part to start the week following Monday's surge in Chinese markets. Monday's winning session extended last week's rally but today (Tuesday) saw some significant selling as investors digested the frightening Covid numbers coming out of the southern US states. The down day coincided with a bearish Mars-Mercury square aspect that I noted in last week's post. This aspect was more likely to deliver some downside since it involved Mars (a generally bearish planet) forming a square aspect which also tends to be more bearish.
It is important to note that the bullish energy of late may be waning as Jupiter has now moved past its conjunction with Pluto. Typically, Jupiter conjunctions are more bullish during their applying phase and less powerful in their separating phase. And bearish Saturn is still aligned closely with Ketu (South Lunar Node) which waits for its appropriate triggering planet.
Read more...
---
---