Politics & Society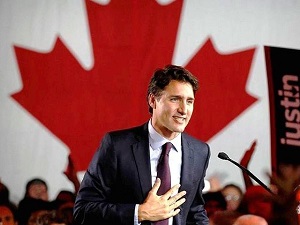 Justin Trudeau: Canada's new Prime Minster
(21 October 2015)
Canada elected a new Prime Minister on Monday as voters sent Liberal Party newcomer Justin Trudeau to Ottawa to serve as the country's 23rd Prime Minister. The charismatic 43-year old son of former PM Pierre Trudeau ousted Conservative Stephen Harper in a stunning victory as Trudeau brought the 3rd place Liberal Party back to power with a majority government. Although he was initially seen as inexperienced and trading on his father's fame, Trudeau gained support through the campaign as he focused on positive change for the country after nine years of often uninspired Conservative rule.
So what kind of leader will Justin Trudeau be? His horoscope suggests he is may a natural gift for political life, irrespective of his family background. Leo, the sign of leadership, rises in the 1st house. His Ascendant at 10 Leo is just four degrees from a conjunction with the fixed star Regulus. Traditionally, Regulus has long been regarded as one of the four royal stars in the sky and is said to confer leadership qualities. The lord of the 1st house is the Sun and it is powerfully placed in the 5th house of politics in Sagittarius.
Read more...
---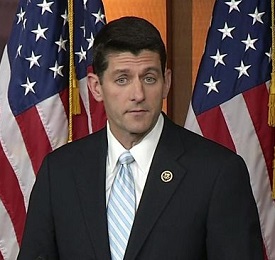 New House Speaker Paul Ryan faces US debt ceiling showdown
(26 October 2015)
And so it begins again. The annual political wrangling to raise the US debt ceiling is now in full swing as both parties vie for advantage before the November 3rd deadline. Since the US government must rely on borrowed money to stay solvent, Congress's failure to raise the debt ceiling would cause a default. Previous debt ceiling crises occurred in 2011 and 2013 and brought sharp declines in the stock markets before 11th-hour compromises were finally found. As always, Republicans are loathe to sign off on the ever-increasing debt load and are seeking fiscal concessions from the Democrats. Of course, many Republicans also do not want to to see the US default on its debt as the financial consequences could hurt the whole country in the form of financial instability, lowered credit ratings and higher borrowing costs on its bonds.
As an added wrinkle, this year's game of political chicken in Washington, DC will feature a new Speaker of the House. Paul Ryan will likely be formally elected on Thursday as he replaces outgoing John Boehner.
Read more...
---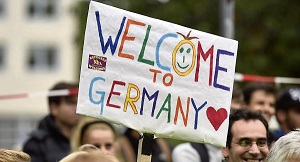 Germany welcomes Middle East refugees
(9 September 2015)
As the European refugee crisis continues to dominate the headlines, Germany has emerged as the world's conscience in responding to the scenes of desperation played out in various locales. The Merkel government has pledged to accept at least 500,000 refugees from Syria and Iraq as the flood of displaced persons from that war-ravaged region shows no signs of abating.
The refugee crisis is still a divisive issue within the European Union as some countries have been more open to receiving refugees than others. Even within Germany, significant parts of the population are skeptical about the ability of the country to absorb such a large number of newcomers who differ from natives in terms of language, religion and culture. But for now, it seems most of the German people are welcoming the refugees with open arms in an inspiring display of their common humanity.
When this story first drew worldwide attention last week, I wasn't sure what the astrological angle might be.
Read more...
---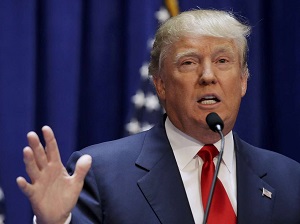 The rise of Donald Trump: Jupiter meets Mars
(11 August 2015)
The race for the nomination for US Republican Party entered a new phase last weekend after the first televised candidates debate on Fox. The ten leading candidates participated in the debate but in the end it was all about Donald Trump, the outspoken real estate mogul and reality TV star who has unexpectedly emerged as the frontrunner in the polls. Despite widespread criticism for his comments, Trump's combative exchanges with debate moderator Megyn Kelly seems to only have re-affirmed his role as the dominant candidate in the GOP race as his lead in the polls has widened even further. Clearly Trump's message is resonating with many conservative Americans who feel angry about the state of the country and alienated from their own government.
Not only is Trump a party outsider and a loose cannon on many issues, the possibility that he could win the nomination would probably be bad news for Republicans since polls show that Trump does worse when matched head-to-head against the likely Democratic nominee Hillary Clinton compared with almost all other GOP candidates.
Read more...
---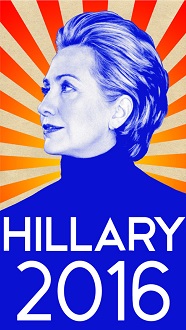 Hillary Clinton announces her campaign for President
(12 April 2015)
Hillary Clinton finally ended the pseudo-suspense today and announced her candidacy for the nomination for the Democratic Party in the 2016 US Presidential election. Ms. Clinton made the announcement via a Youtube video that was
released shortly after 3 p.m
. The exact timing of the announcement is important for astrological reasons since the timing of the launch of the campaign marks the official beginning of her endeavour to become President.
In my experience, the horoscopes of these launches reveal important information about the nature of the candidacy as well as providing clues about the eventual success or failure of the campaign. Clearly, Ms. Clinton is the Democratic frontrunner at this point as no serious challenger has yet stepped forward. She also stands a decent chance of winning against any Republican candidate according to recent polls. So what does this campaign launch chart tell us about her chances?
Read more...
---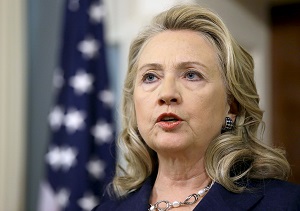 The Hillary Clinton email controversy
(10 March 2015)
Hillary Clinton has been back in the news recently, but for all the wrong reasons. The frontrunner for the 2016 Democratic Party nomination has come under scrutiny for her emails during her tenure as Secretary of State. Ms. Clinton apparently did not use government email as required by the rules and instead used a private email address. In addition, she sent and received emails through a private email server located in the Clinton house in New York.
It's really the last thing she needs right now as rumors were rife that she was on the verge of formally announcing her candidacy for President. She is likely to speak publicly about the email controversy soon as she hopes to clear the air in order that she can declare in the coming weeks. Whether or not she can quickly douse this fire remains to be seen, however.
Read more...
---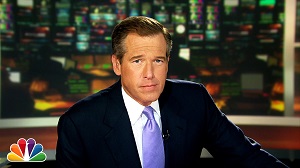 The lies of Brian Williams
(9 February 2015)
Brian Williams finds himself in a lot of hot water at the moment. The respected anchor of the NBC Nightly News has been caught out in a lie, or as they say in current damage control media parlance, a "misremembered" fact about his experience in the Iraq War in 2003. He had claimed to have been shot at and forced down while riding in a helicopter only to have that story exposed as false by US servicemen who were present at the time. The scandal forced Williams to make a on-air apology last Wednesday.
Unfortunately, this seemed to only make matters worse as perceptions were that Williams did not come clean with the public. Other claims are now also being questioned as Williams may have embellished the truth while covering stories such as Hurricane Katrina. Williams has taken a voluntary leave from NBC and canceled a Thursday appearance on the David Letterman show. With their trust in him now broken, polls suggest that 80% of the public want him to resign. Where did it all go wrong?
Read more...
---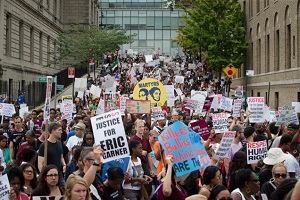 Protests against police spread across US in wake of Garner decision
(8 December 2014)
The nationwide protests over the death of Eric Garner has added yet another chapter in America's historical legacy of slavery, racial tension and civil strife. Garner died from a chokehold administered by a New York police officer in August while being arrested for selling individual cigarettes on the street. Despite the presence of video evidence of the police actions during the arrest, the officer was subsequently cleared of any wrongdoing by a Grand Jury. This has sparked protests in New York and across the country as African-Americans voice their anger and frustration over what they feel as unfair treatment by the police and the justice system. The protests come just a week after rioting in Ferguson, Missouri following a similar non-indictment of a white cop who had killed another unarmed black man.
These kinds of racially-based riots and protests have been a frequent occurrence in the US for over a century. As an astrologer, I am curious to know if the current race-based unrest can somehow be a reflection of planetary placements in the horoscope of the USA.
Read more...
---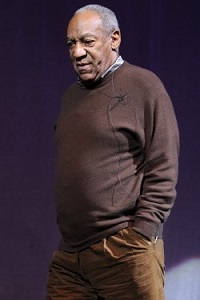 The Bill Cosby rape scandal: a case of Venus afflicted
(3 December 2014)
They say what goes around comes around. That definitely seems to be the case here for beloved American comedian Bill Cosby whose squeaky clean image is now in tatters after the accusations of rape by more than dozen women. The 77-year old star has is now the subject of investigations over a string sexual assaults that date back as far back as 1960s. After years of whispered accusations and formal denials, Cosby's luck may well have run out as he has seen his current television show abruptly canceled amidst this very public scandal. While no criminal charges are pending at this time, the fallout thus far is such that Cosby has been forced out of the board of his Alma Mater at Temple University in Philadelphia. The rape charges are a shocking contrast to the public persona of the friendly and avuncular Cosby whose appeal over the years cut across both age and racial lines.
It is hard to imagine how he can reinstate his name and reputation after this episode.
Read more...
---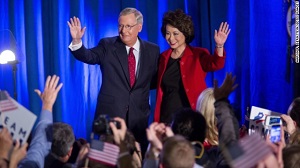 GOP takes control of Senate
(10 November 2014)
Not surprisingly, the Republicans earned a solid win in last week's US midterm elections as the voting public delivered a stinging rebuke to President Obama and the Democrats. The GOP now controls the Senate and House and will likely further hamper Obama's ability to implement his policies. The GOP gains were fairly clearly seen through the horoscopes of the key players as Obama's chart continues to be weighed down by a stationary Rahu (North Lunar Node) and while the planets looked better for Senate Majority Leader Mitch McConnell. As I noted in a
previous post
, however, I think that McConnell will suffer some kind of major setback in early 2015 which could seriously diminish his leadership. I'm not sure what form it will take, but it is likely to involve significant disappointment for GOP.
The planets are looking increasingly tense this week and next.
Read more...
---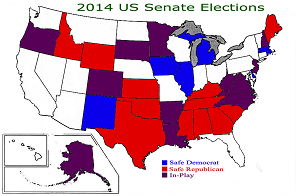 US Midterm Elections: Obama's bad timing
(13 October 2014)
The bad news keeps on coming for US President Barack Obama. Not only has Ebola arrived on American shores in the face of his previous reassurances to the contrary, but now a medical worker in Dallas who treated the late Thomas Duncan has contracted it despite following all the appropriate safety protocols. Questions are now being raised about Obama's ability to lead the country amid this worsening crisis in addition to the CDC's competence in trying to keep Ebola under control. If that weren't enough, reports are emerging about the ineffectiveness of the US air strikes against ISIS in Iraq and Syria. ISIS continues to advance on its targets and has now surrounded Baghdad. If Baghdad falls to advancing ISIS forces, Obama may have no choice but to put US troops on the ground in order to protect its strategic interests in the region.
The timing of these setbacks could not be worse for the President as the US prepares to go to the polls for the midterm elections on November 4th.
In a previous post
, I suggested that the ongoing stationary transit of Rahu (North Lunar Node) on Obama's 9th house cusp was a plausible astrological explanation for his current troubles.
Read more...
---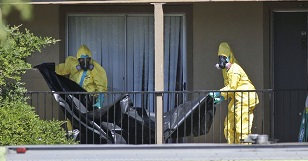 Ebola arrives in US
(5 October 2014)
The deadly Ebola epidemic entered a new phase last week as the first case was recorded in United States. On September 30th, the CDC confirmed that Thomas Duncan had contracted Ebola in his native Liberia and had become ill after arriving on a visit to his family in Dallas, Texas. While Duncan is undergoing treatment, the CDC is scrambling to find all his contacts between September 24 and 28 when he was symptomatic but not yet quarantined in hospital. This is the first recorded case outside of West Africa since the latest outbreak began in March in Guinea. This Ebola outbreak is not yet under control and has killed more than 3000 people to date.
In a
previous post
in August, I offered an admittedly preliminary and somewhat speculative analysis of the current outbreak.
Read more...
---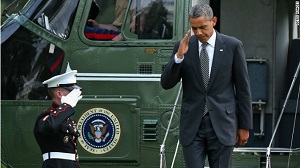 Obama's war on ISIS and the perils of Rahu
(28 September 2014)
One of the ironies of American history is that the presidents who are seemingly the least inclined towards the use of military power end up being some of its main practitioners. Woodrow Wilson (WW1), FDR (WW2), LBJ (Vietnam) are famous for campaigning against war but ended up in the thick of it despite their more humanitarian or isolationist impulses. Now it seems Barack Obama is the latest president to undergo this reluctant conversion to military force as he has committed US troops and air power into Iraq and Syria to fight the rising threat of ISIS. In 2008, Obama campaigned on getting the US out of Iraq after a long and painful war and finally achieved this goal in 2011 to much popular fanfare and national relief.
However, things haven't gone well since then as the Iraqi government has been narrowly dominated by Shiites and have therefore alienated much of the Sunni population in the north.
Read more...
---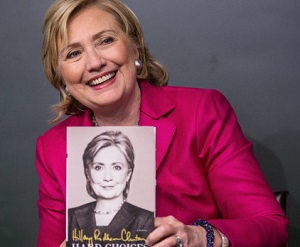 Hillary Clinton's difficult summer
(18 August 2014)
It's been a tough summer for Democratic front-runner Hillary Clinton. The former first lady and Secretary of State published a political memoir that met with tepid reviews and poor book sales. Many commentators saw it as thinly-veiled political ploy designed to boost her profile before her formal declaration for the race to the Democratic nominee for President for the 2016 election. Her subsequent book tour did little to improve the the book's reception as Ms. Clinton tried in vain to deflect criticism. Then in a magazine interview two weeks ago, she was openly critical of Obama and distanced herself from him over his handling of the Middle East and Syria in particular. She was forced to awkwardly walk back her comments in order to appear less confrontational towards the Obama White House. These missteps have seen her popularity fall 10% in the past two months although she remains the overwhelming favorite to be the nominee of the Democratic Party.
We can see that Hillary Clinton has been suffering from a bout of "Saturnitis" for much of the summer. The Saturn station in late July was just one degree off her natal Venus. Saturn-Venus transits are often times when life feels like it is contracting rather than expanding.
Read more...
---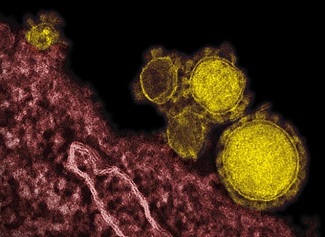 The MERS virus arrives in US: what is the threat?
(4 May 2014)
The US recorded its first case of MERS this week as an Indiana man returning from a visit to Saudi Arabia came down with the mysterious virus and was hospitalized. He is said to be recovering and out of danger. MERS (Middle East Respiratory Syndrome) is a new and deadly virus that has sickened more than 400 people, of whom a quarter have died since 2012. MERS has similar features to the SARS virus that caused a worldwide travel alert in 2003. While the MERS virus seems to be inefficiently transmitted and thus has remained fairly contained within Saudi Arabia and the Middle East, its high mortality rate is cause for concern. But just how much of a threat is MERS?
In a previous article on SARS, I noted how global epidemics may be more likely to occur when the planet Neptune is prominent in some way, either by transit or within the national horoscopes of affected countries. Although it is not always a malefic influence in our lives, Neptune is the planet most closely associated with disease and weakness.
Read more...
---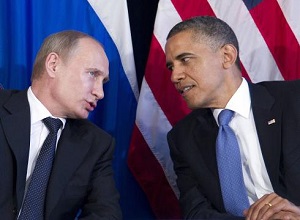 Putin calls Obama's bluff in Crimea
(2 March 2014)
Vladimir Putin apparently called Barack Obama's bluff this week as Russia prepared to invade the Crimean peninsula in Ukraine. Despite Obama's repeated warnings not to invade, Putin nonetheless received Parliamentary approval to send the Russian army into this predominantly ethnic Russian region in Eastern Ukraine. Putin has taken advantage of the instability in Ukraine which was just in the process of forming a new government after ousting President Yanukovych. With the US and the West seemingly reluctant to engage Russia militarily, Putin is taking a calculated risk that Obama and his allies will not be able to intervene. And even if the West did decide to help Ukraine to defend its borders, any military aid may be too little and too late to stop the nearby Russian tanks.
We can see some clear sources of trouble in President Obama's horoscope that reflect his latest foreign policy problem. Most crucial is that Mars, the planet of conflict and violence, had just stationed retrograde at 3 degrees of Libra on Saturday, the day after the covert invasion of advanced forces. Mars is almost exactly aspecting Obama's Saturn at 2 Capricorn by square aspect.
Read more...
---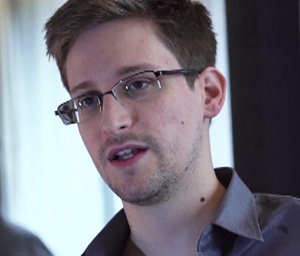 Edward Snowden receives support from NYT
(12 January 2014)
Things may be looking up for the former NSA employee Edward Snowden. The ex-intelligence analyst received support from The New York Times as its
editorial of January 1
called for clemency in his case in light of his contribution to the preservation of individual privacy in the internet age. This week the
EU Parliament asked Snowden
to testify via video in its investigation into US surveillance practices. Snowden has been a polarizing figure since he revealed the extent to which the NSA was spying on its own citizens without proper legal oversight or controls.
Although he considers himself a whistle-blower of illegal government actions, Snowden has been a fugitive from the US justice system since his daring flight from his home in Hawaii back in May 2013. The Obama administration and many officials on both sides of the political spectrum consider him a traitor for having leaked state secrets. However, he has become something of a folk hero amongst both right leaning libertarians and left leaning progressives for unmasking the full extent to which citizens are subjected to illegal cyber-surveillance. Over the course of the past months, each new revelation of unwarranted NSA intrusion into the private lives of citizens has gradually shifted public opinion towards the need for greater privacy and stricter oversight of the US security apparatus. This, in turn, has boosted Snowden's reputation as a legitimate whistle-blower.
Read more...
---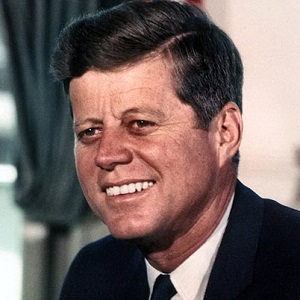 50 years since Dallas: JFK assassination anniversary rekindles America's fascination
(16 November 2013)
America's enduring fascination with President John F. Kennedy returns to the fore this week as the nation observes the 50th anniversary of his assassination. Kennedy's death in Dallas on November 22, 1963 left an indelible mark on the country as the hope and youthful optimism of his administration soon disintegrated into social turbulence, distrust of government and widespread alienation. While the 1960s would eventually bring about progressive and necessary changes to the US, many Americans feel that JFK's death was a turning point after which things would never be the same. Americans may therefore look back nostalgically at the Kennedy era as a happier time before things started go wrong for the country in Vietnam, the inner city ghettos, and the various failed social experiments of the 1960s. Not surprisingly,
recent polls still show JFK
as the most popular president of the 20th century.
The astrological perspective suggests the JFK mystique may well have a planetary basis. JFK's horoscope is well known so there is no need for any detailed examination here. Suffice to say his commanding and inspiration presence is seen through the close conjunction of Saturn and Neptune close to the 10th house cusp (career, status).
Read more...
---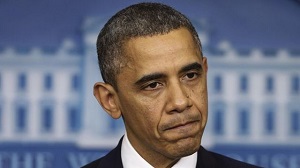 Neptune in focus: ACA fallout grows as Obama's integrity is questioned
(3 November 2013)
It was another difficult week for President Barack Obama as it became more evident that millions of Americans would be losing their health insurance plans under the new rules of the Affordable Care Act. This inconvenient fact is at odds with numerous promises Obama made over the past three years when he insisted that no one would lose their existing plan.
While political allies continue to find ways to defend Obama, there is a growing sense in the middle of the political spectrum that something is seriously amiss in the brave new world of Obamacare that goes beyond the bungled website roll-out. The main television networks are beginning to run stories about the widespread loss of plans, as well as consumer sticker shock as prices have unexpectedly risen significantly for many people. Worse still, more commentators are wondering aloud if Obama may have lied to the public about the implications of the ACA for political expediency. While a more forgiving perspective would suggest that it was a "miscommunication", the political fallout has been significant as Obama's approval ratings continue to fall back towards their all-time lows in the low 40s.
Obama's recent difficulties here are a reflection of the current planetary alignments.
Read more...
---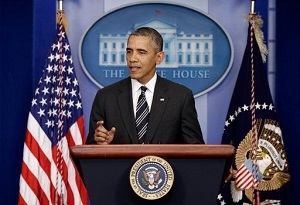 GOP surrenders as shutdown ends; Obamacare still under fire
(20 October 2013)
The US government shutdown came to an end last week as a deal was hammered out on the day before the debt ceiling deadline. Without much real bargaining power, the GOP essentially surrendered on almost every point under discussion. Obamacare was left intact and no serious cuts were made in the budget. Both sides agreed to postpone further budgetary talks until early 2014. It was clearly a political victory for President Obama who enjoyed a much-needed win after a string of setbacks in recent months.
Last week, I wrote that the current transit picture in Obama's chart suggested the possibility of some last-minute complications in negotiations. Alternatively, I thought that some of the tension in the President's chart might also manifest as more fallout from the Obamacare roll-out. It was this latter scenario that turned out to fulfill the planetary promise as the White House and Health Secretary Kathleen Sibelius has come under increased criticism for the problem-filled roll-out of the long-awaited Affordable Care Act (ACA).
Read more...
---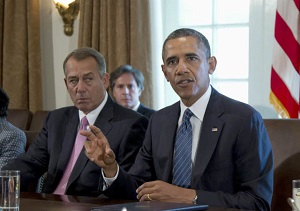 US government stalemate continues; Obamacare roll-out underwhelms
(13 October 2013)
As the US government shutdown threatens to move into its third week, one wonders when it is all going to end. Hopes were raised at the end of last week as the House GOP tabled on offer to Obama but that was eventually rejected. Now the focus has shifted to the Senate as both sides attempt to reconcile the need to avert a debt ceiling default on October 17th while trying to make political gains for their respective parties. As I have suggested in previous posts, a quick win here by President Obama and the Democrats looks unlikely given the difficulties in his horoscope. Obama's Sun is under the heavy influence of a Saturn transit for much of the month of October, so that would seemingly argue against a full-blown GOP surrender and a big White House win in this latest political scuffle.
I say "seemingly" because there are actually any number of real world events and situations that could reflect the Sun-Saturn tension in Obama's chart. The current criticisms about his leadership do not necessarily have to reflect the stand-off with the Republicans over the shutdown and debt ceiling.
Read more...

---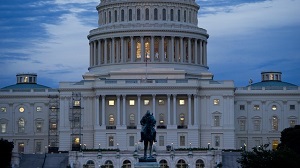 US government shuts down as debt ceiling deadline looms
(6 October 2013)
The shutdown showdown in Washington shows no signs of ending anytime soon. American's ongoing budget fight entered its sixth day today as both Obama and Boehner refused to budge in their respective positions. Boehner is demanding a one-year delay to the unpopular Obamacare program while the President is having none of it as the Affordable Care Act may well be the only lasting legacy of his presidency. A complicating factor here is that the US debt ceiling deadline of 17 October is fast approaching. If the two sides cannot also agree to raise the debt ceiling that allows for more government borrowing, then the US will default on its debt. This possibility is widely seen as far more disruptive than the shutdown as global financial markets would likely react very badly to such a default.
So what are the chances of a default? Most commentators do not expect it is going to happen. It is very much the 'nuclear option' that both sides will want to avoid since a default may well produce a market crash and another downgrade to the US credit rating. It would also be a huge blow to US prestige in the world.
Read more...

---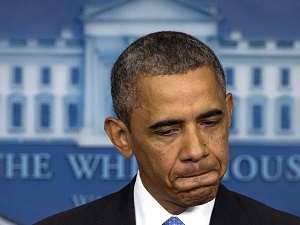 Obamacare under threat as government shutdown looms
(29 September 2013)
It was another bad week for President Obama as House Republicans voted for a one-year delay of Obamacare as part of its spending bill. The delay of the unpopular health care plan has put the GOP on a collision course with the White House. Obama will veto the bill to delay its launch and this will then result in a government shutdown as funds will not be available to provide basic government services. US government shutdowns are not that uncommon, however, and usually last only a few days. Financial markets are actually more concerned with the threat posed by the debt ceiling debate as money is due to run out by October 17th. If the debt ceiling cannot be raised, then the US government would default on its debt. This is far more disruptive to financial markets than a shutdown.
To some extent, the current bad mood in Washington is the result of the ongoing Saturn-Rahu conjunction. This has been in effect for much of September and is carrying over into October as it is activated by the transits of faster moving planets such as Mercury and the Sun. As I have discussed in previous posts, this conjunction is afflicting Obama's natal Mars (frustration, confrontation) and is likely undermining his Sun (confidence, leadership) since the Saturn-Rahu conjunction sits atop his Neptune.
Read more...
---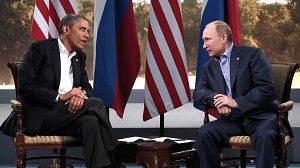 Putin emerges as winner in face-off with Obama and US
(15 September 2013)
Russia's President Vladimir Putin seems to be the big winner in the recent war of words over Syria's chemical weapons. The agreement between the US and Russia to remove all of Syria's chemical weapons by next year emerged after a series of missteps by the US administration. President Obama's lack of political support for a military strike ultimately paved the way for the agreement which allowed the beleaguered Obama to save face. Seeing the unworkable position Obama was in, Putin seized the moment by brokering the deal with Syria's strongman Bashar al-Assad.
The disarmament deal came as a surprise as I thought the odds were quite high for a military strike. Obama's horoscope looked heavily afflicted for September. Saturn in Libra is undermining his Cancer Sun (leadership, confidence) and thus he was more likely to fare poorly in this affair. I had thought the current transits to Obama's 8th house Mars in the last degree of Leo would be more likely to bring about military action. However, it turned out that Obama's Mars was not very inclined to violence. All those minor aspects to his Mars may have simply have reflected the awkwardness of his situation and the humiliation he has suffered. The 8th house is symbolically associated with setbacks and embarrassments.
Read more...
---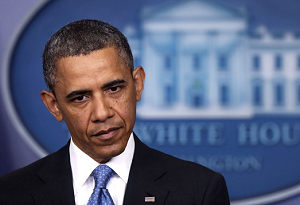 Idealism under duress: Obama delays Syrian strike
(1 September 2013)
President Obama pulled back from the brink yesterday as he decided to delay a possible missile strike on Syria in order to seek approval from the US Congress. The surprise about-face ended a week of increasing war rhetoric as the White House sought to make its case for hitting the Assad regime after its recent use of chemical weapons during the two-year old civil war with insurgents. Obama had been boxed in by his own "red line" ultimatum against the use of poison gas and was feeling isolated after UK support for a missile strike was defeated in the British Parliament.
Obama's horoscope is under considerable pressure at this time. Transiting Saturn and Rahu (i.e. North Lunar Node) are both conjunct his 10th house Neptune indicating possible obstacles to his role as leader. Any planet in the 10th house is associated with status and reputation and we should not be surprised that the double whammy of these two malefic planets Saturn and Rahu should correspond with situations where his leadership is called into question or where events do not play out smoothly.
The added dimension here is that Neptune is a planet that symbolizes idealism so the encroaching influence of Saturn (limit, loss) and Rahu (distortion, disruption) reflects the difficulty Obama has had in reconciling his preference for negotiation and peace with a need to be firm in the face of a violation of the international norms of warfare.
Read more...
---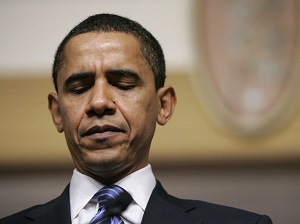 Obama on defensive after US surveillance revelations
(9 June 2013)
President Obama seems to have lost his midas touch recently. This week's revelations of widespread US government spying on its own citizens was only the latest of a series of scandals and embarrassments that has put Obama on the defensive. Things have got so bad that even the usually sympathetic liberal media outlets such as The New York Times are criticizing him for his unprincipled acquiescence to this expansion of the security state and the further erosion of civil liberties. Obama's approval ratings are now under pressure and there is more talk that his agenda has been irretrievably comprised. Thursday's bombshell report by The Guardian of NSA surveillance through compliant phone and internet companies gives fuel to the suspicions sowed by his right wing foes that Obama is an advocate for Orwellian Big Government.
As is often the case, Obama's current troubles are the result of the placement of several different planets at once. First, we can see that transiting Rahu (North Lunar Node) is stationary at the top of the chart in the 10th house, just two degrees from his equal house cusp (24 Libra).
Read more...
---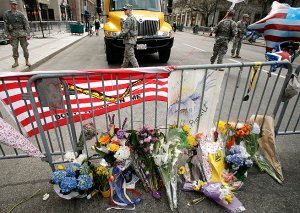 Terrorist bombing at Boston Marathon highlights difficult week for USA
(20 April 2013)
It has been a difficult week for the USA. On Monday, the Boston Marathon was struck by a terrorist bombing that killed three people and injured more than 100. It was the first terrorist incident on US soil since the 9/11 attacks. Then on Tuesday, a number of anonymous letters containing the poison ricin was sent to various Washington officials including President Obama. On Wednesday there was a massive explosion of a fertilizer plant in West, Texas that killed up to ten people and injured hundreds. The explosion was so large that it could be heard 70 km away. Then on Friday, Boston police chased the bombing suspects in a night of more violence and chaos. In an unprecedented move for a major US city, the entire Boston area was locked down as police looked for the last remaining suspect and citizens were told to remain in their homes. The massive manhunt captured the attention of the nation as much of it was broadcast live on television. While the total number of fatalities from these incidents is quite small, their sudden and violent nature and high public profile has had a significant impact on public consciousness.
A quick look at the key horoscopes shows a clear and simple astrological explanation for these shocking and violent incidents. The very short answer is that there was a conjunction of the Sun and Mars in the sign of Aries this week opposite the planet Saturn.
Read more...
---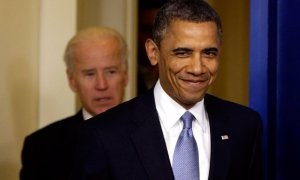 Markets cheer as Obama wins fiscal cliff deal
(6 January 2013) US Stocks moved sharply higher last week as investors breathed a sigh of relief in the wake of the 11th-hour fiscal cliff deal. The Dow jumped 4% on the week and closed at 13,435. Optimism was somewhat more muted in Mumbai as the Sensex added 2% to start the year finishing the week at 19,784. Alas, the negative implications of the Sun-Saturn aspect did not play out as expected as lawmakers in Washington did manage to come to an agreement. While the deal was very much a minimal sort of agreement that did nothing to address the US fiscal sustainability, it was enough to satisfy markets as the worst effects of the fiscal cliff were averted for the time being. As expected, the late week Mars-Jupiter aspect did appear to magnify the price moves as I thought it might, although these were very much in a positive direction.

It seems clear that the bullish influence of Jupiter is dominant now as it approaches its aspect with Uranus and its direct station on 30 January. Bearish Saturn is still in close aspect with Pluto but this is a slower moving and less prominent influence.
Read more...
---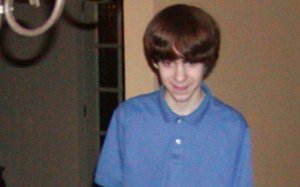 Massacre of schoolchildren shocks America: Rahu and Mars in focus

(16 December 2012) America's dark obsession with guns appeared to hit a new low this week with the horrific mass shooting of 20 schoolchildren in Newtown, Connecticut. The killer was Adam Lanza, 20, who murdered a total of 28 people including his mother, who actually owned the gun that was used to kill her. Lanza was described as an intelligent but socially awkward loner with no friends. He may also have been autistic.

Adam Lanza was born on April 22, 1992 in Kingston, New Hampshire. While his birth time may surface in the coming days, we will have to make do with his approximate horoscope cast for the day of his birth. The chart can then be read by using the Moon as the ascendant and 1st house (Chandra Lagna). While this is no substitute for an actual timed chart, it is nonetheless offers an intriguing picture of some of the planetary energies that may have been active in his short and disturbed life.

Any event that involves this kind of derangement, one must begin with the condition of the Moon. The Moon represents the emotions, mental health and the inner self. Read more...
---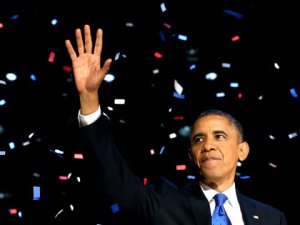 Obama wins re-election; faces fiscal cliff negotiations with Boehner

(11 November 2012) US President Barack Obama won re-election on Tuesday narrowly defeating Republican Mitt Romney to win a second term in the White House. While Obama won by only 2% in the popular vote, he carried most of the key swing states and hence had a more comfortable margin of victory in the Electoral College. Obama's win confirmed my prediction made back in June that he would defeat Romney as Obama's horoscope generally looked stronger in November.

While I am obviously happy with this outcome, it's important to acknowledge that as predictions go, it isn't that impressive. The election only had two candidates and hence only two outcomes. The race was fairly close but most pollsters had given Obama the edge for most of 2012. The odds of calling the outcome correctly was therefore a little less than forecasting the outcome of a coin toss. Fortunately, astrologers can sometimes enhance and add value to that initial prediction by also describing the ups and downs of the race. While pollsters can deliver some impressive results in the science of public opinion, none has the ability to predict the specific ups and downs of a campaign the way astrology can. To this end, I offered some observations on the last two debates and the dynamics of the final weeks of the race. For the most part, these were proven correct as Obama won the last two debates as the momentum shifted towards him in late October. Read more...



---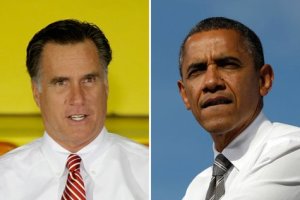 Obama narrowly leading in polls but Mercury may have final say

(4 November 2012) The election is just two days away and Barack Obama is poised to be re-elected President of the United States. Polls have showed a small but significant move towards him in the past week in the aftermath of hurricane Sandy. Obama clearly had a good week just as I suggested he would last week in this space. He appeared presidential in his handling of the Sandy disaster and received plaudits for his efforts from most corners, including from New Jersey Governor Chris Christie, a Republican.

While the race is still extremely close, polls from key swing states like Ohio clearly show Obama on the verge of victory. As political analyst Nate Silver has shown, the fact that Obama had led in 19 out of 20 recent Ohio polls is clear evidence that he will very likely win on Tuesday. Without Ohio, it is very difficult to see how Romney can put together the 270 electoral college votes needed to win the White House. Silver currently puts the odds of Obama winning at 83% while at Intrade.com, the online betting site, Obama's advantage stands at 66%. Read more...


---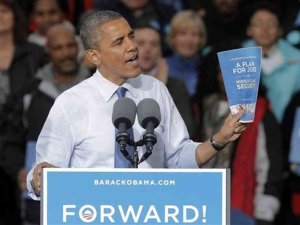 Race down to the wire; Obama's Happy Halloween?

(27 October 2012) The presidential race is coming right down to the wire now. Polls show Mitt Romney with an average 1% lead in the national popular vote but Obama continues to enjoy a slight edge in terms of the electoral college. As expected, Obama did come out on top in the last debate. As I suggested in the previous week's post, the respective campaign charts showed that Obama's chart was being strongly influenced by benefics Mercury and Venus. By contrast, Romney's campaign chart was under a difficult Mars aspect. It was intriguing to see how well these campaign charts appeared to coincide with the debate outcomes.

I would expect Obama to have a fairly good week this week, especially around Wednesday and Thursday. On those days, the Moon transits sidereal Taurus where it will conjoins his natal position. If we look at his relocated chart for Washington, DC, we can see how his Moon moves to the 1st house. What's important to note here is how the current transit of Taurus will highlight to favourable trine (120 degree) aspects with Jupiter and Venus. Jupiter (21 Taurus) is also in Taurus where it is exactly trining the Midheaven (10th house cusp). Read more...


---
Obama wins second debate; third debate on Monday

(Posted 20 October 2012) The US presidential race remains as tight as ever with national polls showing just a 1% difference between Obama and Romney with less than three weeks to go before the vote. As I suggested in last week's post, Obama did emerge as the slight winner in the last debate according to most polls. In keeping with the stronger influence of Mars at the time of the debate, the contest was much more spirited and argumentative than the first debate. Romney's chart suffered from an unfortunate placement from transiting Mars and hence he was unable to harness the energy of the fiery red planet as Obama did.

The third and final debate is slated for Monday night in Boca Raton, Florida. In my opinion, the stars again favour Obama. At the same time, I would admit that their respective birth horoscopes are perhaps more equivocal than I would like to see. Transiting Venus (29 Leo) is exactly conjunct his natal Mars and this is not necessarily a good combination. Read more...


---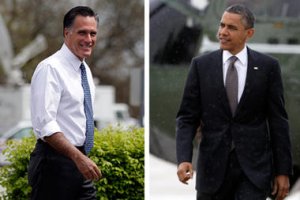 US Presidential race tightens; Mercury turns retrograde on election day

(Posted 13 October 2012) As the polls tighten in the US presidential race, it may be a good time to speculate how that Mercury retrograde station on election day might affect the outcome on November 6. As I've discussed previously, Mercury will turn retrograde on the day of the election. The reversal of Mercury's direction on election day suggests the possibility of confusion and uncertainty around the outcome. The logic here is fairly straightforward. Mercury is a planet that symbolizes communication. When Mercury is strong and otherwise unafflicted, our thoughts and ideas can be exchanged more or less clearly and rationally. However, when Mercury ceases its forward motion and begins to move backward in the sky, then we may become more prone to misperception and miscommunication. This tendency towards ineffective or ambiguous communication is likely heightened around the time of the stations where Mercury changes its direction.

With between 3 or 4 retrograde cycles per year, that works out to 6-8 such Mercury stations where this order-subverting energy is at its theoretical maximum. Perhaps the most well-known example of this phenomenon was in 2000 when Mercury also reversed its direction on election day (it turned direct) and the US entered a strangely protracted period of political uncertainty when the winner of the election remained unknown for 5 weeks until a Supreme Court decision finally awarded the election to George Bush. Read more...


---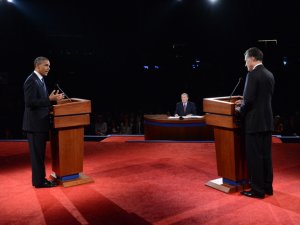 Jobs report saves Obama after debate defeat

(Posted 6 October 2012) Napoleon once remarked that his generals should not only be talented, but also lucky. This fundamental lesson of the pivotal role of fortune in history was perhaps not lost on President Barack Obama this week in the wake an unexpectedly positive jobs report that came out Friday. After a fumbling and disappointing performance in Wednesday's debate, Obama's luck turned positive once again when Friday's jobs report showed that unemployment had fallen to 7.8%, its lowest in over three years and lower than it was when he took office in January 2009. While only 114,000 new jobs were created, it nonetheless gave Obama a much-needed diversion after his poor showing in the debate.

There are some interesting planetary placements for both Wednesday's debate performance and then Friday's surprisingly good economic news. Wednesday's debate occurred just before the conjunction of Mercury (3 Libra) and Saturn (5 Libra). Obama's Ketu is situated at 4 Aquarius, exactly 120 degrees away. As we know, Ketu is a natural malefic and any transit hits to it will tend to produce negative results, especially when there are transiting malefics involved. Read more...



---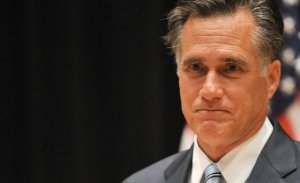 Romney campaigned damaged by leaked video

(Posted 18 September 2012) The presidential campaign of Republican hopeful Mitt Romney suffered another setback yesterday. A leaked video made in secret during a GOP fund raiser depicted Romney stating that Obama supporters constituted 47% of the electorate who were dependent on government handouts and saw themselves as "victims" and incapable of self-reliance. The video was embarrassing to Romney as it solidifies the perception that he is part of a wealthy elite who is out of touch with the daily reality of the average American. While the Obama campaign took full advantage of the video, even some conservatives admitted it painted Romney in a bad light. This comes on the heels of Romney's other recent misstep regarding the deaths of American diplomats in Libya where he was also called to account by both the left and the right for criticizing Obama too soon after the attack on the Benghazi consulate.

These campaign trials and tribulations are a good opportunity to reflect on the respective campaign horoscopes. Just as individuals, corporations and countries have horoscopes, so, too, do political campaigns. The moment that a candidate declares he or she is running for office, a horoscope can be cast. The resulting chart itself can reveal something about the nature of the forthcoming endeavour as well as providing some insight about the likelihood of success. In addition, we can often see the ups and downs of the campaign. Read more...


---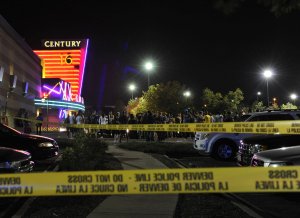 James Holmes: A look inside the Batman shooter

(Posted 21 July 2012) The Batman shooting in Colorado has produced a reaction of horror and sadness throughout the US and around the world. The shooting occurred at the July 20 midnight premiere of the newest Batman movie and left 12 people dead and wounded 59 others. The perpetrator has been identified as James Holmes, aged 24, a PhD student in neuroscience. This latest in a long line of gun rampages has left many feeling insecure and fearful and has raised some difficult questions. How could anybody commit such pre-meditated savagery on a such a large scale? And more puzzling still was how could someone who seemed so outwardly normal be capable of such an awful crime?

Holmes gave no indication of any strange or violent behavior before the shooting. He had no criminal record and no history of mental illness. Everybody who knew him saw him a quiet and somewhat shy person but was generally friendly and seemingly quite stable. No one knew he had been stockpiling weapons and ammunition, booby trapping his apartment with explosives, and plotting for months to carry out this heinous attack on completely innocent people in a darkened movie theater. It is a reminder perhaps that nobody truly knows what is going on inside another person. We can gain clues about the true nature of the people around us through interaction and by watching their behaviour, but there remains a hidden core inside that remains ultimately elusive behind the public mask. Read more....



---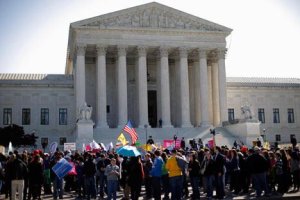 Obamacare upheld in surprise Supreme Court ruling

(Posted 2 July 2012) President Barack Obama scored an important and somewhat surprising victory last Thursday as the US Supreme Court upheld his controversial health care bill. Although most pundits were expecting Obamacare to be struck down, the court ruled the Affordable Care Act (ACA) was constitutional on the grounds that it was a tax. At least that was the ruling by Chief Justice John Roberts who cast the deciding vote in the 5-4 decision. It was a huge win by Obama and has boosted his re-election chances ahead of November's election. However, there are several ironies and complexities in this decision. It was a conservative judge, John Roberts, who cast the deciding vote in favor of Obamacare. And he did so by arguing it was a tax and therefore within the rights of the government, despite the fact that Obama had claimed that his health care plan was not a tax during his campaign for it. Many observers believe that Roberts, who has strong Republican affiliations, voted in favor of the Democratic bill in order to preserve the legitimacy of the Supreme Court as a non-partisan institution.

It is fascinating to see how this unexpected and somewhat ironic achievement is reflected in Obama's horoscope. Both Jupiter and Ketu (the south lunar node) were closely conjunct Obama's Moon within one degree. It is useful to think about the relative influence of each planet here in the unfolding of this event. Read more...


---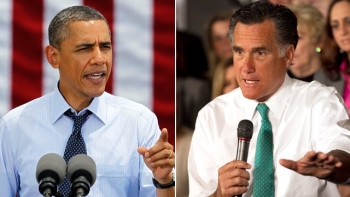 US Presidential Election 2012: Obama vs. Romney

(Posted 4 June 2012) With Mitt Romney sealing the Republican nomination in Texas last week, the race for the White House has entered a more intense phase. US President Barack Obama is facing an uphill battle as he seeks re-election in November against a backdrop of a flagging economy. Recent polls are showing Obama in a virtual statistical tie with Romney as the economy weighs on Obama's popularity. In a classic example of political schadenfreude, Romney's fortunes got a major boost from Friday's disappointing jobs report as more commentators are openly considering the possibility that Obama may be a one-term president.

For the past couple of years, I have thought that Obama's chances for re-election were fairly good. In an article I posted in the run-up to the mid-term elections in 2010, I briefly noted how the favourable placement of Jupiter and Rahu in November 2012 suggested that he stood a good chance for winning. Other factors also suggested that Obama had a good chance for a second term but a lot would depend on the horoscope of his opponent. I wanted to revisit this question now that we know that Romney will be the challenger on November 6. Read more...


---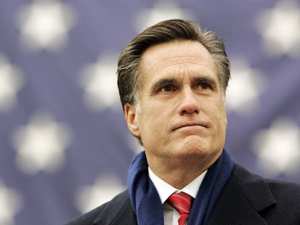 Mitt Romney campaign in trouble
(Posted February 20 2012
) After being on cruise control as the frontrunner in the early stages of the Republican nomination campaign, Mitt Romney is now in trouble. Although he successfully fended off challenges from Rick Perry, Herman Cain, and Newt Gingrich, the GOP establishment pick is now running six points behind conservative Rick Santorum in national polls. Romney's influential insider contacts and deep pockets have got him this far, but there is no doubt that he has failed to connect with the base of the party. His taxes, wealth and business dealings have come under increased scrutiny, as has his Mormon faith and more moderate policy choices while Governor of Massachusetts.
Romney's chart presents some familiar patterns for success but also contains a number of puzzling placements. First off, his apparently unexciting and cardboard personality. Romney has been widely seen as a dull and somewhat robotic campaigner who finds it difficult to connect with people on an emotional level. Normally, we would expect to see a strong Saturn since the ringed-planet often corresponds to a reserved and cautious approach to the outside world. Romney has Taurus rising, suggesting a steadier approach that inclines him towards a more mainstream approach. But look at the placement of 1st house lord, Venus. Venus is placed in Capricorn, a sign ruled by Saturn. Lagnesh Venus is very well placed in the trikona 9th house suggesting a generally fortunate life and a successful father. Romney is wealthy with a reported net worth of more than $250 million. His father was governor of the state of Michigan.
Read more...
---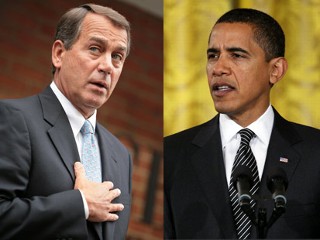 Obama's budget deal: a mixed blessing
(Posted April 17, 2011)
One of the trickier things about reading horoscopes is making sense of mixed planetary influences. Most of time, the planets are neither wholly good or wholly bad but something in between. This can therefore manifest as the proverbial "cloud with a silver lining" or with a gain that comes with strings attached. Jupiter is considered a reliably positive influence and often brings good events that are marked by achievement, rewards and happiness. However, there are times when this is not the case. Sometimes Jupiter acts more as a double-edged sword where success comes at a price or there is some downside attached to it.
Read more...
---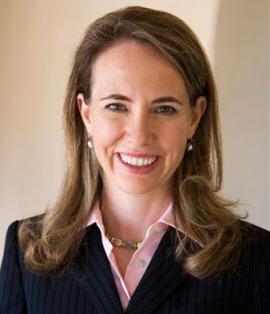 US Congresswoman Giffords targeted in Arizona shooting
(Posted January 10, 2011)
America was witness to yet another mass killing on the weekend, this one involving US Congresswoman Gabrielle Giffords. Giffords was shot in the head but is apparently going to survive, although six people died in the shooting spree outside a Safeway in Tucson, Arizona on Saturday, January 8. While it seems that the shooter, Jared Loughner, did target the Democrat Ms. Giffords, a picture is emerging that he was mentally unbalanced and did not have ties to any particular political group. It seems the tragic American tradition of the 'lone nut' has once again reared its ugly head.
There has been much finger pointing in the aftermath of the shooting, mostly towards the right wing media, the Tea Party and Sarah Palin, who liberals claim have used inflammatory rhetoric that created a climate of intolerance and hate.
Read more...
---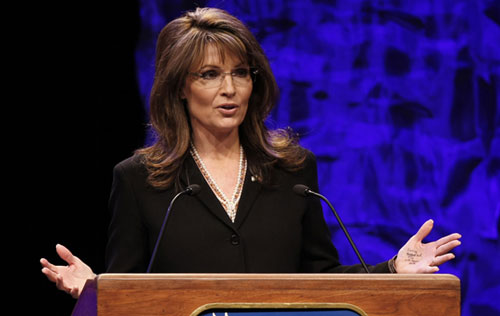 Sarah Palin on defensive after shooting
(Posted January 10, 2011)
The New Year is off to a bad start for Sarah Palin. Not only did TLC not renew her reality show, but she had been accused of contributing to a climate of hate and intolerance that spawned deranged shooter Jared Loughner and his weekend shooting spree in Arizona that claimed 6 lives and seriously wounded US Congresswoman Gabrielle Giffords. Her website featured a map that showed gun-like crosshairs for targeting districts that needed to be strongly contested in the election. One of the gun targets fell over Giffords' district in Arizona. While the offending depiction was quickly removed on the afternoon of the shooting, Palin is clearly on the defensive here as her sometimes outlandish conservative populism is coming under increased scrutiny by both mainstream and liberal media outlets.
Read more...

---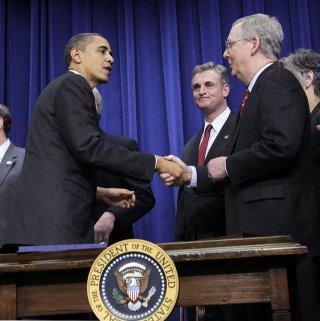 Obama compromises on tax cuts; his health care plan ruled unconstitutional

(posted December 19, 2010) It's been a tough couple of months for President Barack Obama. To no one's surprise, Obama's Democrats were trounced in November's midterm elections as the Republicans took over the house and reduced the Democratic majority in the Senate. As I noted in my previous October post, Obama's prevailing planetary influences at that time were generally poor as transiting Ketu was conjunct his Venus and Rahu and Pluto formed a semisquare (45 degree) aspect to his ascendant. Specifically, I noted that this Ketu-Venus aspect might cause some change and disruption while the Rahu-Pluto aspect might make Obama feel "compelled through external circumstance to make adjustments". Read more...


---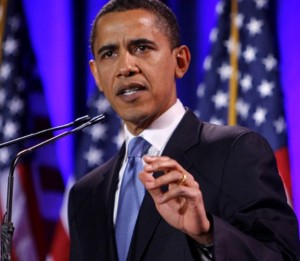 Obama Faces Difficult Midterm Elections: Agenda at Risk

(Posted October 3, 2010) Obama and the Democrats face a tough uphill fight in the midterm elections slated for November 2. The Democrats now trail the Republicans in the polls and the rosy glow surrounding Obama has faded as the morning-after realities of governing have undermined the appeal of his soaring rhetoric. The summer has not been kind to President Obama either. First, there was the oil spill in the Gulf of Mexico that raised questions about his administration's competence and sense of responsibility, then the economy began to show signs of slipping back towards another recession, and then his apparent flip-flop over the building of a mosque near Ground Zero in New York. As the oil spill situation dragged on for week after week, Obama's approval ratings fell below the 50% for the first time since his election. Despite some important legislative victories on the financial reform of Wall Street and the extension of benefits for unemployed workers, Obama's ratings are hovering around 45% while the radical anti-government populism of the Tea Party movement continues to find followers. Read more...


---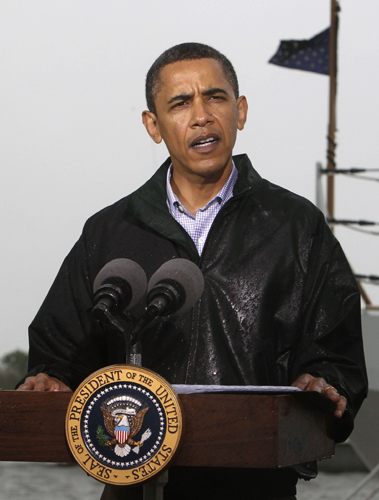 Obama's triumphs and challenges
(Posted May 5, 2010)
After suffering an embarrassing rebuke of his policies and proposed health care reform in January with the election of Senator Scott Brown, President Barack Obama has managed to bounce back, even if his approval ratings remain below 50%. Despite crystallizing popular opposition to health reform, the Scott Brown election on January 19 in Ted Kennedy's old seat marked a real low point for the Obama administration. Nonetheless, Obama and the House Democrats gamely fought back and skillfully cobbled together enough votes to pass the historic reform package on March 21. Despite the big political win on health care, Obama did not receive a significant boost in his popularity, no doubt reflecting the fact that most Americans do not like the proposed reform. He has also come under some criticism in the past week over the dangerous oil spill in the Gulf of Mexico as commentators have suggested that his administration was slow to react to the first news of the accident.
In my last article on US politics, I thought there might be a shift in Obama's "energy" with the start of his Rahu minor period in February. Rahu is conjunct Uranus in his natal chart, so I thought this might make him more autonomous and independent in pursuing his agenda.
Read more...

---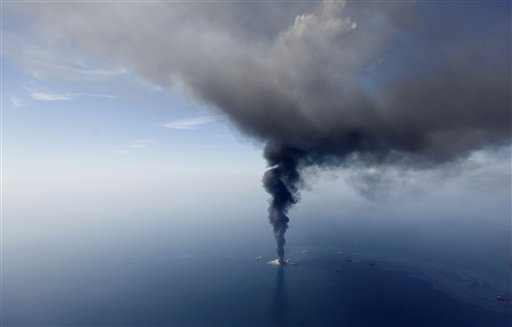 Oil spill wreaks havoc on US Gulf Coast

(Posted May 4, 2010) As the oil spill in the Gulf of Mexico enters its third week, there are no easy or quick solutions for either BP or the Obama administration. With thousands of barrels a day leaking into the water, the resulting giant oil slick is approaching the Gulf coast states of Louisiana, Alabama and Florida. Rough seas and bad weather are further hampering efforts to contain the slick before its hits land and does further damage. The oil spill has the potential to become one of the worst environmental accidents in US history as the entire fishing industry in the Gulf is threatened.

What insight can astrology bring to this event? Well, first we may note the current transit situation. Neptune (4 Aquarius), the planet associated with liquids and oil, is in a close alignment with Saturn (4 Virgo) and Uranus (4 Pisces). Saturn symbolizes problems and hardship, while Uranus represents sudden or shocking events and often acts as a kind of amplifier. So we can see how the interaction of these three planets can be seen as reflecting some kind of sudden and unwanted event involving water or liquids that pops up somewhere in the world at this time. Read more...
---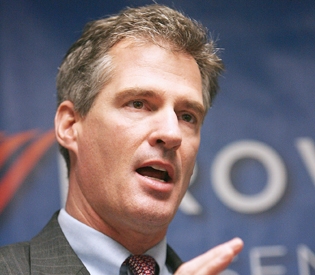 Scott Brown spells trouble for Obama

(Posted January 25, 2010) The days of wine and roses appeared to come to an end for Barack Obama last week as the Democrats super-majority got swept away by the election of Republican Scott Brown of Massachusetts in a special Senate election to fill the seat of the late Ted Kennedy. As a result of this stunning defeat, the Democrats have lost their super-majority of 60 seats that had given then extra leeway to pass the more contentious legislation in their program. Now there is a growing realization that much of Obama's ambitious agenda for health care and economic reform may go by the boards as greater compromise with the GOP will be sought. Read more...


---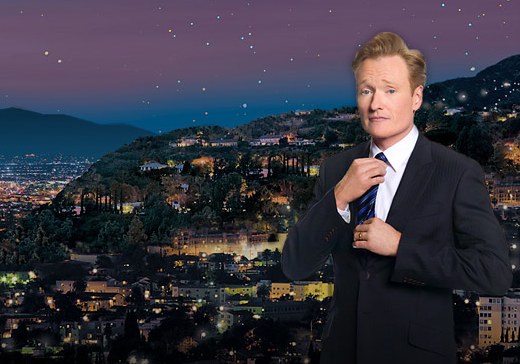 Conan O'Brien leaves The Tonight Show
(Posted January 21, 2010)
Conan O'Brien is off to a bad start in 2010. The newly-minted host of NBC's The Tonight Show has seen rumours of a late night shuffle grow over the past two weeks to a point where he is on the verge of relinquishing the coveted host's chair to the long-running late night talk show back to his predecessor, Jay Leno. The
dispute between Conan, Leno and NBC
has been public and acrimonious and has left the television audience forced to choose sides between supporting the younger, hipper O'Brien and the more established and mainstream Leno. While Leno will likely garner better ratings, at the moment most people believe that Conan has been the victim here. It is a very unfortunate development for Conan in what has been a long and successful career that began in television writing, through 16 years of hosting the popular The Late Show and now his aborted 7-month stint at the helm of prestigious Tonight Show. A quick glimpse at his horoscope shows the source of his woes.
Read more...
---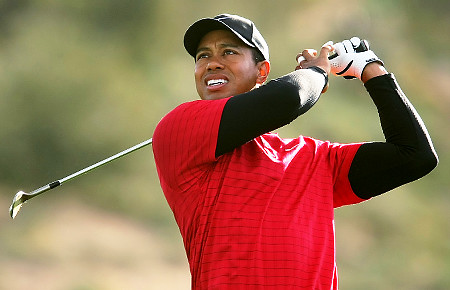 Tiger Woods' Troubles

(Posted December 17, 2009) The bigger they are, the harder they fall. Tiger Woods, at once the best golfer and richest athlete of all time, has seen his career and reputation dissolve over a period of just three short weeks as a parade of young women (thirteen at last count) have come forward with sordid tales of Tiger's sexual dalliances. The details of Tiger Woods amorous escapades have revealed a whole other side to the man and have laid waste to his carefully cultivated All-American family man image. What started as a strange late night car accident near his home in Orlando, Florida on November 27 has mushroomed into a career and image killer of massive proportions. Not only has Tiger Woods gone on indefinite leave from the golf tour, but his many corporate sponsors are now abandoning him as his clean-cut image takes a beating with each new sexual revelation. For an athlete who stands to earn $100 million in advertising endorsements in 2009, this affair is a considerable blow. And now there are reports that he has moved out of his house in Orlando and his wife Elin Nordegren is planning to divorce him. Read more...


---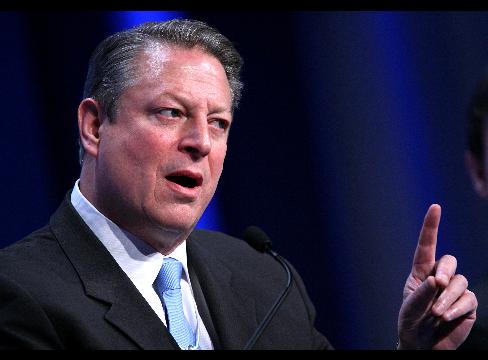 Al Gore sideswiped by Climategate

(Posted December 13, 2009) Sometimes being the leading light of the most important environmental movements of our time isn't all it's cracked up to be. Just ask Al Gore. The former US Vice-President has become the face of the global warming movement over the past ten years through his award-winning documentary film, "An Inconvenient Truth". According to the anthropogenic (i.e. human made) global warming thesis (AGW) that Gore espouses, the world is warming as a result of carbon-based fossil fuels and will cause widespread environmental destruction and economic dislocation unless carbon emissions are reduced. The world was looking to Gore for continued leadership on this issue as he planned to deliver an important speech at the UN climate conference in Copenhagen from December 7-18.

But all that has seemingly changed with the hacking of e-mails from the Climate Reseach Unit in East Anglia, England on November 17-19. These stolen or leaked e-mails from prominent climate scientists revealed apparent data manipulation, destruction of data, refusal to share data, denial of Freedom of Information requests, blacklisting of journals and silencing of researchers who did not share the consensus view of global warming. Read more...

---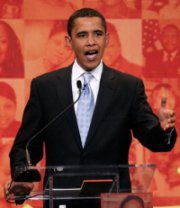 Obama wins Nobel Peace Prize
(Posted October 9, 2009)
In a surprising development, US President Barack Obama has won the 2009 Nobel Peace Prize. With the Nobel Committee citing his "extraordinary efforts to strengthen international diplomacy and cooperation between peoples", the award has generated plenty of
controversy
as a large number of observers feel Obama hasn't done enough to warrant such a distinguished prize. Last week's
SNL comedy skit "What's He Done?"
playfully underlined the fact that Obama has accomplished little in his first year in office. The win is an awkward embarrassment of riches for Obama, as it seems to have come in a politically inopportune time with the current stalemate over health reform still very much on his mind.
Read more...
---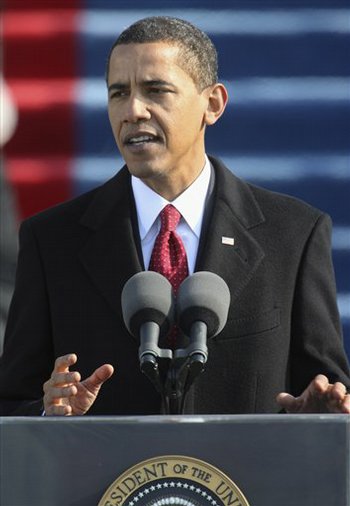 Mars and Obama's first 100 days
(Updated February 9, 2009)
As the warm glow of his historic inauguration fades into the background, President Barack Obama now faces more familiar political battles over the stimulus and banking proposals. With most Republicans opposing the huge stimulus package, the oft-mentioned new era of bipartisanship and change in Washington seems to have gone missing. While Obama's tasks to rebuild the economy are momentous, it's clear from his horoscope that the acrimony in DC foretells more difficult times ahead for the new president.
According to the Vimshottari dasha system and Krishnamurti ayanamsha, Obama will enter his Mars subperiod or
bhukti
on or around February 26.
Read more...
---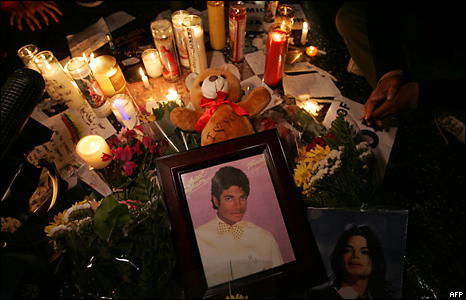 Michael Jackson 1958 - 2009
(June 26, 2009)
The death of pop superstar Michael Jackson yesterday has sparked an overwhelming outpouring of grief and remembrance around the world. Although more recently known for his bizarre behaviour and various legal and financial troubles, his millions of fans paid tribute to the man and his music and the indelible mark he left on the entertainment industry. There are several widely divergent birth times floating around for Michael Jackson, some from apparently reliable sources. And yet unless and until some one sees the birth certificate, his true horoscope will likely remain an open question. Of all the birth times in common usage for MJ, I think the 7.30 p.m. chart offers a plausible window onto the nature of the man and his life events.
Read more...
---