Trump's Muslim travel ban creates chaos and outrage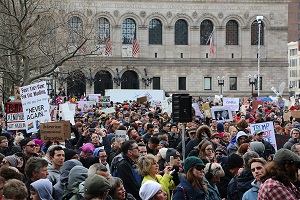 (30 January 2017)
So it turns out that Donald Trump should be taken both seriously
and
literally. As America's experiment with authoritarian populism entered just its second week, President Trump has sparked outrage and confusion with an executive order banning refugees and visitors from seven predominantly Muslim countries. Trump campaigned on getting tough on terrorism and radical Islamists and he is following through on that promise regardless of consequences. The new order was quickly stayed by Federal judges on constitutional grounds so it remains to be seen how this partial Muslim travel ban will play out.
Certainly, it has added to chorus of anger and protest that has followed Trump since the election. Emotions have become so inflamed that opponents of Trump now speak about organized resistance to his whole administration rather than merely single issue protests. It is shaping up to be a long and loud four years as Trump tries to completely remake the US in the face of popular and institutional opposition. Depending on one's point of view, this is either the thin edge of the fascist wedge or merely a necessary period of disruption as the post-war outward-looking Pax Americana is dismantled in favour of an inward "America First" stance.
The protest, anger and conflict fit neatly with the ongoing Saturn aspect to Mars in the natal USA horoscope. As I noted previously, the Saturn influence on Mars began in December and will continue for most of 2017. Saturn's retrograde period from April to August will therefore serve to extend this difficult aspect for an unusually long time. In other words, it means that the Trump administration will continue its controversial policies for the foreseeable future and they will fan the flames of protest for the rest of the year. Well, I guess we didn't need astrology to know that. And yet the ongoing affliction of Mars does symbolize the animosity towards Trump in stark terms. It also increases the likelihood of conflict overseas involving the US. I will try to offer more specifics on that latter question in the near future.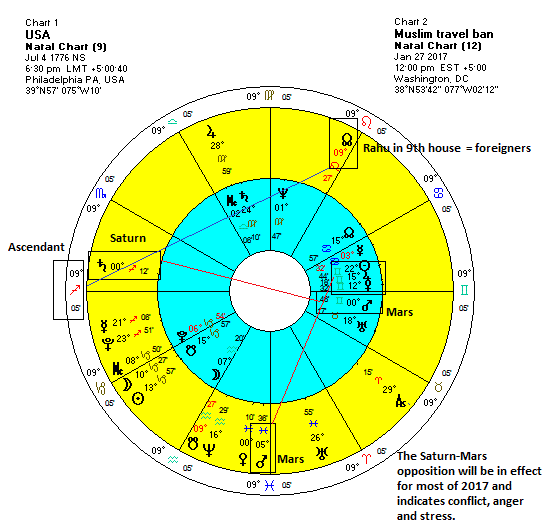 Additionally, we can see that transiting Rahu (9 Leo) exactly aspects the Ascendant of the USA chart. Rahu (North Lunar Node) is said to be associated with foreigners and marginalized populations so it is quite appropriate that this aspect should be active at this time. The 9th house symbolizes long distance travel and foreign places so that also dovetails with the particulars of this executive order which targets Muslims.
Mars (5 Pisces) is just now beginning to square all of the USA planets in Gemini so that speaks to a period of intensifying discord and anger in the country. This more intense Mars transit period could extend into the first week of March when Mars squares the USA's Mercury at 3 Cancer.
As I noted previously, Donald Trump's first weeks as president were quite likely to be marked by stress and difficulty due to the placement of Saturn. Saturn is approaching its retrograde station in early April at 3 Sagittarius. At that point, it will form an exact 120 degree angle with Trump's natal Mars at 3 Leo. I would expect Trump's problems to continue to undermine his presidency into that date and probably beyond. And again, the Saturn retrograde station will hit Vladimir Putin's chart exactly in the form of a conjunction with Mars so there is some increased possibility that their fates may be intertwined in some way at this time.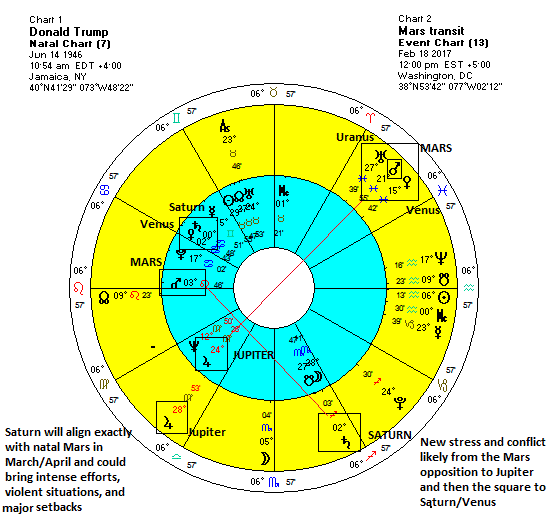 More immediately, Trump may come under severe stress during an upcoming transit window of Mars. Starting near February 18th, Mars will closely oppose his Jupiter. Since Jupiter is linked to prudence and "right action", the Mars influence can indicate a tendency to make errors or to be seen to be making errors of moral judgment. The logical corollary there would be some kind of potential scandal, as if Trump hasn't got enough of those already. Mars-Jupiter aspects can also be related to money and expenditure issues so one possible manifestation of the transit may be that Trump has to face up to conflict of interest questions regarding his business holdings. The Mars-Jupiter opposition is probably doubly important here since Trump is running his Jupiter-Jupiter dasha period. This intense transit period will likely continue as Mars enters Aries and thereby opposes his Saturn and Venus near March 5th. Therefore, we should see the Feb 18 - Mar 5 window as one where Trump is especially vulnerable to significant setbacks in his agenda and the credibility of his presidency.
And we should not forget that Jupiter is due to turn retrograde on February 6th. As dasha lord, Jupiter's backwards motion from February to June could be another signal that Trump may be less successful in implementing his agenda. I do not subscribe to the belief that retrograde planets are inherently negative, but I think you can make the case that they do open up an additional vulnerability for planets when they come under transit affliction. That is the case here with the Mars transit in the second half of February. Remember, too, that once Jupiter begins to move backwards, it will separate from its exact 120 degree aspect with Trump's Sun (authority, leadership, confidence). I would think that Trump's legitimacy as president will come under increased scrutiny after February 6th as the boost previously provided by Jupiter will diminish.
The bottom line here is that President Trump is entering a very difficult period that will likely last into April at least. I think he will survive it, but he will likely be further damaged politically by some of these transits. As Saturn aligns with Rahu (North Node) in late May and June, we could see a new flare-up of conflict and protest as the USA's Mars will be activated once again. This pattern also looks quite potent and opens the door to violence and military action. More details on that front when I have a better idea about it.
Weekly Market Forecast
US stocks have been holding up well recently. The Dow pushed above 20,000 last week on optimism that the new administration would cut taxes and boost spending. I would have thought that we might have seen more selling pressure last week given the entry of Saturn into sidereal Sagittarius, however. Stocks are moving lower today in the wake of the controversial Trump Muslim travel ban so that may speak to the growing Saturn influence. Indian stocks rose sharply last week in the run-up to this Wednesday's Budget.
This week looks more bearish for stocks. On Tuesday, the Moon conjoins Mars and Venus so we could see another down day, especially in US and European markets. The midweek Mercury-Jupiter alignment may be more bullish, however. Indian shares look somewhat more positive this week and I would think a positive reaction to the Budget is likely on Wednesday and even Thursday given the Mercury influence. The late week is more of a question mark, however, especially on Friday's Mercury-Saturn alignment.
For more details and analysis on market trends for this week, this month and this year, please check out my weekly
MVA Investor Newsletter
. The newsletter is published every Saturday and includes extended discussion of US and Indian stock markets, as well as gold, oil and major currencies.
---