Yellen fulfills promise as Fed finally hikes interest rates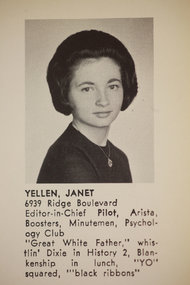 (21 December 2015)
As the most powerful woman in the world, Janet Yellen fulfilled her promise and finally delivered on the long-anticipated interest rate hike last week. The Fed Chair announced the Federal Reserve would hike rates for the first time in nine years and thereby end the experimental zero interest rate policy that was launched in the depths of the meltdown in December 2008. The hike to 0.25% was widely seen as positive as stocks markets around the world generally rose on the news of an improving US economy. The unassuming Ms. Yellen has certainly come a long way since her senior year in high school in 1963 as she attempts to guide the global economy back to normal after the worst economic crisis since the Great Depression in the 1930s.
We can see from Yellen's horoscope how she may be feeling confident and having things go her way for the most part at the moment. Jupiter (at 28 Leo) is slowing down and soon to station at 29 Leo in early January. It is therefore setting up a nice alignment with her natal Sun (27 Cancer) , Uranus (27 Taurus) and Jupiter (29 Virgo). This is not a traditional Jupiter aspect (usually, 120 or 240 degrees) but I have found such close angular alignments (i.e. of any multiples of 30 degrees) are often reflective of the transiting planet's inherent energy. The Jupiter influence here would likely have given Yellen confidence to act and should improve the consequences of her actions for the time around the Jupiter station.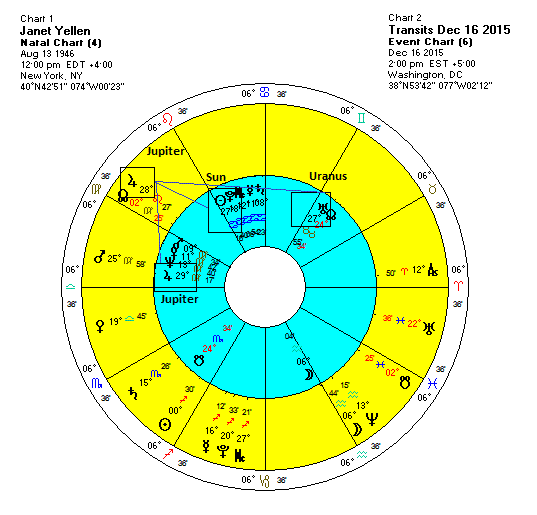 Looking ahead, transiting Rahu (North Lunar Node) will soon align with the aforementioned planets in her natal chart in February and March. This could be a more challenging time for her. Rahu tends to be disruptive of the status quo so we could be forced to adapt to fast-changing circumstances. The Rahu-Sun alignment also suggests that she may be put on the defensive as her ego (Sun) could be undermined by developments that go against her. Even more telling perhaps is that transiting Saturn will station retrograde at 22 Scorpio and this will be conjunct her natal Ketu (24 Scorpio). This is usually a stressful transit and may reflect situations where her assumptions are called into question. I would therefore expect the Fed will face some significant financial turbulence in February and especially March.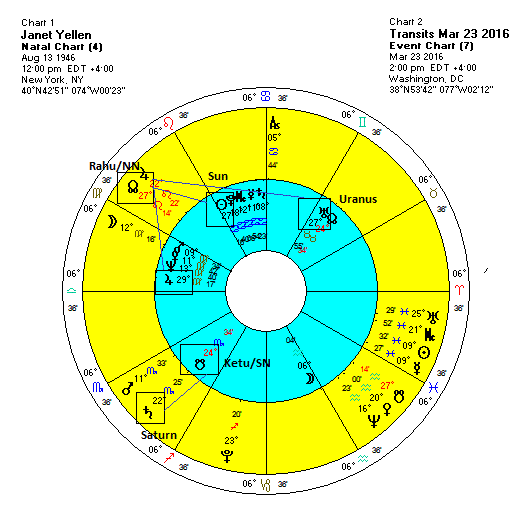 Weekly Market Forecast
I had generally expected a rate hike on Wednesday as the Sun entered the optimistic sign of Sagittarius in the sidereal (Vedic) zodiac. I also thought the planets generally suggested a mostly favorable market reaction to the Fed's move. This proved to be largely correct as stocks rose in the early week and on Wednesday in the US and into Thursday in Asia and Europe. In addition to the Sun influence, bullish Venus was also aligning with Uranus and Pluto so I had added reason to think stocks would generally rise. Indeed, US stocks gained more than 3% into Wednesday and Indian stocks added more than 2% in the run-up to the decision. However, stocks declined late in the week as investors took a more sober second look at the new investing reality. In last week's
stock market forecast
, I had wondered if we might see some late week selling on the Mars-Jupiter alignment influence.
This week will likely be fairly quiet due to the Christmas holiday break on Friday. The outlook seems mixed. Monday's trading was mostly higher as Mercury aligned with Uranus and the Moon approached its aspect with Venus. Once the Moon-Venus aspect begins to separate around noon GMT on Tuesday, I would think markets will become somewhat weaker. But the Venus-Jupiter alignment on Thursday suggests more upside, even if it doesn't get very far due to thin holiday trading. Could this be the makings of a year-end
Santa Claus rally
? It could be, although as I have written previously, the planets do not clearly favor a strong rally into the New Year. Some gains are possible, but the prospect of an unusually long-lasting Mars-Mercury square aspect from December 27th to January 6th could well be an added psychological burden on investors.
---