Mercury turns retrograde after Wednesday Fed meeting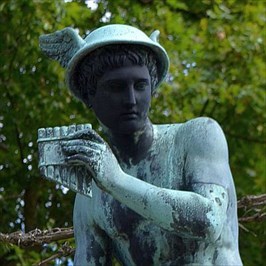 (28 Oct 2019)
Things are looking up for the stock market these days. The S&P 500 hit a new all-time high today as corporate earnings satisfied buyers while the ever-elusive US-China trade deal appeared to move one step closer to reality. While trading volumes have been low, some investors are expecting a major new leg higher as the Fed's loose monetary policy promises to keep interest rates as low as possible. Low rates means that borrowing is cheaper and that can produce more growth in the near-term, whether or not this debt-based economy is sustainable in the long run.
The Federal Reserve meets this week on Wednesday and will issue its latest statement on the economy. Most investors are expecting another rate cut of 25 points although the bigger question will be the forward guidance for 2020. With a recession still looming over the horizon, the market is looking for reassurance that further cuts are coming and the Fed is prepared to intervene in the market no matter what. To some extent, the Fed has already been intervening in the market through its purchases in the overnight repo market and its treasury bill buying in an attempt to entice more money into riskier assets like stocks.
While a rate cut seems likely on Wednesday, it is unclear how the market will react. The planetary outlook is very uncertain for the second half of week as Mercury is due to turn retrograde on Thursday, Oct 31. Mercury retrograde stations often coincide with moments of uncertainty as information and communications can often be interrupted unexpectedly. Outcomes may be at odds with intentions so this is a bearish bias in the markets.
By way of background, a Mercury station occurs when Mercury appears to stop and reverse its motion from our perspective on the Earth. This reversal of direction is a time window of increased vulnerability. It is important to note that not all Mercury retrograde stations are negative for stocks, however. If Mercury aligns with a benefic planet like Jupiter on the day of its station, then the reaction may be more positive than negative. This isn't the case this time around as Mercury forms a novile aspect with bearish Mars later in the week. This is equivalent to a conjunction in the D-9 Navamsha chart in Hindu astrology.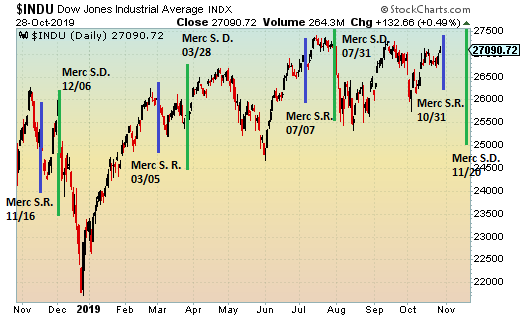 Based on my experience, the three-week long Mercury retrograde cycle doesn't necessarily correlate with bullish or bearish trends in the stock market. The Mercury direct station occurs at the end of the retrograde cycle and marks the day when Mercury again returns to its normal forward motion. This forward station is also a time of vulnerability for stocks, especially if Mercury aligns with a malefic planet like Saturn or Rahu. As it happens the Mercury direct station on Nov 20 aligns with malefic Rahu so stocks may again become vulnerable to declines at that time.
Therefore, the retrograde and direct stations are 2-3 day windows that warrant close attention. More generally, I would say the stations are times when stocks are more likely to change their trends. The previous Mercury Rx cycle saw stocks rise on July 7 on the retrograde station while the direct station on July 31 saw stocks fall. In the prior cycle, stocks reversed lower on March 5 and then changed trend and reversed higher with the direct station (Merc S.D.) on March 28. And the previous cycle saw Mercury station on Nov 16, 2018 as stocks trended lower while the end of the retrograde cycle saw stocks fall again on Dec 6, 2018.
The takeaway here is that the three-week long retrograde cycle is neither bullish nor bearish but that the time around the retrograde and direct stations are susceptible to reversals and trend changes.
Since markets have been moving higher in October, there is added downside risk around the Mercury retrograde station on Thursday. Similarly, the direct station on Nov 20 could also see the trend vulnerable to a reversal as Mercury aligns with Rahu.
There is some precedent for a sell-off after the Fed meeting on Wednesday. So far this year, stocks have declined in the days following the meetings of May 1, July 31 and Sep 18. The Mercury retrograde station on Wednesday only makes that scenario more likely. The Planet Strength Index chart also reflects the possibility that the late week will be more negative for sentiment than the first half of the week.
For a more detailed analysis of the markets, please check out my
weekly subscriber newsletter
which is published every Saturday afternoon (EST). I outline the key technical and planetary influences for US and Indian stocks for the short and medium term, as well as currencies, gold and oil.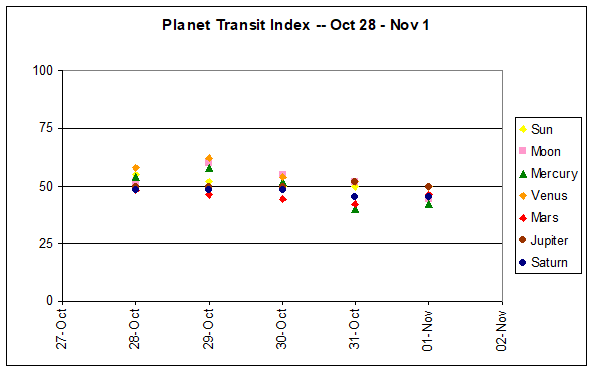 ---
These forecasts are usually posted weekly.
You can be notified of new posts if you follow
ModernVedAstro on Twitter
.

Please note that this is a more general and much abbreviated free version of my
investor newsletter which can be subscribed to
here
.

Please read my
Disclaimer