Jobs report saves Obama after debate defeat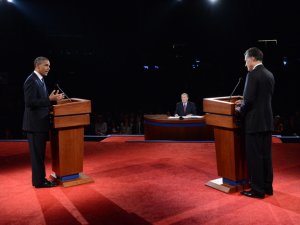 (Posted 6 October 2012)
Napoleon once remarked that his generals should not only be talented, but also lucky. This fundamental lesson of the pivotal role of fortune in history was perhaps not lost on President Barack Obama this week in the wake an unexpectedly positive jobs report that came out Friday. After a fumbling and disappointing performance in Wednesday's debate, Obama's luck turned positive once again when Friday's jobs report showed that unemployment had fallen to 7.8%, its lowest in over three years and lower than it was when he took office in January 2009. While only 114,000 new jobs were created, it nonetheless gave Obama a much-needed diversion after his poor showing in the debate.
There are some interesting planetary placements for both Wednesday's debate performance and then Friday's surprisingly good economic news. Wednesday's debate occurred just before the conjunction of Mercury (3 Libra) and Saturn (5 Libra). Obama's Ketu is situated at 4 Aquarius, exactly 120 degrees away. As we know, Ketu is a natural malefic and any transit hits to it will tend to produce negative results, especially when there are transiting malefics involved. Mercury is a positive planet symbolizing communication and the thinking process but Saturn is not. Saturn often distorts or negates the positive potential in the planets it associates with. Mercury-Saturn was in a near-exact 120 degree aspect with Obama's Ketu at the time of the debate. Perhaps this combination of planets could be read as Saturn (slow, distorted, disappointed) Mercury (thinking, communication) that creates upsets and reversals (Ketu). To make matters worse, transiting Mars (4 Scorpio) was also squaring Obama's Ketu. The Mars square aspect is usually negative and this time was no exception.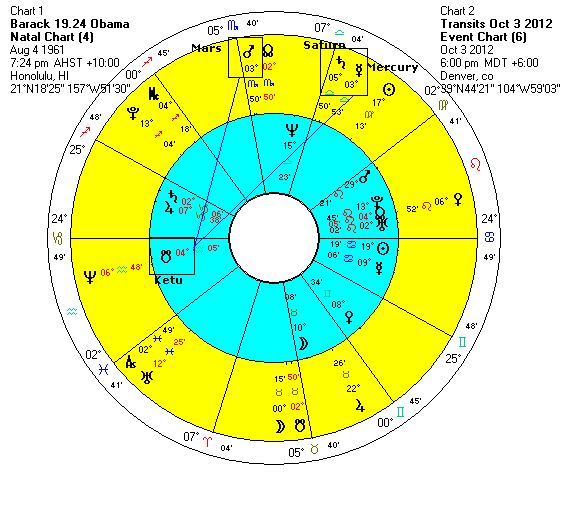 By Friday, Mercury had moved out of range of Ketu and things improved. In addition, there was a very nice alignment of the Sun (19 Virgo), Moon (18 Taurus) and Jupiter (22 Taurus). These three planets created a very fortunate grand trine aspect with Obama's ascendant (24 Capricorn). Jupiter had just turned retrograde the day before and essentially stationary, and hence that much more powerful and able to do good. The fast moving Moon transit drew out the energy of the trine into an appropriately positive (and lucky!) manifestation. Interestingly, transiting Mars had moved off its aspect to Ketu and was now almost exactly conjunct the Midheaven (i.e. 10th house cusp) at 5 Scorpio. The 10th house cusp represents status and career and the presence of Mars here in its own sign os Scorpio would be quite positive.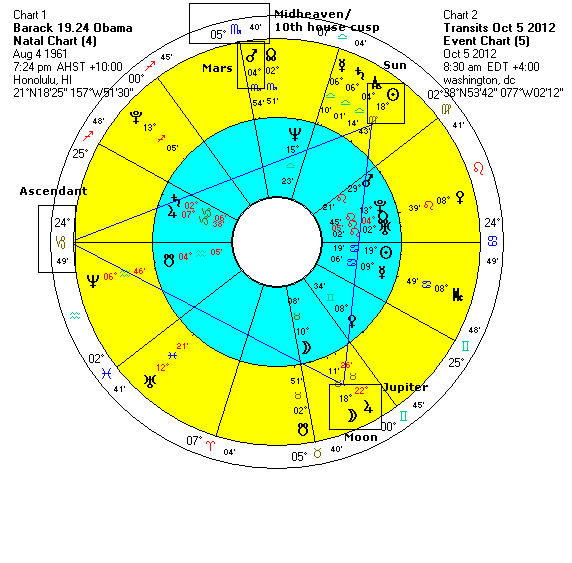 Romney's more favorable debate outcome was likely the result of transiting Mars exactly conjoining his powerful Moon-Jupiter conjunction with the transiting Moon acting as an amplifier in the opposing sign of Taurus. Mars is the planet of action and energy and it is often associated with significant events. Unlike the more problematic square aspect, the conjunction is more often positive, as we saw with Obama's Mars to MC conjunction. Friday's job number was not a plus for Romney but it arguably did not constitute a major change. He was still riding the post-debate bump in the polls so we don't see transit hits that are as strong in his chart.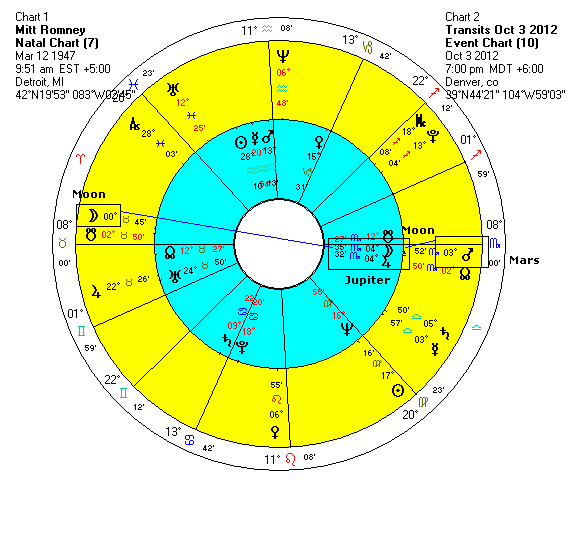 With the VP debate scheduled for 11 October, the next presidential debate will take place on 16 October. The follow-up debate looks much more difficult for Romney as transiting Mars will conjoin his Ketu and square his natal Mars. This suggests high levels of frustration and conflict. Some angry outbursts are also a possibility here. Overall, Romney's chart does not look fortunate for this debate. The Romney campaign chart (2 June 2011) is also heavily afflicted as Moon-Mercury will exactly oppose Mars on 16 October. This is another indication for a more contested debate and one with a worse outcome. Significantly, Obama's natal and campaign charts both look very good that day. The Moon-Mercury conjunction will be sitting at the top of the natal chart (= commanding communication) while the Mercury-Venus aspect will activate the natal Moon-Jupiter conjunction at 21 Pisces in the Obama campaign chart. Most pundits are predicting Obama to come out much more forcefully in the second debate and the charts would tend to confirm this expectation. The charts also suggest that Obama is more likely to win the next debate.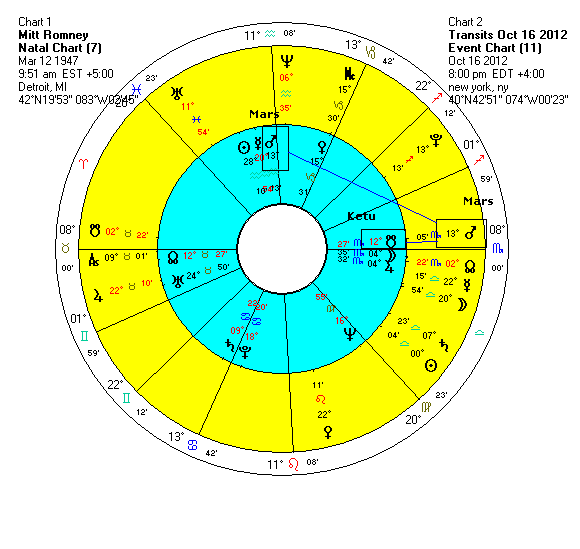 Meanwhile, the markets are now pondering the possibilities of a Romney win in November. The debate victory for the Republican nominee was one reason for a positive week on Wall Street. A Romney presidency would likely be good for the stock market in the short run as taxes would likely fall, especially on the wealthy. The Dow was about 1% higher closing at 13,610. Indian stocks also rose, although the week was marred by Friday's "flash crash" which was apparently triggered by a broker's error. I had been somewhat ambivalent about the markets last week. I thought we might have seen more early week downside on the Mars-Rahu aspect while the late week Mercury-Saturn-Neptune alignment but potent but unpredictable. That may have been a factor in Friday's flash crash in Mumbai.
Now that Jupiter has begun its retrograde cycle, it is possible that the market could become more vulnerable to declines over the coming weeks. Bullish Jupiter is still quite strong here since it is moving extremely slowly perhaps the markets will stay afloat for another week or so. The short term aspects look somewhat mixed this week. Monday and Tuesday feature both bullish and bearish aspects although I would think the sheer number of bullish aspects ought to carry the day. Thursday looks somewhat difficult given the Moon-Mars aspect while Friday's Moon-Venus conjunction may bring relief.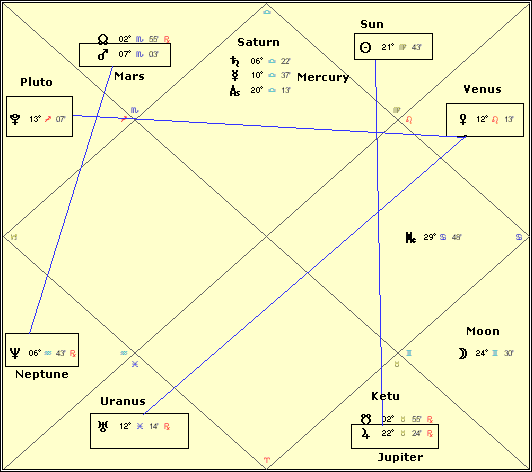 Transits for Monday 8 October 2012 9.30 a.m. New York
---