Stocks at record high before Trump's speech and Venus retrograde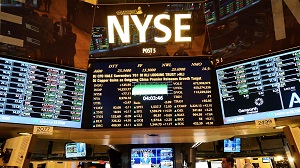 (28 February 2017)
The US stock market continues to make new all-time highs with each passing day as the Trump rally moves into its fourth month. The promise of a business-friendly administration featuring lower taxes, less regulation and massive infrastructure spending has fueled the rally which has also boosted stock prices across most global markets. But how much longer can it last?
In practical terms, investors will soon demand to see tangible evidence of Trump's promises in the form of detailed plans and actual legislation. Perhaps Trump's speech to Congress tonight have go some ways to that end. But the plan will still need to come to fruition in terms of real growth and rising corporate earnings. For now, stocks are trading only on the future prospect of higher economic growth.
One possible detour for markets will be the upcoming Venus retrograde period. Venus turns retrograde once every 19 months or so, as it traces a backward path through approximately 16 degrees of the sky. The Venus retrograde period lasts on average 41 days. Venus is due to turn retrograde this Saturday, March 4th at 19 degrees of Pisces. Its retrograde cycle will end on April 16th at 2 degrees of Pisces at which point Venus will again begin to move forward.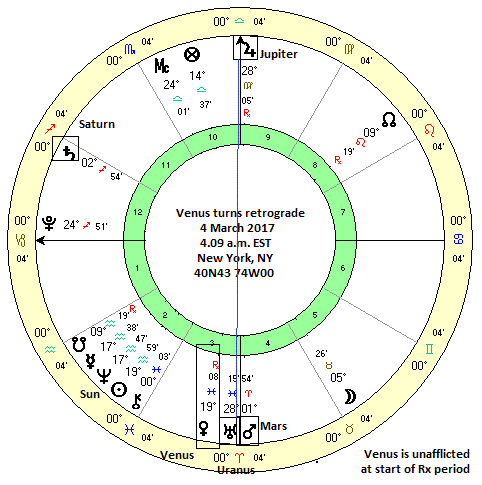 Venus is a benefic planet with a number of positive associations including love, women, art, luxury, leisure among many others. In the financial world, it is associated with general notions of value and money. When it turns retrograde, there may be changes to current perceptions of money. The retrograde period implies a sense of review, retrenchment or perhaps even having second thoughts. Venus retrograde periods therefore should be seen as periods of possible re-assessment of notions of value, including stock prices. By themselves, Venus retrograde periods may be seen as a negative influence on the stock market. That said, there may be other factors at work that can sometimes produce gains during Venus retrograde periods. As with most planetary placements in financial astrology, one single factor alone cannot determine overall price outcomes.
We can see how the previous two Venus retrograde periods were correlated with declines. The Dow fell 8% during the 2015 Venus retrograde cycle from July 25 to September 5. The previous Venus retrograde cycle occurred from December 22, 2013 to February 1, 2014. The Dow fell 4% during that 41-day period when Venus was moving backwards in the sky. Not wanting to succumb to the recency effect, let's look at preceding Venus retrograde cycles to see if the pattern holds up.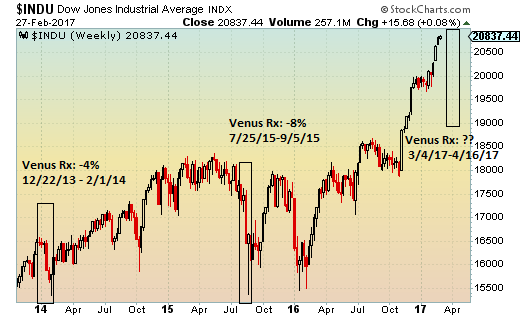 The next chart reveals that the Venus Rx effect is not a perfect correlation. Not by a long shot. The Dow was more or less flat in the preceding period from May 15, 2012 to June 27, 2012. And before that, stocks actually rose 1% during the Venus retrograde period in Oct-Nov 2010. But it is the 2009 Venus retrograde cycle that presents the most compelling anomaly. Stocks actually soared 22% during that Venus Rx period as the Dow bounced off the bottom in early March in what was the low point for the stock market after the 2008 Meltdown.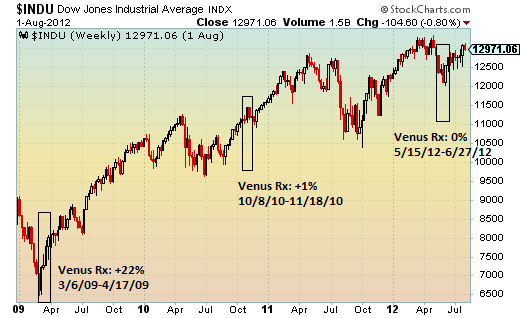 How can we make sense of this anomaly? First, I would suggest that Venus retrograde periods may still have a special significance in terms of fulfilling their symbolic association as a time to review and re-assess notions of value. Stocks were "oversold" in March 2009 as many investors were panicking and liquidating their assets. The Venus retrograde period then arrived in early March and coincided with a 'sober second thought' that perhaps stocks were really a better value than they had previously seemed. As a result, stocks reversed sharply higher.
The March 2009 Venus Rx period also occurred in a close alignment with Saturn. Once Venus turned retrograde, it began to move away from its alignment with bearish Saturn and hence, some of that ongoing negative sentiment began to lessen. In other words, the Venus retrograde period still needs to be understood with respect to other planetary placements. By itself, it may only be modestly and conditionally bearish. But if it occurs when other planetary alignments are improving, it can actually coincide with gains.
So what does this all mean for the stock market and the next Venus retrograde cycle in March? While we can try to make the case that Venus retrograde periods are somewhat bearish in themselves, it may matter more what alignments Venus is forming with respect to other planets during the time that it is retrograde. There are no close alignments when Venus turns retrograde on March 4th, so that could mean we may not see an immediate decline.
But by the end of its Rx period in mid-April, Venus will form a close square aspect with Saturn. That's not good. In my view, this suggests that any collective re-assessment of value and price brought on by the Venus Rx period is more likely to take stocks lower, especially as Venus approaches its square aspect with Saturn in April. This may allow for more gains in the short run closer to the time of the March 4th Venus retrograde station. I would still think that the 40-day retrograde cycle as a whole would see most stock markets struggle. And with markets "overbought" as they are after the huge Trump rally, this revamped Venus influence may be the necessary ingredient to bring the rally to an end. We shall see.
Weekly Market Forecast
Stocks have maintained their upward momentum over the past week as investors await new directions from President Trump's speech to Congress tonight. The Dow closed at its 11th straight all-time high on Monday at 20,837. India's Sensex also pushed higher last week although it has dipped somewhat in the early going this week on profit-taking closing Tuesday at 28,743. This mostly positive outcome was not unexpected given the ongoing Jupiter-Uranus alignment that has dominated the month of February.
But we are more likely to see an increase in volatility as Jupiter separates from Uranus starting next week. Some large moves become somewhat more likely this week in the wake of Sunday's solar eclipse (= interruption) and the Mars conjunction with Uranus. I would be surprised if this translated into a large decline this week although some assumptions could be subject to change. The entry of Mars into Aries on Wednesday and Thursday looks a bit unstable and could coincide with some negativity. Given the impending separation of the Jupiter-Uranus alignment and the approach of the Venus retrograde period there is more reason to expect the Trump rally to end sooner rather than later.
For more details and analysis on market trends for this week, this month and this year, please check out my weekly
MVA Investor Newsletter
. The newsletter is published every Saturday and includes extended discussion of US and Indian stock markets, as well as gold, oil and major currencies.
---