Gold rallies amid emerging currency war: is this a new bull market?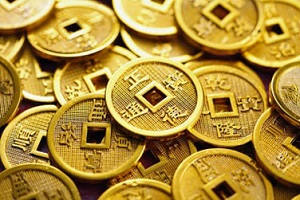 (8 February 2016)
Is gold's renewed luster for real? Gold has been shining brightly of late as one of the few asset classes (along with bonds) that has bucked the down trend in stocks and commodities. One key reason for gold's recent gains are fears that another recession may be looming which will force the world's central banks to cut interest rates further into negative territory. Lower interest rates are designed to lower (and debase) national currencies and therefore this enhances the appeal of gold as a storehouse of value.
Following more easing moves by their central banks in recent months, the Japanese Yen, the Euro and the Chinese Yuan among others have all fallen against the US Dollar. We may well be entering a more intense phase of a global currency war as desperate central banks race to devalue in order to briefly stimulate economic growth through cheap exports. Faced with the prospect of holding falling currencies, more investors are opting for gold as a hedge against this uncertainty. Gold soared 5% last week and finished at $1174 an ounce.
But we've seen this movie before. Gold has been trapped in a four-year long bear market following its all-time record high of $1920 in 2011. During that time, we have seen gold attempt similar impressive short term rallies but they invariably come to nothing. As is typical of a bear market, all these promising rallies only lasted a few weeks and then gold would fall even lower. Are things different this time?
My assessment of the relevant astrological influences suggests the recent gains in gold are simply another fairly typical, albeit strong, bear market rally and nothing to get too excited about. A bear market rally means that gains can come suddenly and powerfully but are unlikely to evolve into a sustainable up trend. Therefore, they are unlikely to fundamentally change the bear market dynamic of lower highs and lower lows.
The current gains in gold in early 2016 are not surprising and I have been advising newsletter subscribers that such a rally was more likely now. Whatever the transit effects of Jupiter in Leo (bullish) and Jupiter conjunct Rahu (North Lunar Node) (bearish), my go-to chart for gold is still the 1919 natal chart of the first public posting of gold prices from London banks on September 12 at 11 a.m. While London is no longer the financial capital of the world it once was after World War 1, I have found this gold horoscope still seems to resonate quite closely with the major changes in gold prices.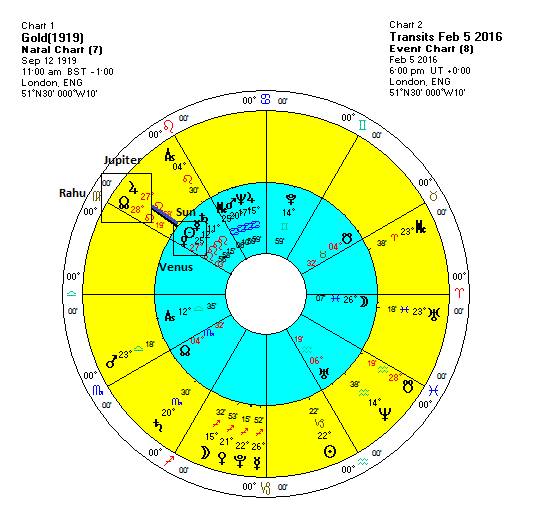 A quick look at the chart and we can quickly see why gold is rising here in 2016. That Jupiter-Rahu conjunction in late Leo is conjoining the Sun-Venus conjunction in the natal chart. Jupiter is usually bullish and its ongoing conjunction here with Rahu is also a plus as it encounters benefic planets like Venus and the Sun. It's obviously positive and is one big reason why I had predicted some gains for gold in February in my newsletter. To be honest, this current breakout higher occurred a few days earlier than I expected but the overall picture is very much in keeping with the standard effects of Jupiter and Rahu on a Sun-Venus conjunction.
The question now is what happens once Jupiter (27 Leo) moves past both Venus (27 Leo) and the Sun (25 Leo) in its retrograde cycle? Jupiter is due to exactly conjoin the natal Sun on February 24th. After that, it will separate and its potentially bullish influence may diminish. This is not to say that gold will abruptly end its current rally and reverse lower on Feb 24th. However, this is one important planetary factor to consider in the larger puzzle. My sense is that the current gold rally will likely peak in late February or early March, and that March will be more bearish. The rest of 2016 also features a number of difficult alignments that seem incommensurate with a renewed bull market in gold. Readers may find more details in my
weekly market newsletter
.
Weekly Market Forecast
Stocks trended lower last week on worsening economic data and the possibility that the Federal Reserve may have no choice but postpone its announced rate hikes for 2016. In New York, the Dow lost 2% closing at 16,204 while the Indian BSE-Sensex lost 1% to 24,616. In last week's
market forecast
, I thought we would likely see the bears prevail as I thought the Mars-Sun square aspect would depress stocks through much of the week. As expected, we did see a late week bounce near the Venus-Pluto conjunction on Thursday and Friday in India and on Wednesday and Thursday in the US and Europe.
This week has started off negatively with stocks down in India, Europe and now in the US as the Futures are pointing to a sharply lower open as I write this. This is probably the result of the Mars-Sun square. While this was exact on Saturday the 6th, this pattern got a second iteration from today's Moon-Sun conjunction, i.e. a New Moon. In other words, the Moon has acted as a catalyst for the bearishness of Mars to flow to the Sun for yet another day even though Mars and the Sun are separating. I would therefore expect the bears to carry the day on Monday. But the rest of the week seems more bullish as Venus aligns with Jupiter and Rahu into midweek. That increases the chances of a decent bounce once this Mars energy has manifested in the early going.
For more details on the market trends this week, this month and this year, please check out my weekly
MVA Investor Newsletter
. The newsletter covers US and Indian stock markets, as well as gold, oil and major currencies.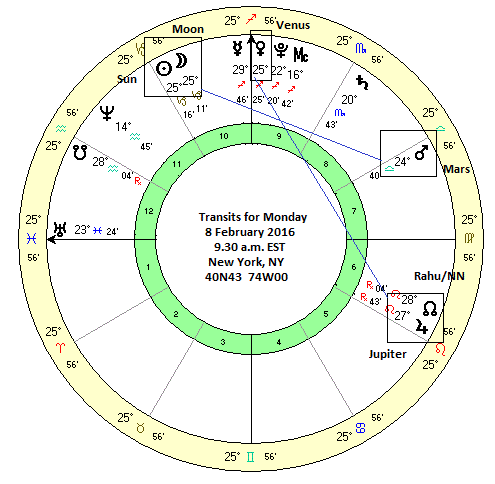 ---