New high for US stocks as Jupiter enters Sagittarius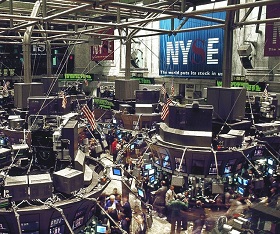 (4 November 2019)
Stocks are looking good to start the month of November as the Dow made a new all-time high on Monday. Trade optimism is in seemingly endless supply as investors are still receptive to all the jawboning coming out of the White House. And with the Federal Reserve now quietly engaging in its 'not-QE' program of asset purchases, there are more reasons (like $60 Billion per month) to think that stocks could stay in rally mode a while longer. Never mind that year-on-year US corporate earnings are negative for Q3 and ISM manufacturing data showed a contraction for the third straight month in October.
After the Fed's widely-anticipated rate cut last Wednesday, the market declined on Thursday just as Mercury turned retrograde. This was in keeping with expectations since the retrograde stations of Mercury tend to have a bearish bias. However, Friday saw a strong rebound which continued into Monday's session. This weakens the case for a protracted or deep pullback during the Mercury retrograde period that runs from Oct 31 to Nov 20.
As I noted last week, while the three-week long Mercury retrograde cycle has a bad reputation for disruption, confusion and miscommunication, its most difficult times are the few days around the retrograde and direct stations themselves. A trend change is also somewhat more likely around the stations. In this case, that seems less likely since stocks were already bullish heading into the retrograde station on Oct 31.
Part of the reason for the strong start to the week on Monday was because Jupiter entered sidereal Sagittarius. Jupiter is a bullish planet and it is said to do well in Sagittarius, which is the sign it rules and for which it has a close symbolic affinity. Jupiter transits through the sign of Sagittarius once every 12 years. This year was something of an exception due to its retrograde cycle which saw it enter Sagittarius on March 27 and then turn retrograde on April 10. It subsequently left Sagittarius on April 25 and entered Scorpio where it stayed until Sunday November 3. Jupiter will complete its transit through Sagittarius on March 28, 2020.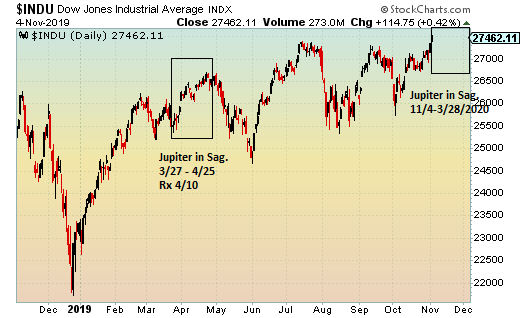 A couple of important points here. While Jupiter in Sagittarius is generally bullish, I have found it is only really bullish near the entry and exit from Sagittarius. Therefore, I would not expect stocks to simply rise through the entirety of the transit until March 2020. Its previous full transit of Sagittarius took place in 2007-2008 which corresponded closely with the financial meltdown. So that's definitely not bullish! But the entry (Nov 21, 2007) and exit (Dec 9, 2008) from the sign of Sagittarius did highlight a 5 to 10-day period that was more positive.
I suspect the March-April 2019 period consisted of a longer-lasting 30-day rally possibly because Jupiter stayed in close proximity to that very bullish first degree of Sagittarius. Also its stationed retrograde on April 10 and Jupiter stations are usually bullish no matter what sign they occur in.
The bottom line here is that the bullish effects of this entry of Jupiter into Sagittarius may not last very long. It may not even last through this week. But Jupiter is likely to play a significant role in boosting sentiment once again as we get closer to December.
In early and mid-December, Jupiter will align with Uranus and Chiron. This is likely to create a floor for the stock market and it could well take stocks even higher. In the event we have seen a pullback in November, the Jupiter-Uranus-Chiron alignment in December could prevent or at least postpone a larger decline, probably until after the holiday season.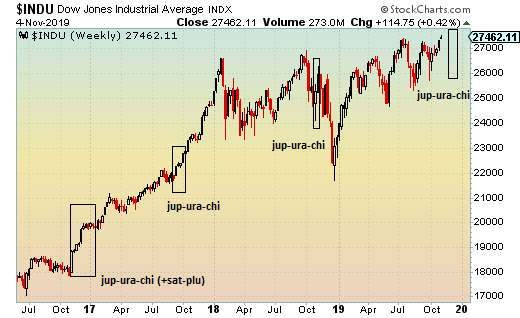 Due to the relatively close ongoing alignment of Uranus and Chiron in recent years, Jupiter has aligned with these two slow-moving planets in late October/early November 2018 and in September 2017. Both alignments coincided with 3-5% gains during the period in which the three planets were in closest orb. The Oct/Nov 2018 alignment took place right after the big sell-off in early October and coincided with the bottom and the subsequent late October bounce that topped out around November 8. While stocks would eventual fall further in the US, late October was a key bottom for Indian stocks. The Jupiter-Uranus-Chiron alignment therefore provided the bullish fuel for the rebound and recovery that extended into June 2019. And we should also note that the same alignment was within range at the start of the Trump rally in November 2016, although the exact timing and duration of the alignment was modified and extended somewhat by the presence of Pluto and Saturn.
For a more detailed analysis of the markets, please check out my
weekly subscriber newsletter
which is published every Saturday afternoon (EST). I outline the key technical and planetary influences for US and Indian stocks for the short and medium term, as well as currencies, gold and oil.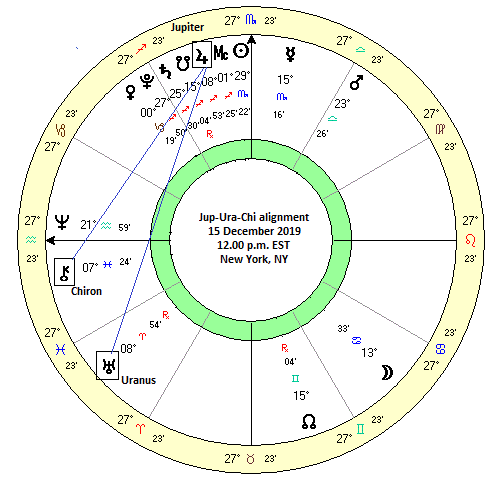 ---
These forecasts are usually posted weekly.
You can be notified of new posts if you follow
ModernVedAstro on Twitter
.

Please note that this is a more general and much abbreviated free version of my
investor newsletter which can be subscribed to
here
.

Please read my
Disclaimer