Mars sideswipes Bitcoin as price falls 20%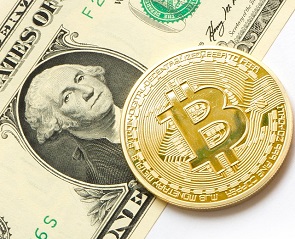 (20 December 2017)
The Bitcoin mania continues after the cryptocurrency traded near $20,000 over the weekend. Bitcoin's profile was further heightened on Sunday as the Chicago Mercantile Exchange (CME) began to offer BTC Futures following the lead of the CBOE which initiated futures trading last week. While there is some variation in prices depending on the exchange, BTC hit about 19,700 on Sunday, 17 December before pulling back. The past few days has seen Bitcoin trade below $16,000 although currently trading near $17,000.
This 15-20% pullback closely coincides with a prediction I made about the
price of Bitcoin
last week. I had suggested that a series of transits involving the planet Mars to key planets in the BTC first trade chart could bring about some declines. I had had some doubts about the usefulness of the first trade chart (12 January 2009), but the current pullback seems to line up well with the planetary influences.
I had thought that the Mars-Moon square (i.e. when Mars was 90 degrees from the natal Moon) on 19th December could coincide with some nervousness in the bitcoin market. That is just two days after the 17 December top as prices have fallen on the 18th, 19th and the 20th. Mars was just one degree from its exact square aspect during the start of this decline. A fairly close correlation.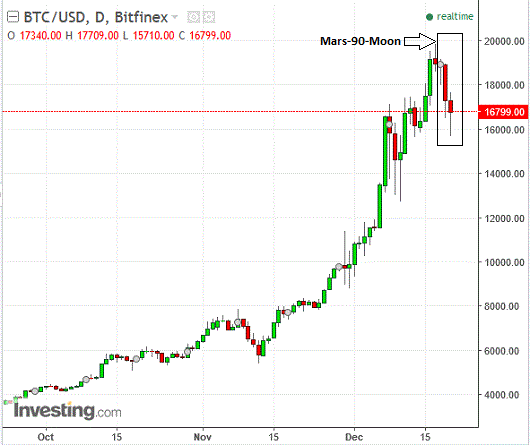 Mars is also now squaring Mercury in the chart and that also explains why prices remain under pressure today (Wednesday). I would think Mars will continue to be a negative factor until 23rd December when it squares the Lunar Node (Rahu). Due to the clustering of planets in Capricorn, however, I'm less certain that the transit effects will closely coincide with exact aspects. When planets are grouped together as in this chart (Moon, Mercury, Lunar Node, Jupiter, Neptune), the effects of stressful transits can sometimes be diffused. Nonetheless, this suggests that BTC is less likely to rebound strongly to new highs over the next few days.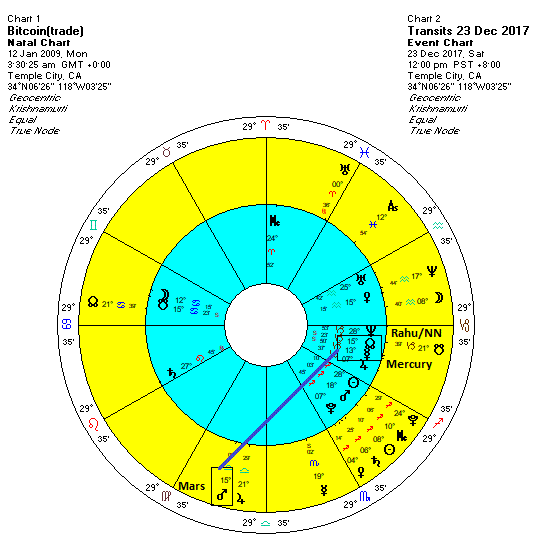 I would think prices are more likely to rise after Christmas. However, as I noted in my previous Bitcoin post, the Uranus direct station on 2nd January could be significant. Uranus represents technology in general and its station at 0 degrees of sidereal Aries forms a close alignment to the Ascendant in the first trade chart. Of course, I'm not at all sure that this chart (and the Ascendant) is reliable but it is definitely something to watch out for. The Uranus station hints at weakness, or at least a reduction in volatility in both directions. Without the strong Uranian influence in recent weeks, Bitcoin may be more likely to move in a narrower trading range on any given day. More than a bullish or bearish indication perhaps, the 2nd January Uranus station may signal a lessening of the wild swings in price for the next few weeks.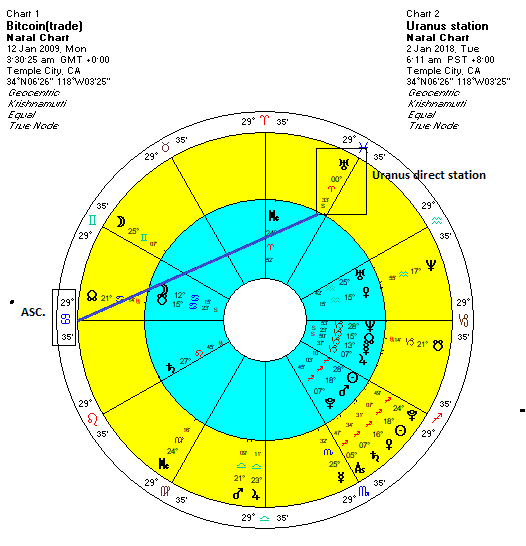 As before, I think more upside is very possible in the first months of 2018. I would think higher highs are more likely than not, although forecasting prices is purely speculative. How high Bitcoin could go is therefore impossible for me to say. But I do think that April-May looks more troublesome as Saturn turns retrograde and the Lunar Nodes form a semi-return with the natal chart. But that also depends on how workable this first trade chart is. So far, it seems to reflect changing sentiment at least partially, October notwithstanding. But I would need to see more evidence before feeling comfortable with it.
Weekly Market Forecast
The stock market remains as buoyant as ever as investors welcome the news of the passage of the Trump tax bill. The business-friendly tax overhaul has the Dow again trading at record highs while India's Sensex matched its recent all-time high a bit below 34,000. This ongoing rally is not surprising as the late December planetary alignments look fairly positive. As I noted in last week's
market forecast
, we got some mild selling in the second half of the week following the Fed meeting but stocks have rebounded strongly this week as Venus enters Sagittarius today and Mercury stations direct in alignment with bullish Jupiter.
The rest of this week looks less positive as the Moon is squared by Mars and the Sun conjoins Saturn. But with Jupiter aligning with the Lunar Nodes and Pluto next week, one would expect the Santa Claus rally to prevail once again this year.
For more details and analysis on market trends for this week, this month and this year, please check out my weekly
MVA Investor Newsletter
. The newsletter is published every Saturday and includes extended discussion of US and Indian stock markets, as well as gold, oil and major currencies.
---