China's Xi meets Trump as Saturn turns retrograde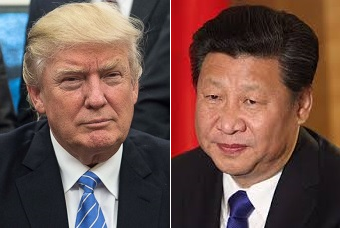 (5 April 2017)
The leaders of the two most economically powerful countries on the planet are due to meet tomorrow. US President Donald Trump and his Chinese counterpart Xi Jinping will meet Thursday and Friday in Mar-a-Lago, Florida to discuss a range of issues from global trade to North Korea. There is some trepidation that the meeting could be rather tense given Trump's often blunt and hostile comments about China and its economic practices. Trump's unpredictability means anything is possible, although it seems more likely that everyone will be all smiles in front of the cameras. What insights does astrology offer on this meeting?
While we don't know President Xi's birth time, we do know he was born 15 June 1953. As it happens, Xi's birthday is just one day after Trump's so both men will have a close conjunction of their Suns, although Xi's is in the first degree of Gemini and Trump's is in the last degree of Taurus. Right there, we may note a small difference in approach. Trump is the sensualist and assertive bull (Taurus) while Xi may be more the intellectual data-collector typical of many Geminis. Xi is much more the thinker of the two due to his very strong Mercury in its own sign of Gemini in a close conjunction with Uranus. The wider conjunction with Mars and the Sun also boosts his rational thinking capacity (Mercury). Xi can think quickly on his feet and may be quite open to innovative solutions where they are deemed necessary.
The synastry between the charts hints at some intriguing dynamics between the two men. The fact that they are meeting the same day that Saturn turns retrograde is interesting enough. Saturn symbolizes responsibility and order and its retrograde periods are often times when established practices are reviewed and come under criticism. This is perhaps unsurprising since Trump is intent on changing the dyanmic of "Chimerica" whereby the US buys what China makes without any tariff barriers while China agrees to purchase US debt. But the times, they are likely changing. Saturn's heaviness will also be in focus as the burden of both of their nations will weigh heavily on them as they discuss ways to improve their respective economies.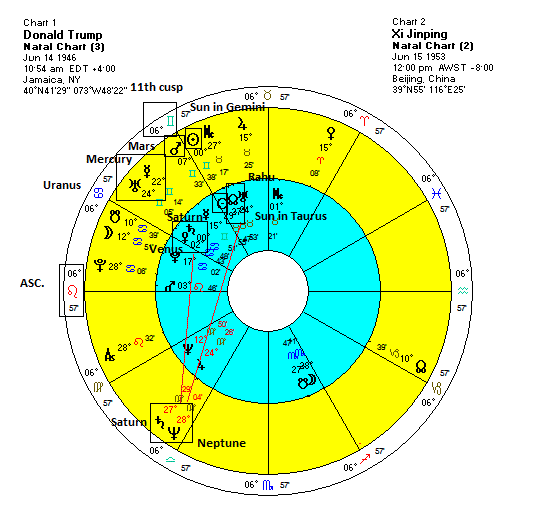 The square alignment between their respective Saturns could mean that agreement and compromise may be particularly difficult. Xi's Saturn (27 Virgo) also squares Trump's Venus in early Cancer so that may mean an hardness and distance to the interaction as if Xi's formal and resolute approach may block any attempt by Trump to create more friendly ties (Venus).
We can also see that Trump's Rahu (29 Taurus) very closely aspects Xi's Saturn-Neptune conjunction. Trump's penchant for off the cuff comments and breaking with tradition (Rahu) are likely to not be well received by Xi's stronger sense of propriety and responsibility. It is possible this disruptive Rahu effect could put Xi on the defensive and somehow benefit Trump in any discussions. With transiting Mercury turning retrograde at 10 Sagittarius just after the meeting, Xi could be somewhat confused or disoriented by the meeting and its immediate aftermath. Mercury (communication) will station in an exact square alignment with his Rahu/Ketu. Another unhelpful element is that transiting Ketu (8 Aquarius) is in close aspect with Xi's Mars (7 Gemini). This can increase annoyance and could produce significant disputes and conflict.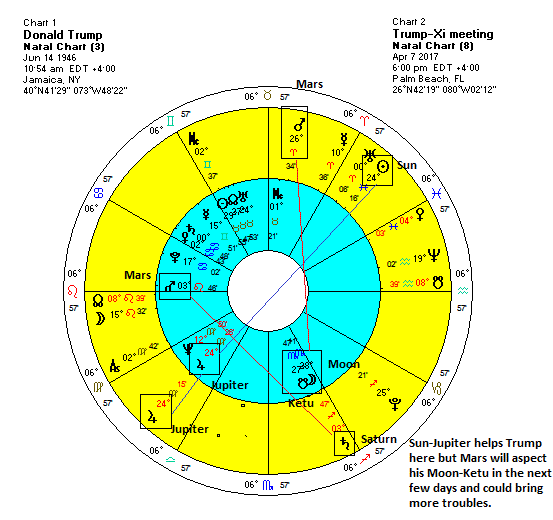 The transits for the meeting would seem to favour Trump actually since the Sun (24 Pisces) will oppose his Jupiter (24 Virgo) on Friday and thereby set up a larger positive alignment with transiting Jupiter (24 Virgo) which is exactly conjunct its natal placement. But there is a lot going on in Washington, and the Sun-Jupiter opposition is perhaps just as likely to represent the Senate confirmation of Trump's nominee for the Supreme Court, Neil Gorsuch.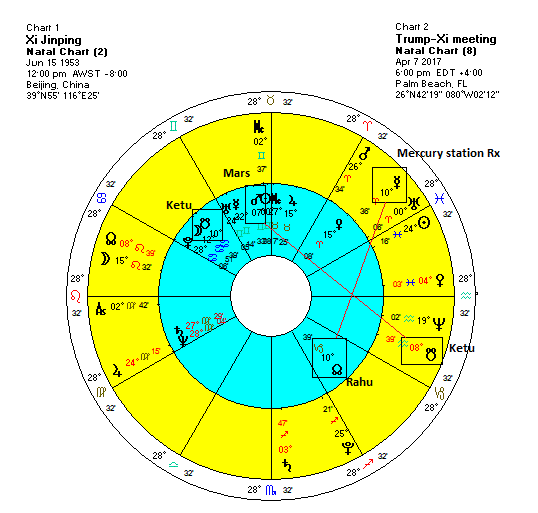 Longer term, I wonder if China's Xi Jinping will ultimately get the better of Trump due to the exact placement of Mars (7 Gemini) on Trump's 11th house cusp represents gains and wishes fulfilled. There is no single way to interpret this placement but one possibility is that China will aggressively (Mars) take profits (11th house) from Trump and the USA. Alternatively, China may win gains through military action (Mars) with Trump. However, without Xi's birth time it is hard to be anything more than speculative on these sorts of questions.
Trump is still under tremendous stress and strain from the exact Saturn (3 Sagittarius) retrograde station on Thursday with his natal Mars (3 Leo). Saturn stations play out over several days and even sometimes weeks due to its slow velocity. But the bottom line here is I still think that Trump is likely to have a bit of a win here on the Sun-Jupiter, if only to break the heaviness of the Saturn influence which will likely remain in the air for much of April. The 8th house aspect of Mars to Trump's Moon-Ketu conjunction will be exact over the weekend and into early next week. That will likely bring more difficult situations and frustration for him.
Weekly Market Forecast
US stocks have generally slipped a bit lower since my previous post last Tuesday. The Dow reversed lower today after the release of the latest Fed minutes showed its greater willingness to raise interest rates by selling the bonds on its balance sheet first acquired during the QE stimulus program. The great unwinding has begun. As expected stocks were mostly lower late last week and rebounded somewhat on Monday and Tuesday this week. The Dow finished today around 20, 600. Indian stocks have been stronger, however, as the Sensex finally regained its all-time high of 30,000 today on optimism over the GST bills and renewed global enthusiasm for emerging markets.
While some further gains are possible late this week on the Sun-Jupiter opposition, I would think the downside risk is rising here as Saturn turns retrograde tomorrow and Uranus has now just re-entered the sign of Aries. These two placements are likely to correspond with more uncertainty and a rise in caution. Early next week also looks difficult as Mercury turns retrograde while in aspect with the Lunar Nodes and Venus will form a close square aspect with Saturn.
For more details and analysis on market trends for this week, this month and this year, please check out my weekly
MVA Investor Newsletter
. The newsletter is published every Saturday and includes extended discussion of US and Indian stock markets, as well as gold, oil and major currencies.
---