GOP wins Georgia special election: charting Trump's ups and downs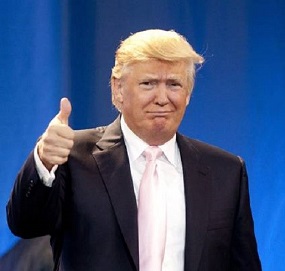 (21 June 2017)
Donald Trump scored another "win" yesterday as the Republicans narrowly won the hotly contested special election in the Georgia 6th Congressional District. The election was widely seen as a referendum on the Trump administration as Democrats were hoping for an upset in the traditionally GOP district. The victory will help boost the GOP's legislative agenda including the controversial healthcare bill that is currently in the Senate. A Senate vote on the bill is expected before the recess at the end of June although it is unclear if the GOP bill can pass given its secretive and controversial nature.
Trump's improving fortunes likely began with the Comey hearings where the former FBI chief did not provide clear evidence of a smoking gun with regard to Trump's alleged collusion with Russia during the 2016 election campaign. While the investigation is far from over, the absence of any shocking revelations at that time was seen as a plus for Trump as it took a lot of the pressure off.
In a May 10th post, I offered that
June could bring some improvement for Trump
as Jupiter stationed direct on June 9th. I suggested that since he was running the Jupiter major and minor Vimshottari dasha periods, the return of Jupiter to its normal direct motion could bring some benefits to him. The Comey testimony took place the previous day on June 8th. And we can see how this favorable special election result also fits with a more positive transit picture.
The Sun (self, ego) and Mercury (communication, work) were conjunct at 5 Gemini on Tuesday which is almost exactly on the equal cusp of Trump's 11th house signifying gains and wishes fulfilled. It's very unusual to have things go against you when those two planets sitting on the 11th cusp. Transiting Mars (16 Gemini) was just one degree past Trump's very strong 11th house Mercury (15 Gemini) and this should also be seen as generally favorable placement. Mars is often negative by square or opposition aspect, but its conjunction here in the 11th house is more a symbol of energy and action, or an action that brings good results.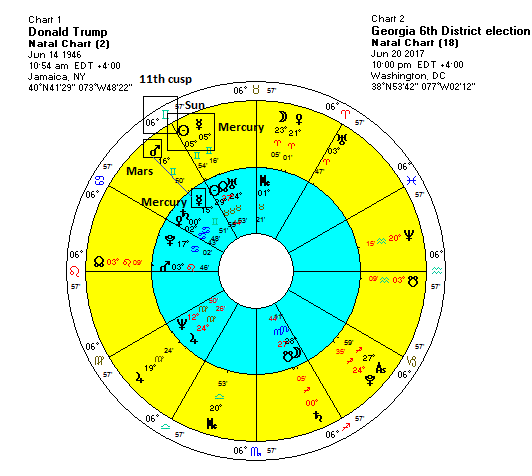 Amazingly, this Sun-Mercury conjunction is also in a very positive place for Trump in the chart of President-Elect of the United States (PEOTUS). The conjunction at 5 Gemini sits at the very top of the chart on the 10th house cusp reflecting an achievement and increase in status. And if we want to dig deeper, we can see that the Moon-Venus conjunction was in a very close 135 degree alignment (8th harmonic) with the Ascendant. Although it is now moving forward slowly, transiting Jupiter (19 Virgo) is still closely conjunct its natal position at 18 Virgo. It's definitely not a bad set up of planets.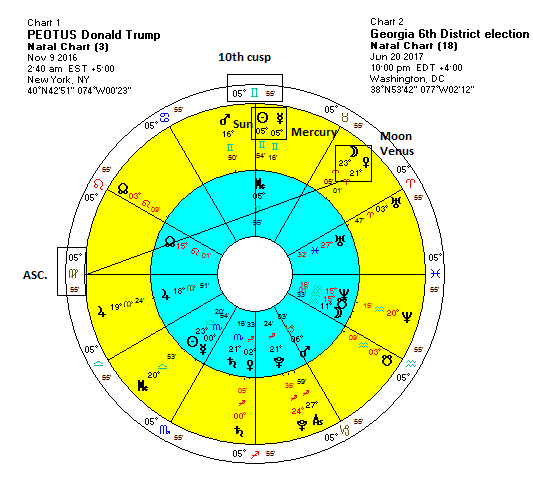 So how long can Trump ride this little wave of momentum? I think these more positive planets should extend into early or perhaps mid-July. That means that the chances look good for the Senate to pass the GOP health care bill if it happens next week before the July 4th recess. Trump's natal chart looks quite good towards the end of next week (June 28-30) as Venus conjoins his unequal 10th house cusp (=success) while the Mercury-Mars conjunction at 22-24 Gemini aligns with his Jupiter by square aspect. The transiting Sun will conjoin his 11th house Mercury (=gains) around the same time.
The PEOTUS chart also places the Mercury-Mars conjunction in a powerful position aligning with the Sun (23 Libra), Saturn (21 Scorpio) and Pluto (21 Sagittarius). This isn't necessarily an alignment for a shining success as Saturn and Pluto imply coercion and the blunt application of power but it still seems like it fits better with the vote being forced through one way or another. The Venus (0 Taurus ) opposition to Mercury (0 Scorpio) seems somewhat indicative of a desirable outcome for Trump.
Trump's string of good luck may end in July, especially once Mars enters sidereal Cancer on July 11th. Mars is debilitated in Cancer and it will enter his 12th house of losses and isolation. It will also conjoin both his Saturn and Venus in mid-July. This looks like a time of fresh conflict and disputes, possibly involving women in some way. The period from late July to late August looks very difficult for him and the White House. I should also note that it may also reflect problems for the US as a whole.
Since the Sun-Mars conjunction will conjoin Rahu (North Node) in the USA chart in early August, it is possible that we could see some kind of secret (8th house) violent action involving foreigners (Rahu). Alternatively, news may emerge of some kind of scandal along those lines (e.g. Russia) which could damage Trump. As I have pointed out previously, the impending Saturn station on August 25th will sit right on Trump's Moon-Ketu conjunction. It is a very heavy and burdensome combination that indicates intense pressure and stress and a high level of emotional instability.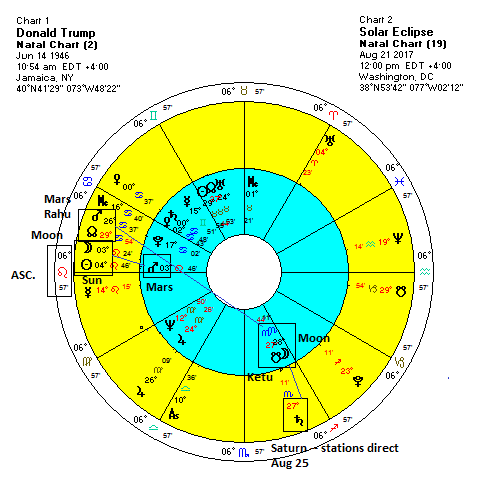 To add to this picture of intensity and stress, the solar eclipse of August 21st occurs right atop Trump's Ascendant and Mars. And Mars will conjoin Rahu in late Cancer just a few degrees behind the eclipse degree. Conflict and possibly violence may be the prevailing themes at that time. Since the USA chart is also impacted by the Mars-Rahu conjunction, it seems more likely that Trump's troubles may be less likely to be ethical or political and perhaps more military in nature. We shall see.
I don't think there is much chance of Trump resigning or getting impeached before the 2018 midterms. The GOP are still supporting him and that probably won't change. But Trump's horoscope looks terrible in the fall of 2018 so it should mean that the GOP loses control of at least one house of Congress. His charts are so bad that it could coincide with something worse than just losing the midterm elections. That broadly fits with the dasha periods also since he is running Jupiter-Jupiter until November 2018. After that time, he will run Jupiter-Saturn until 2021. This is more likely to be difficult for him since his Saturn is placed in the 12th house, the house of loss and sorrows. If impeachment is going to happen, it still seems more likely to take place in 2019.
Weekly Market Forecast
World stock markets remained firm over the past week after the Federal Reserve raised interest rates in a widely anticipated move. While US stocks fell modestly after the Fed hike, the Dow bounced back strongly on Monday and is still trading near its all-time high above 21,000. Indian stocks also stayed buoyant despite the Fed hike as the Sensex is still above 31,000. In last week's
market forecast
, I thought stocks would be weaker on the Sun-Saturn opposition after the Fed statement and this was largely the case although the declines were small.
I thought we might have seen more downside so far this week as Mars approaches its square aspect with Jupiter so it remains to be seen if I will be proven wrong on that score. Falling crude oil prices have introduced some uncertainty into the market after Monday's rise but stocks are fairly flat so far in Wednesday's session in the US. The Mars influence here still seems to be the most noteworthy. For that reason, I think the path of least resistance may still be down for the stock market over the next several sessions.
For more details and analysis on market trends for this week, this month and this year, please check out my weekly
MVA Investor Newsletter
. The newsletter is published every Saturday and includes extended discussion of US and Indian stock markets, as well as gold, oil and major currencies.
---