Is gold still a good investment?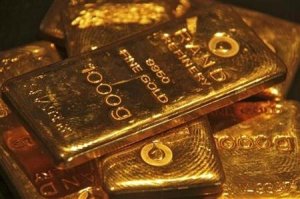 (8 December 2012)
Is gold still a good investment? In this era of central bank money printing and quantitative easing, gold has experienced an unprecedented price increase as investors seek a hedge against the risk of future inflation. Officially, inflation in most OECD countries remains low, although commodity inflation has been significant and has impacted the cost of food and fuel over the past five to ten years. As central banks seem intent on printing money indefinitely, there remains some very good reasons to own gold as an inflation hedge. If debt continues to grow unchecked, currencies will eventually have their value eroded as inflation takes hold. This is where gold becomes a more attractive alternative to paper money. But since it has already doubled in the past few years, how much higher can it go?
There is no simple or definitive answer. However, astrology does offer some useful clues based on past correlations of planetary motion with the price of gold. Traditionally, gold has been linked to the Sun and Venus. Gold is one of the ancient world's form of currency and hence it is closely associated with government and the state. The Sun is the archetypal planet of the state and hence gold is seen to be connected with the star of our solar system. Gold is also seen as an object of beauty and luxury and therefore is symbolized by the planet Venus. I have found that both the Sun and Venus do appear to have a say in the fluctuation in the price of gold. When both of these planets are well placed and connected to benefic planets, the price of gold will tend to rise. Conversely, gold is more likely to decline when these planets are afflicted in some way by bad planets such as Saturn or the nodes, Rahu and Ketu.
In addition, the price of gold is linked to the planet Jupiter. Jupiter is the planet of optimism in the future. When Jupiter is strong, it tends to correlate with a condition of confidence and economic expansion. By inference, we can say that Jupiter is also linked to notions of inflation. The more confidence about the future, the greater the likelihood that prices will rise and inflation will occur. For this reason, a strong Jupiter will tend to correlate with an increase in the price of gold as inflation expectations rise.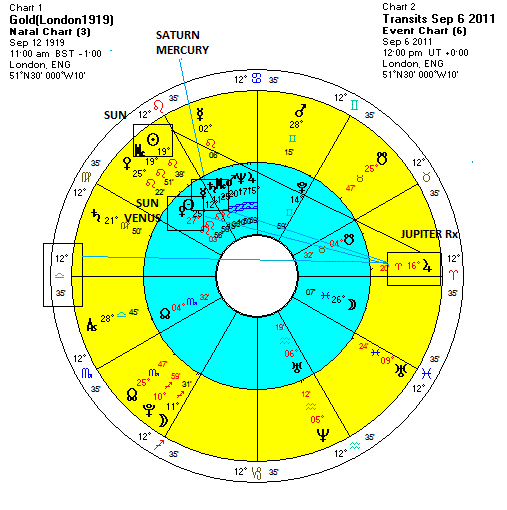 We can see how Jupiter may have played a pivotal role in the ups and downs in the price of gold. The all-time high was set on 6 September 2011 when gold hit $1923. Significantly, this occurred just as the Sun was in a 120 degree aspect with benefic Jupiter and just a week after Jupiter stationed and turned retrograde. (See outer wheel transits above.) Jupiter stations are often important turning points in the price of gold. When Jupiter is stationary in the sky (hence the term "station") it represents a kind of maximum outlet for its energy. Jupiter stations occur about three or four times a year. The previous high in January 1980 occurred at a similar Sun-Jupiter aspect shortly after Jupiter had its retrograde station. More recently, we see that gold made an important high of $1800 on 4 October 2012 on the same day that Jupiter had its retrograde station and began its four-month long backwards journey through the sky.
The other dimension to this puzzle is that price is not merely linked to the transit positions of the planets themselves. With Jupiter making three or four stations a year, it is still difficult to say just when an important high or low will be made. How do we know which station, if any, will be an important reversal point? There are an enormous number of variables that one must take into account before deciding when a price reversal will take place. Indeed, as useful as astrology is, there remains a seemingly inaccessible black box of uncertainty in interpreting astrological variables. That said, we can move one step closer to the answer by understanding the planetary transits against a backdrop of a relevant natal horoscope.
So one may well ask the question: what is the horoscope of gold? When was gold "born"? Of course, no one knows the answer to this question, but we do note some significant milestones along the way that can be helpful in understanding sentiment surrounding gold. One interesting chart in this respect is the London gold price horoscope that dates back to 12 September 1919. On that day at 11 in the morning, for the first time, several gold dealers in London decided to publicly post their average price in order to facilitate trading. They have continued this practice up to the present day, even if the London gold price is no longer as important as it once was. While by no means definitive, the resulting chart presents some intriguing insights about the price of gold.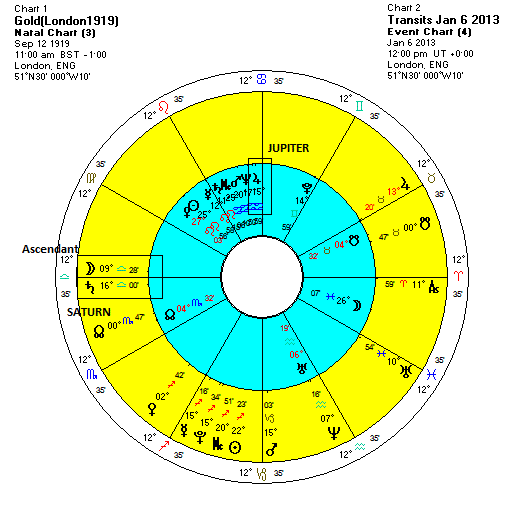 We can see that Saturn has just crossed the ascendant of this chart over the past two months. Saturn is a planet of pessimism and is often correlated with declines in the price of gold as negative economic outlooks prevail and inflation expectations are diminished. This is one reason why gold has declined since its interim peak in early October. We can also see a plausible reason why the all-time high occurred in the summer of 2011. At that time, Jupiter (optimism, inflation) was closely aspecting the ascendant in this chart and also aspected Mercury, Saturn, Sun and Venus by its 120 degree/5th house trine aspect. That's a lot of optimism there!
Now that Saturn is moving away from the ascendant as it travels more deeply into sidereal Libra, what are the prospects for gold? While Saturn moving away from the ascendant should be a bullish influence, it is still due to form a square aspect with Jupiter in this chart in the coming weeks. This is rarely a positive influence and could easily correlate with more declines in the price of gold. However, I do note that another Jupiter station is due at the end of January. At this time, Jupiter will return to forward motion and form an exact 150 degree aspect with the ascendant of this chart, a bullish position. It will also be close to an aspect with Uranus. Jupiter-Uranus aspects are usually positive. So that would suggest that some kind gains are likely sometime in January and perhaps extend into February.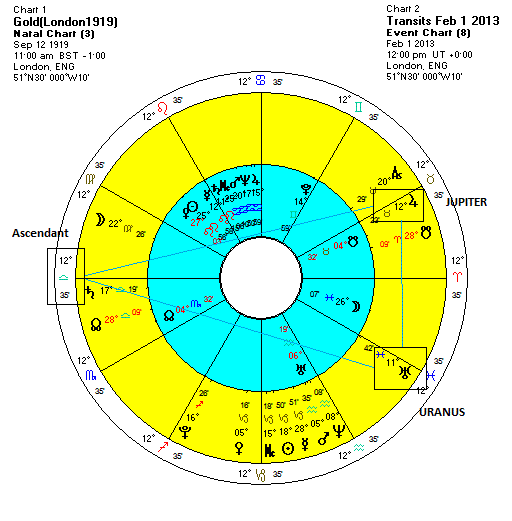 Longer term, Saturn is due to turn retrograde in February and thus will move back towards the ascendant in this natal chart. This is not a positive influence and could well depress prices well into 2013. For this reason, I would not expect gold to continue to increase in price in 2013. If anything, it may be more vulnerable to further declines.
In the meantime, US stocks moved slightly higher this week as the absence of any really bad news was enough to mollify investors. The Dow climbed less than 1% closing at 13,155. Indian stocks also drifted higher on hopes for further government reforms. The Sensex gained less than 1% closing at 19,424. I thought we might have seen more downside, especially later in the week on the Mercury-Rahu conjunction. Mumbai did see some negativity later in the week but most of the dips were bought fairly aggressively.
This week looks volatile as Venus will conjoin Rahu just in time for Bernanke's address after the FOMC meeting on Wednesday. Rahu is unpredictable and tends to magnify the size of moves in either direction. It is quite possible that the market could applaud any new announcement of Fed easing but I would remain skeptical here anyway given the proximity of the Saturn-Pluto aspect. Monday's Mercury-Neptune aspect would seem to suggest some downside is possible early in the week. The late week looks negative, however, as the Sun forms an aspect with bearish Saturn. This may also be troublesome for gold and other commodities.
---