Stocks move higher before Saturn-Pluto aspect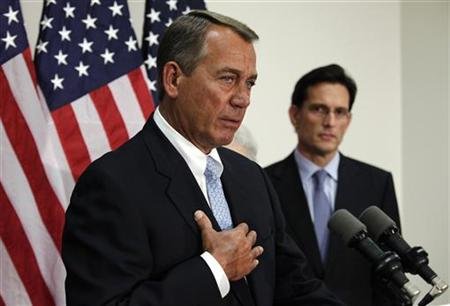 (3 December 2012)
Stocks moved slightly higher last week as US 3rd quarter GDP figures were revised upwards. The Dow added just 16 points on the week closing at 13,025. Indian stocks fared better as hopes for an RBI rate cut pushed the Sensex higher by 4% closing at 19,339. I thought we might have seen more downside, especially in the late week. We should note, however, that the low for the week in the US did occur on the day of the eclipse and the Mars-Pluto conjunction.
Markets remain in rebound mode for the most part as investors are starting to tune out all the fear mongering over the fiscal cliff. As I suggested last week, there is some reason to expect negotiations may not go well in the coming weeks. If a compromise cannot be found or worse, tax increases are larger than the market expects, stocks may become vulnerable to declines. The prime astrological factor in this respect is the approaching Saturn-Pluto aspect. As both of these planets are slow moving, this aspect may influence sentiment for the next several months. Both planets are natural malefics and their association here should be seen as a negative factor.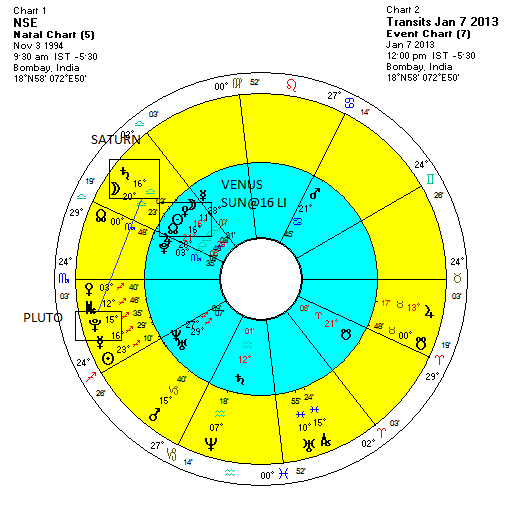 We can see how this aspect may play out by reference to a particular horoscope. The chart of the National Stock Exchange of India (NSE) will receive a direct conjunction from Saturn as it approaches its retrograde station in February. The above chart is cast for 7 January when Saturn reaches a close conjunction. Over the next few months, Saturn will remain very close to the Sun-Venus conjunction at 16 degrees of Libra in this chart. It is possible that this may not be an entirely negative influence due to Saturn's exaltation in Libra, a sign where it can be more constructive. However, there is still a considerable downside risk to this placement.
As of this week, Saturn is still 4 degrees away from the Sun-Venus conjunction so that is one reason why Indian markets have been buoyant of late. But I suspect the optimism may be in shorter supply in the near term as the Saturn conjunction tightens.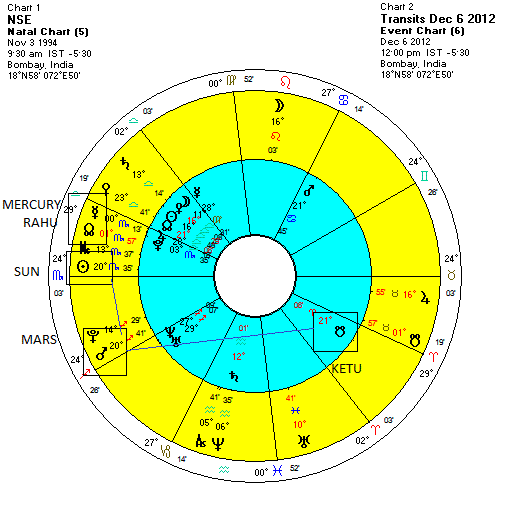 This week we can see that Mars is in aspect with natal Ketu in the NSE on Thursday. This is usually a negative combination and often correlates with declines. Even if stocks rise early in the week on the waning Sun-Jupiter aspect, gains may be temporary. There is a somewhat tense looking Sun-Mars aspect on Thursday that could act negatively on most global stocks. The mood may not be improved on Friday as Mercury conjoins Rahu.
---