Stocks hit new highs: the bigger the bubble, the bigger the bust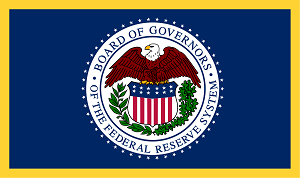 (25 November 2019)
As investors put a positive spin on the Fed's recent interventions, stocks have resumed their upward climb this week. Global markets rallied again on Monday after some brief consolidation last week. As it happened, the pullback coincided closely with the end of the Mercury retrograde cycle on Wednesday. This was in keeping with expectations as I noted that Mercury's direct station would occur in close aspect with Rahu, the North Lunar Node. According to the principles of financial astrology, Mercury-Rahu alignments tend to be bearish. Monday's gain was also not surprising given the bullish Venus-Jupiter conjunction.
It seems the sky's the limit now as fundamentals like corporate earnings and macro economic data are no longer important. What matters now is that the Fed is underwriting US bank lending by conducting $100 Billion or more in "overnight repos" and buying $60 Billion a month in Treasury Bills. After an unheralded beginning in October, these interventions amount to a new QE program (now variously called notQE or QE4) as the Fed tries to entice more lending in an effort to prevent the economy from slipping into recession.
As the old saying goes, the bigger the bubble, the bigger the bust. The planetary alignments in the coming weeks suggest the good times may not last much longer. As I've noted previously, the upcoming Jupiter-Uranus-Chiron alignment in mid-December should coincide with at least some further gains in the stock market. Jupiter alignments with the outer planets have a fairly good track record of generating some upside. However, the optimism may not linger for long as the upcoming conjunctions of Jupiter-Ketu and Saturn-Pluto both suggest a sharp reversal in sentiment as we move towards the New Year in 2020.
These conjunctions are themselves bearish, but we can also see how their negative impact will likely be felt in the horoscope of the Federal Reserve. In the Fed chart, the planetary affliction is simple and profound. In mid-December, Saturn (25 Sagittarius) will oppose natal Mars (26 Gemini) and fall under the aspect of Ketu (26 Leo). This is a very tense and difficult alignment, perhaps even more so since Saturn is parked closely to Pluto (27 Sagittarius) and both will be opposite the Ascendant (25 Gemini) in the natal chart.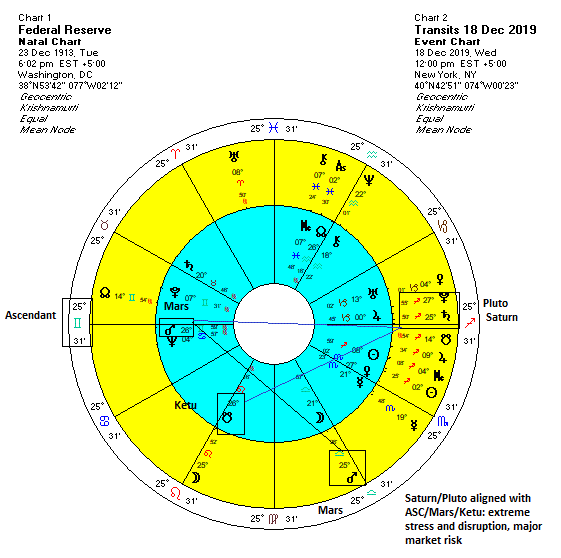 As a possible triggering planet, transiting Mars (25 Libra) will align with Saturn, Rahu and natal Mars during the week of Dec 16-20. I'm still uncertain exactly when the negative impact of these alignments will be felt as the high risk time window stretches from early December through January. But the week that follows the next Fed meeting on Dec 11 it definitely worth keeping an eye on as a potential catalyst. Saturn will remain within range of both Mars and Rahu for the rest of December.
While it is
possible
that this kind of planetary affliction may not have any real world manifestation, it seems much more likely that the Fed will be scrambling in December and probably into January as Saturn then conjoins natal Jupiter at 0 Capricorn. Whatever the proximate cause of the disruption to the status quo, the Fed will be hard pressed to stay on top of it. Markets are therefore more likely to be vulnerable to declines.
With a recession still looking more likely than not in 2020 as Jupiter conjoins Saturn, this could be the beginning of a more difficult year in financial markets.
Meanwhile, this week could see some profit-taking ahead of the US Thanksgiving holiday on Thursday. Tuesday's US trading session features a New Moon that aligns with bearish Mars so that is an elevated downside risk. Nonetheless, I would not be surprised if the rally has a bit further to run as we go into December.
For a more detailed analysis of the markets, please check out my
weekly subscriber newsletter
which is published every Saturday afternoon (EST). I outline the key technical and planetary influences for US and Indian stocks for the short and medium term, as well as currencies, gold and oil.
---
These forecasts are usually posted weekly.
You can be notified of new posts if you follow
ModernVedAstro on Twitter
.

Please note that this is a more general and much abbreviated free version of my
investor newsletter which can be subscribed to
here
.

Please read my
Disclaimer