Trump impeachment draws nearer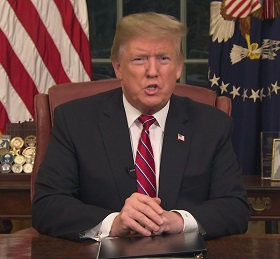 (9 December 2019)
The impeachment juggernaut is moving ever-closer to its ineluctable conclusion. House Democrats are promising a vote on the Articles of Impeachment as soon as next week as Congress prepares to take a break for the Christmas holidays. While there is still some uncertainty about its exact timing, the Senate trial of President Donald J. Trump would likely begin in January. A vote to convict would then take place several weeks later at the earliest, perhaps in late January or more likely in February or even as late as March depending on the length of the trial.
Despite the high-stakes proceedings, few people expect Trump to be convicted by the Senate. It is more likely that the impeachment vote will follow party lines with the Democrat-controlled House voting to impeach much like the GOP-controlled House voted to impeach Bill Clinton in December 1998. The Senate vote to convict in February 1999 did not pass and largely followed party lines since the GOP lacked the 67 seats out of 100 needed. The Democrats have 45 seats and would need 22 Republicans to vote against Trump to convict him. A tall order, to say the least.
That partisan scenario may well play out again this time, although the Trump's horoscope does seem to be heavily afflicted in December and even more so in early 2020. In late December, we can see that transiting Rahu (North Lunar Node) will conjoin Mercury which could bring disruption, deception and confusion, especially in areas of communication. Mars will aspect his Sun-Rahu-Uranus conjunction just before Christmas suggesting a time of elevated stress and conflict. Given the current timetable, that could represent the House passing its impeachment vote.
But for Trump, losing the House vote is almost a forgone conclusion. But if he was going to win the Senate vote (i.e. less than 67 votes for impeachment), we should expect to see more positive active influences in his chart in early 2020. And yet this isn't really the case. This is one reason why I cannot rule out the possibility that Trump will either be removed from office or avoid the whole process and resign.
As I noted in October, Trump will likely suffer significantly from the transit of Saturn and Pluto which oppose his natal Saturn (0 Cancer) and Venus (2 Cancer) in February and March. February's Saturn opposition to Saturn-Venus will coincide with a bad Mars transit, that of the conjunction with his Moon-Ketu conjunction in late Scorpio. Could that possibly symbolize the Senate voting to convict him and thereby removing him from the Presidency? It still seems unlikely even with these bad transits although it is clearly not a good planetary situation. One thing that seems clear is that it does
not
look like a cut-and-dried Trump win in the Senate that the GOP is hoping for.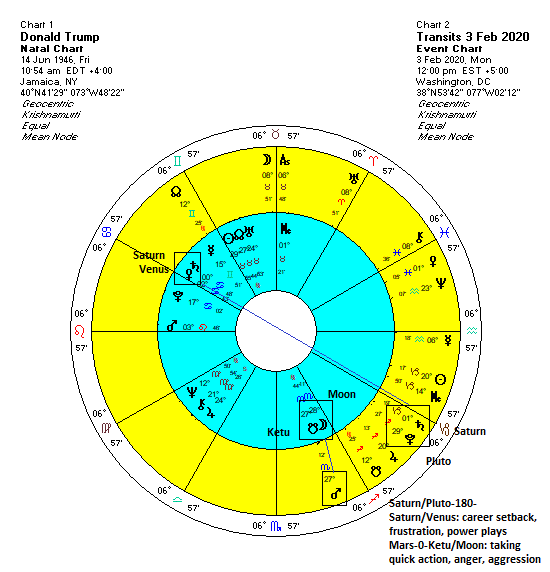 Another angle on this question involves the chart of Vice-President Mike Pence. If Trump is impeached and convicted in 2020, then Pence's chart should be positive since he would become president. But that also isn't clearly borne out by his horoscope, although we should note we do not know his birth time so the margin of error is larger than normal here. In fact, Pence's chart in early February also looks afflicted as Ketu conjoins his Saturn (erosion of foundations; breaking traditions) and Mars opposes his Sun-Mercury-Moon conjunction.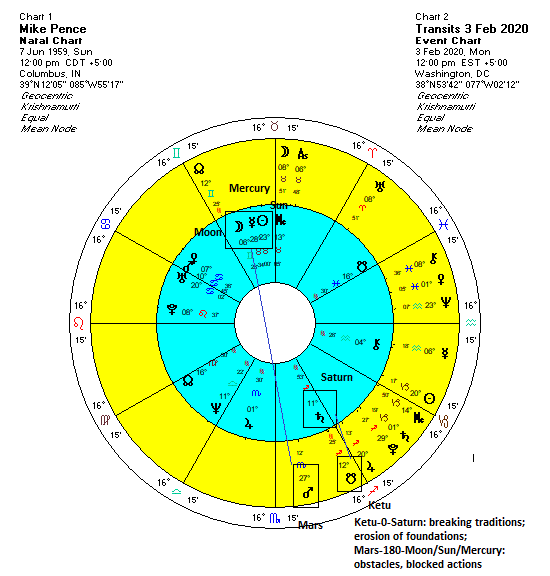 So it may well be a stressful time for him also. On reflection, that may not be surprising, since Pence likely lacks any independent power base in the GOP. It is largely Trump's party so if he is forced out, Pence will be in a difficult position. Trump may well want to continue to exert control over the White House after he has left office. Therefore, we can't simply assume that Pence will be fully independent.
And if Trump wants to run for re-election in the event of his resignation/conviction, he may well be able to do so. If he chooses to resign before the Senate conviction vote, then he may be legally entitled to run for the GOP nomination in July. Needless to say, 2020 is bound to be an interesting year. I will update the whole Trump situation as it evolves.
Weekly Market Forecast
Stocks quickly recovered from last week's brief sell-off as Friday's jobs report came in above expectations. Both the early week selling and late week rebound were in keeping with the prevailing planetary influences. The Mars-Venus-Rahu alignment in the first half of the week indicated the probability of some downside while the late week Moon alignments with Jupiter and the Sun suggested more optimism and rising stock prices.
Investors this week will be focused on the Fed meeting on Wednesday so we could see a reaction either way. While sentiment is still supported by the ongoing Jupiter-Uranus-Chiron alignment, it is less clear how much purchase this pattern will have this week. Tuesday has both positive (Mercury-Jupiter) and negative (Venus-Saturn) alignments in play while the Sun-Venus-Saturn alignment may predominate after Wednesday. Saturn alignments have an in-built bearish bias, although they do not always correspond to declines. Nonetheless, caution may be on the rise this week.
For a more detailed analysis of the markets, please check out my
weekly subscriber newsletter
which is published every Saturday afternoon (EST). I outline the key technical and planetary influences for US and Indian stocks for the short and medium term, as well as currencies, gold and oil.
---
These forecasts are usually posted weekly.
You can be notified of new posts if you follow
ModernVedAstro on Twitter
.

Please note that this is a more general and much abbreviated free version of my
investor newsletter which can be subscribed to
here
.

Please read my
Disclaimer