Post-Covid: China gets belligerent in India and Hong Kong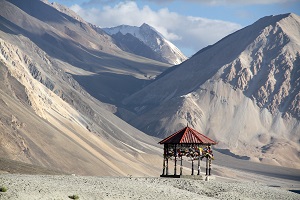 (26 May 2020)
There is an old adage in sports that says: 'the best defense is a good offense.' Recent events suggest that China may well be taking that view to heart as it has come under a storm of protest over its mishandling and deceptions surrounding Covid-19. The cover-up of the initial outbreak in Wuhan cost valuable time and allowed the virus to spread throughout the world and has led to the current disastrous pandemic.
But instead of addressing the criticisms, China has embarked on a program of belligerent interference with its neighbours, presumably as a means of distracting attention away from its wrongdoing. Over the past week, China has renewed its long-simmering border dispute with India in Ladakh through the unprovoked introduction of thousands of PLA troops onto Indian territory. Also, Beijing has proposed a new tough security bill for Hong Kong that would violate the 'One Country, Two Systems' agreement with the UK from 1997. The proposed bill would allow China to take a stronger stand against ongoing protests and accelerate the gradual absorption of Hong Kong by the Chinese Communist surveillance state.
Whatever the geopolitical endgame for Beijing may be, we can see a higher than normal level of aggression in the current transits in the horoscope of China (October 1, 1949). There are three key sources of affliction in the chart. First, we can see that Saturn is in the Capricorn Ascendant and just one degree from exact. This may reflect its level of inner frustration and disappointment as it tries to move out of its lockdown-induced economic recession. Saturn conjunct the Ascendant is a typical indication for losses and blocked progress and therefore it is no surprise that China is warning that its economy will likely shrink in 2020.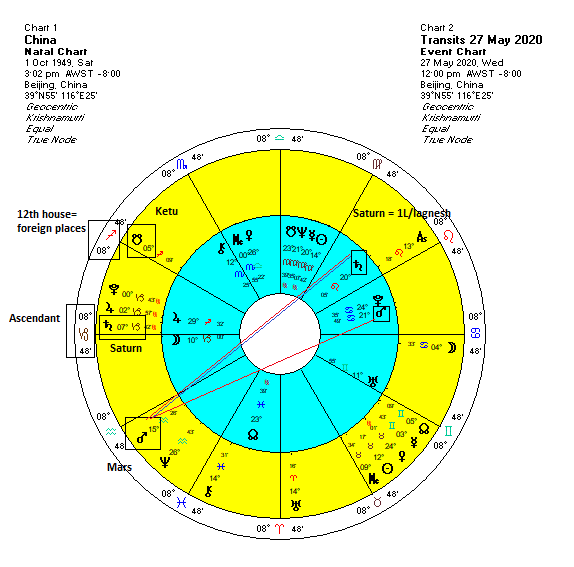 And we can see that Ketu (South Lunar Node) is in close conjunction with the 12th house cusp representing foreign places. Ketu is often a disruptive influence to whatever house or planet is it associated with, so its connection with foreign things is quite apt as it is confronting a diplomatic catastrophe over Covid-19 with US President Trump openly accusing China of deception and malfeasance, and now it is facing more negative consequences for its actions in Ladakh,India and Hong Kong.
Both Ketu and Saturn are relatively slow-moving influences which have been in place for the past two to three months. Indeed, they are important reasons why China suffered initially with the coronavirus outbreak. But it is the Mars opposition transit to Saturn that highlights China's latest assertion of its power. Mars (15 Aquarius) is closing in on its exact opposition with Saturn (20 Leo) next week. Saturn is
lagnesh
, lord of the first house (Capricorn), and therefore has a disproportionately large influence over the chart as a whole. Mars is the planet of action and aggression, of course, and its opposition aspect tends towards situations of conflict rather than compromise.
With the Mars-Saturn aspect tightening in the coming days, I would expect these tensions to increase, at least until next week. Early next week (June 1-3) look more volatile in this respect as both Venus and the Sun will align with the natal Saturn. This suggests situations of maximum tension. Interestingly, the exact Mars opposition aspect to Saturn on June 3 also features transiting Mars coming under the 8th house aspect of natal Mars (21 Cancer) almost exactly. This double Mars influence suggests the increased possibility of violence and military action.
Weekly Market Forecast
Stocks have generally drifted sideways over the past week since my last post. Thus far, the Venus retrograde cycle has not proved decisive either way, although it will remain in effect until June 25. The US market tested some key technical levels today as the S&P 500 finally tagged the 200-day moving average and the 3000 level. It also hit the 61.8% Fibonacci retracement. While the rebound has been strong, there are now some more compelling technical arguments for a pullback at this resistance level.
As it happens, the planets look less positive this week and therefore would appear to support some kind of a pullback. Mercury conjoins Rahu (North Lunar Node) on Wednesday and Thursday and then Mercury aligns with Saturn on Friday. This is not to say that all three days will be down, but it does suggest that there is some potential for some profit-taking. And as hinted at in the above discussion about China, the Mars alignment with the Sun and Venus early next week also seems less commensurate with gains.
For more details,