Sanders and Biden in close race ahead of Iowa caucuses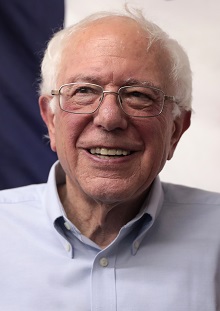 (13 January 2020)
As we get closer to the Iowa caucuses on February 3, there is a tight four-way race for the nomination of the Democratic Party in this year's presidential election. An average of recent polls has Biden, Sanders, Buttigieg and Warren each receiving between 16 and 21% support in the important first state race in Iowa. A Monmouth poll released today had Biden taking a slightly wider lead at 24% with Sanders at 18%, Buttigieg at 16% and Warren at 15%.
While the Iowa result is important because it is first, it does not always predict the eventual winner of the nomination race. Out of the past 10 races on the Democratic side, the Iowa winner went on to win the party nomination 7 times. Clearly, Iowa matters a lot, but it is not crucial. A close second or third place finish can also be enough to keep a candidate in the race. Joe Biden currently enjoys an 9 point lead over Bernie Sanders nationally, but the race is tighter in early primary states like Iowa and New Hampshire (Feb 11). In fact, the race is so close in these early primary states and it has some analysts suggesting we could see an open or "brokered convention" where there no candidate wins a majority of delegates before the convention.
I think a brokered convention is very unlikely as I still think Biden will be declared the nominee at some point during the primaries. For the Iowa caucus, Joe Biden's horoscope looks quite good. Transiting Venus and Chiron in early Pisces form a nice Grand Trine with Jupiter (2 Cancer) and his Sun-Venus conjunction in early Scorpio in the 1st house. That sort of configuration usually coincides with favorable outcomes such as an election win. Of course, we should note the presence of a more challenging Saturn opposition aspect to Jupiter at this time. It's close enough that it could represent some arduous efforts and even some disappointments. But the fact that it is involved in a multi-planet alignment with Venus and Chiron will likely make it less negative in its influence.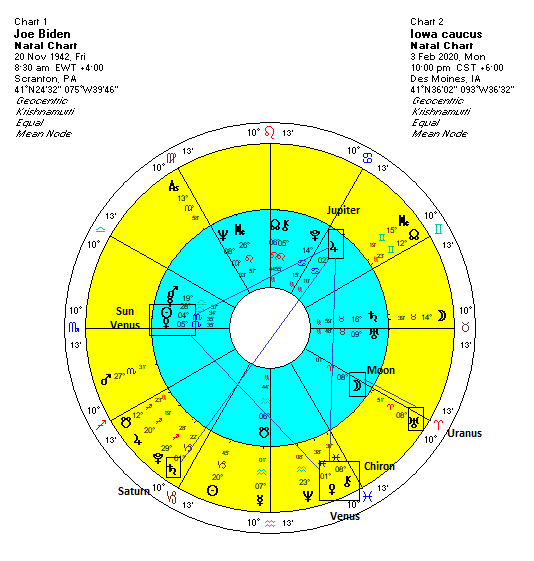 The other thing we should note is that Uranus stationed direct on Biden's Moon (8 Aries) a few days ago. This can give a tremendous amount of energy, although it may also produce some unpredictable behavior and surprising or unexpected events which may be distracting. Nonetheless, I take this Uranus direct station on his Moon as a big plus for Biden as he enters the primary season. It may be just the shot of energy the ageing former Vice-President needs to ramp up his campaign.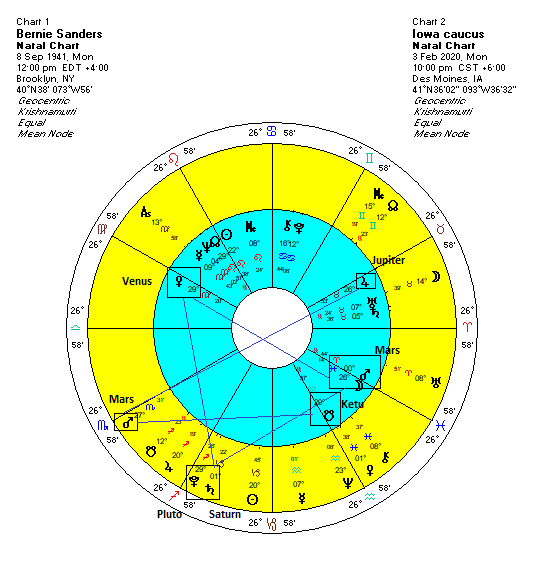 Bernie Sanders (pictured above) is currently polling a close second and is seen a possible left-wing alternative to the more centrist Biden. Unfortunately, Sanders' birth time is unknown so we have to use an approximated noon chart. Sanders may have difficult time leading up to Iowa as the Saturn-Pluto conjunction at 28 Sagittarius will be aligning closely with his Venus-Mars opposition. That's a tough influence that suggests he is unlikely to do well in January. In fact, he seems more likely to slip back in the polls with that alignment. On February 3, both transiting Saturn and Pluto will still be in close alignment with his natal Venus and Mars. Mars will be opposite his Jupiter and casting its full-strength square aspect to Ketu. This is not a good set-up for Iowa for Sanders. He seems very unlikely to win and could instead come in third or fourth.
Elizabeth Warren's chart (time unknown) doesn't look that great either on Feb 3. Besides an absence of clearly positive aspects, transiting Mercury (6 Aquarius) will be opposite her Saturn (8 Leo). This type of aspect is usually coincident with disappointment and frustration. I can't see her winning in Iowa and she will likely finish well back. Pete Buttigieg (time unknown) has been running a surprisingly strong campaign in Iowa. His chart looks more promising for Feb 3. The recent Uranus station squares his Venus (8 Capricorn) so he is likely to receive a lot of positive attention from the voters. While the square aspect can have some downside, it will likely be mitigated significantly through the alignment with Mercury (6 Aquarius) and Chiron (8 Pisces). Also the Sun is coming up to conjoin his Mercury soon after so I would think Buttigieg will do well in Iowa. He should finish a strong second to Biden. I also wouldn't be shocked if he actually won Iowa although that seems less likely.
Weekly Market Forecast


Stocks continue their relentless march higher here ahead of the signing of Phase 1 of the US-China trade deal on Wednesday. Last week's rise was not unexpected given the entry of Venus into sidereal Aquarius on Wednesday and Thursday. But Friday's disruptive lunar eclipse played out as expected as stocks fell in Europe and the US, even if the declines were fairly modest.
This week could prove to be pivotal in financial markets as the Sun conjoins both Saturn and Pluto in late Sagittarius. This is a rare alignment which is more likely to bring a shift in underlying sentiment. The month of January as a whole looks likely to differ significantly from December due to the growing prominence of bearish Saturn over bullish Jupiter. Saturn alignments are often correlated with falling markets although its slow velocity can sometimes make exact timing of its manifestations more challenging. And with Saturn due to enter Capricorn on January 23, the rest of the month is likely to have a more cautious, or even fearful, Saturnian feel. The close proximity of the triple conjunction and the Capricorn ingress may make the timing of the approaching market pullback less clear.
For more details and possible timing scenarios,