Gold hits 7-year high as US assassinates Iran's Soleimani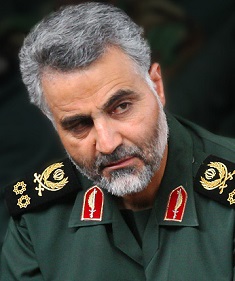 (6 January 2020)
The New Year has got off to a rocky start. Tensions between long-time foes US and Iran erupted anew after the targeted killing of Iran's top commander Qasem Soleimani on Friday. Global stock markets fell on this latest round of geopolitical uncertainty while gold and oil prices rose sharply. The decision by US President Donald Trump to assassinate Lt. Gen. Soleimani has caused consternation around the world as the attack increases instability in an already unstable region.
Iran seems likely to retaliate in some way in the coming days, although few observers are predicting an all-out war. The horoscope of Iran (April 1, 1979) suggests a couple of potentially volatile time windows when retaliation is more likely and also when the US may escalate its actions in turn.
Next Monday and Tuesday (Jan 13-14) will see Mars oppose the natal Moon and square natal Saturn in the Iran chart. This is often an alignment that coincides with conflict and violent incidents. Interestingly, those days will have the added feature of a rare triple conjunction of the Sun (leaders, vitality), Saturn (loss, obstacles) and Pluto (power, manipulation). This alignment is generally indicative of troubles and upsets involving governments and leaders. As it happens, this conjunction does not make any close aspects with planets in the natal chart, although it is in the 6th house of defense and military action. This is a plausible planetary set up for some kind major development in this new crisis.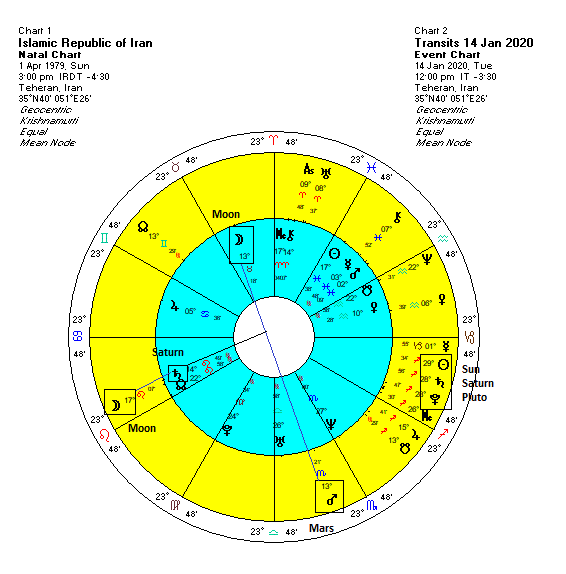 Another important alignment occurs in late January as Mars (22 Libra) aspects 8th house Ketu (22 Aquarius) while Venus and Neptune are conjunct Ketu. Saturn (1 Capricorn) aspects the Mercury-Venus conjunction in early Pisces. This looks like a more difficult transit that could represent an attack by the United States. Mars then moves into alignment with Saturn around February 8 and thus both will align with the Mercury-Venus pairing. It's definitely not a positive influence.
Interestingly, Mars (0 Sagittarius) will exactly oppose the natal Mars (0 Gemini) in the USA chart and offers more evidence of some kind of violent situation taking place in early February. I don't think it's going to lead to World War Three or anything like that, however. But the USA chart is significantly afflicted in early 2020 so we should expect a protracted period of uncertainty. I had thought that much of the affliction would manifest in the form of a rancorous and chaotic impeachment process against President Trump. I still think the Senate impeachment trial will not be smooth sailing for Trump, but I admit this emerging Iran situation could siphon off some of that difficult Saturn-Pluto energy.
Gold rallies as safe haven
As investors hit the eject button, gold hit a 7-year high on Monday, trading as high as $1588. Gold has been on the rise in recent weeks as Jupiter has been more prominent through its alignments with Uranus, Chiron, and most recently Ketu (South Lunar Node). While I think we are likely to see more instability from the US-Iran situation in coming weeks, I'm less confident that gold will continue to benefit from its safe haven status much longer.
One reason is that the Saturn-Pluto conjunction is less likely to translate into more gains. Also, Saturn's entry into sidereal Capricorn on Jan 23 is less likely to push prices much higher. Actually, it seems more likely that this growing Saturn influence will correspond with a significant decline in gold, perhaps after the US Dollar returns to its previous strength,. either through some Fed actions or some other development.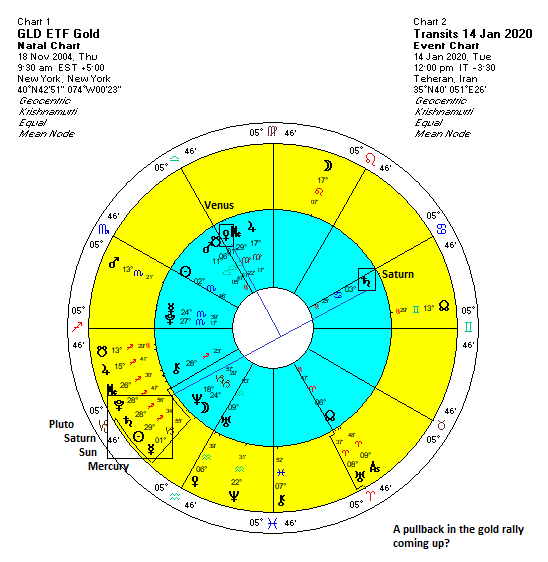 We can also see this difficult Saturn influence playing out in the horoscope of GLD, which is the largest gold ETF in the world. Transiting Saturn and Pluto will square natal Venus (1 Libra) and oppose natal Saturn (3 Cancer) over the next 4-6 weeks. This is a bearish influence that makes further gains less likely. Possible, but definitely less likely. A major pullback looks like the more likely outcome of this Saturn influence.

Photo by:
Weekly Market Forecast


This week began on a negative note but US stocks turned green by the close. Tuesday could be a bit shaky as the Moon opposes Mars and Venus aligns with Saturn and Pluto. However, we are more likely to have a bullish bias for most of the week as Venus enters Aquarius on Wednesday and Thursday. Friday is more of a question mark as the lunar eclipse may mark a rise in uncertainty. Asian, European and US markets could well start on a positive note, but the close on Friday, especially in the US, may be less bullish.
Caveat emptor
, as they say.