Buttigieg scores potential upset in chaotic Iowa caucus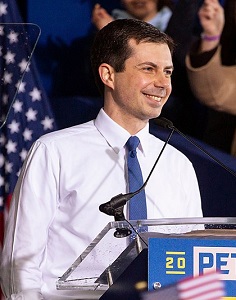 (4 February 2020)
The US primary season got under way yesterday with the Iowa caucuses, the traditional first stop on the long road to election day in November. Unfortunately, here it is 24 hours later and the winner is not yet known due to a malfunctioning computer app and a newly complicated vote-allocation procedure. With partial results in, however, the young Mayor Pete Buttigieg enjoys a narrow 1% lead over Bernie Sanders and a somewhat larger lead over Elizabeth Warren and presumptive frontrunner, Joe Biden.
If current trends hold, then Buttigieg would get a big boost going into the next primary in New Hampshire on February 11. Even if he loses narrowly to Sanders, he will still have done well and would be well-positioned for future primaries.
A Buttigieg win would not be surprising as I thought his horoscope looked quite good for this week's contest. In my post two weeks ago, I wasn't sure who would win although I thought
Buttigieg had a reasonable shot
. I had thought Joe Biden's chart was sufficiently strong for him to parley his frontrunner status but that clearly isn't the case as Biden is likely to be a loser after tonight. Perhaps the confusion and delay with the result prevented him from suffering an even greater embarrassment so that may have been his silver lining.
I was also wrong in thinking that Bernie Sanders would do poorly in Iowa as the firebrand socialist senator from Vermont has clearly gained some important early momentum. One possible interpretation of some of the difficult energy from the Saturn alignment to his Mars-Venus pattern is that either he came frustratingly close to winning but narrowly lost or he won but was denied the chance to make a primetime victory speech which would have further legitimized his campaign. It is widely known that the Democrat establishment don't want Sanders to win the nomination and some have suggested the confusion and delay in the tally may have been deliberate.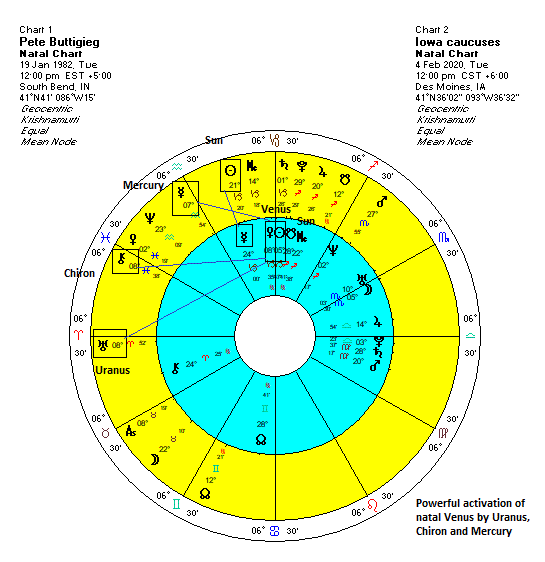 Buttigieg's horoscope is quite strong here. As I noted previously, the really important transit hit was the direct station of Uranus in mid-January at 8 Aries that exactly squared with his natal Venus at 8 Capricorn. While square aspects are usually more problematic that conjunctions, the station is very powerful in any event and the Uranus-Venus pairing tends to be quite positive in terms of life outcomes including greater rewards and recognition, especially those that may come suddenly and unexpectedly.
We can also see that the Uranus-Venus alignment is being amplified by Chiron (8 Pisces) and Mercury (7 Aquarius). All these planets near the 8th degree of their sign will resonate more strongly with Buttigieg's Venus and will tend to produce very more favourable results at this time. The Sun coming up to conjoin his Mercury doesn't hurt either.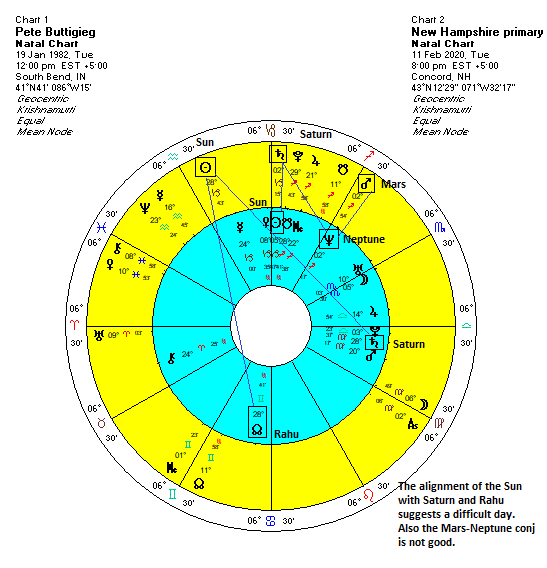 So whether he ultimately wins Iowa or comes in a close second, Buttigieg has some significant momentum going into New Hampshire. However, his transits for the next primary on February 11 do not look favourable. The transiting Sun (28 Capricorn) aligns with his natal Saturn and Rahu and suggest a difficult time in terms of damaged ego and diminished vitality. The Mars transit to his Neptune is also probably a negative as it can mean suffering from deception. The fact that Saturn (2 Capricorn) also aligns with Mars and Neptune suggests that things may not go as he hopes.
It seems less likely that Buttigieg can win New Hampshire and even a respectable second place showing may prove difficult. Of course, Bernie Sanders is the favourite since NH is next door to his home state of Vermont. Looking further ahead, Buttigieg may have a tough time of it over the next two months as Saturn conjoins his Sun (5 Capricorn). There is usually a lot of hard work and discipline with this Saturn-Sun transit but usually the rewards are not forthcoming.
Photo credit: Garry Riggs
Weekly Market Forecast


Stocks have bounced so far this week as coronavirus fears have subsided for now. Last week saw the markets tumble as expected as the late week longitudinal Saturn-Mercury alignment combined with a horizontal parallel of the Sun, Earth, Saturn and Mars. The early week gains here coincided with a bullish alignment of the Sun, Jupiter and Neptune.
The rest of the week seems more mixed as the Sun-Jupiter-Neptune alignment will gradually fade. Wednesday and Thursday have some upside potential as Mercury remains in fairly close alignment with Uranus and Chiron. However, I am less confident of gains on both those days as Mars is slowly moving into alignment with Pluto and Saturn. This bearish influence is exact next week but it could start to cause problems this week. Friday is the most likely candidate in that respect as the Moon opposes Saturn in the morning of the US trading day.
For more details and potential timing scenarios,