Oil trades in negative territory as demand collapses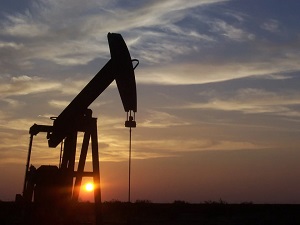 (20 April 2020)
We live in strange times. In recent weeks, the worldwide coronavirus pandemic shutdown has seen an unprecedented effort to stop the spread of the highly contagious and deadly virus. And then today, crude oil futures actually traded in negative territory for the first time in history as it now costs more to store the oil than it is worth on the open market. Part of the reason for the negative price is because there is no current demand for delivery of May Futures due to the ongoing economic shutdown. Looking forward a bit, we can see that the market expects a modest recovery soon, since the June Futures contract is still trading over $20.
Financial markets are clearly still reeling from the impact of the virus. The decline in oil prices is due in part to the ongoing Saturn-Ketu alignment that I mentioned in last week's update. The alignment is fairly rare and follows an irregular two-year and twelve-year cycle. Due to Saturn's retrograde cycle this year, it will occur three times in 2020 (April, July and September), after occurring twice in 2018.
Previously it occurred once in 2006 and then again two years later in October 2008 in the depths of the global financial crisis. While the alignment doesn't
always
coincide with turbulence and declines, it does have a decidedly bearish tendency. According to both traditional Vedic and Western astrology, both Saturn and Ketu (South Lunar Node) are considered malefic planets.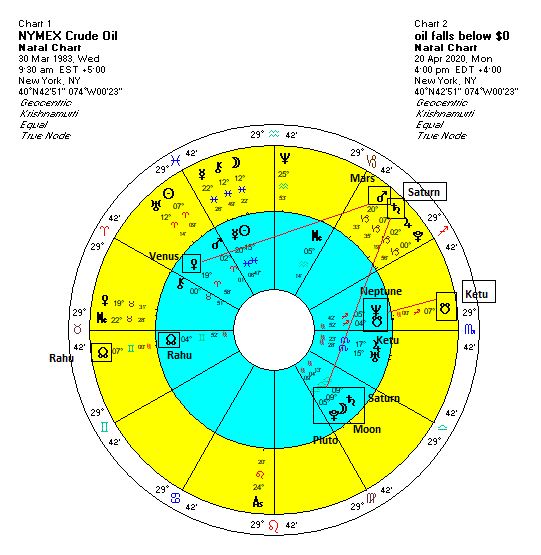 We can also spot some evidence for this unparalleled declined in the horoscope for NYMEX oil Futures. First traded in March 1983, we can see how this ongoing alignment of Saturn and Ketu has hit this chart very hard. Transiting Saturn (7 Capricorn) is now slowing down ahead of its retrograde station on May 11. Therefore, its diminishing velocity means it is becoming more powerful, and hence, more bearish in its impact on sentiment. We can see that is forms a close square aspect (just two degrees orb) to the Moon-Saturn conjunction at 9 Libra. And with Pluto at 5 Libra, that near-stationary Saturn aspect is hitting the midpoint of Pluto with Moon-Saturn almost exactly. Ouch.
One potential problem for the oil market going forward is that Saturn will not be moving much over the next few weeks since it is due to station in the same degree (7 Capricorn) in early May. Therefore, prospects for a sudden rally seem minimal.
Also we can see how Ketu figures into the equation since it is conjunct its natal position within two degrees and also activates the natal Neptune for good measure. Like Saturn, Ketu is a bearish influence so the 'Ketu Return' here is a very bearish influence also. However, we should note that it is not yet exact, so there is some possibility of a worsening of sentiment in the coming days and weeks in the oil market.
Weekly Market Forecast
As expected, this week has started off in the red in stocks. The Sun aligned with Saturn and Ketu today as most stocks tumbled up to 2% following another fairly buoyant week last week. The outlook this week suggests more downside is likely. As the time of writing (11 p.m. EDT), stock futures are lower on news that North Korean leader Kim Jong-Il is gravely ill. Tuesday's US session may not be all bad, however, as the Moon conjoins Mercury in the afternoon. So if the open has seen more selling, then a bounce later is more likely.
But Wednesday's New Moon looks bearish, as the Sun and Moon are both squared by Saturn. The late week does not present any obvious bullish influences either as Mars squares the Moon on Thursday afternoon and Mercury squares Pluto on Friday.
This is not to say that further declines are inevitable, but rather than the alignments are not clearly bullish either. All outcomes are possible, but the planets don't make a strong argument for a rebound. And with the Saturn-Ketu alignment still in close range, the bears may be in charge this week. Next week could see more tension as Mercury aligns with Saturn and Ketu early in the first half of the week.
For more details,