Democrats nominate Joe Biden for president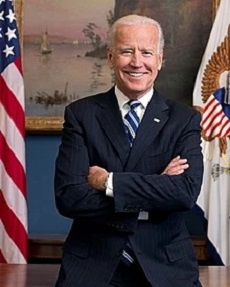 (19 August 2020)
The 2020 race for the White House entered the home stretch yesterday as Democrats formally nominated Joe Biden to run against President Donald Trump in the November election. Things are looking up for the former Vice-President, as Biden currently enjoys a 5 to 10 point lead in the polls while Trump struggles to gain a foothold amid the chaos of the Covid pandemic.
As I have noted previously, the Biden-Harris ticket has a very good chance of winning this election. Trump's transits on Election Day, November 3, look difficult and are likely to see him losing, at least initially before any possible legal challenge. By contrast, the transits of Joe Biden and his Kamala Harris look better. On November 3, the Sun (18 Libra) conjoins Biden's 1st house lord Mars (19 Libra) and suggests public prominence while Jupiter (27 Sagittarius) aligns with Mercury (28 Libra) and the unequal 10th house cusp/MC (26 Leo). And the Mercury direct station that occurs on Election Day aligns exactly with Harris' Ascendant and should give also confer an advantage to the Democrats.
Another window on the election can be seen through the combined chart of Biden and Harris. The Davison relationship chart is often used in Western astrology but is relatively unknown in Vedic astrology. The relationship chart is calculated by taking the temporal and spatial midpoint between the horoscopes of two people to create a third chart. This chart then reflects their
combined
fortunes such as through their business, political or romantic relationship.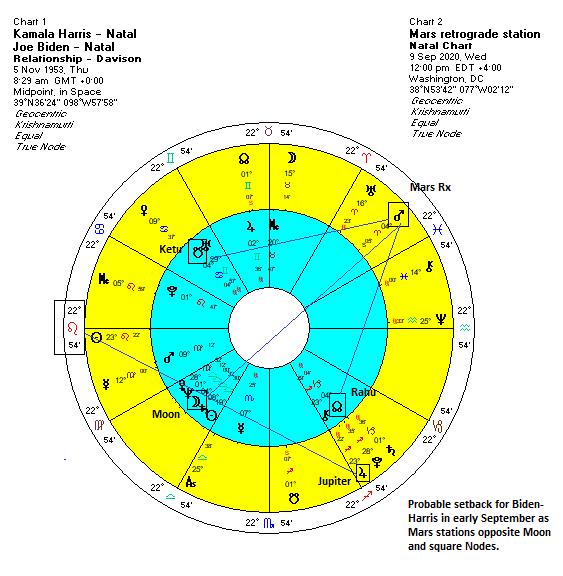 The relationship chart for Joe Biden and Kamala Harris is cast for November 5, 1953 at 8.29 a.m. at 39N36 and 98W57. If we look at the transits against this chart, there is an obvious trouble spot coming up: the Mars retrograde station. The Mars Rx station at 4 Aries on September 9 was always going to figure prominently in this election because it fell near the 9th house cusp of Donald Trump's chart squaring both his Saturn and Venus. This suggests conflict and frustration, possibly involving foreign countries.
What is noteworthy here is that this Mars station in early September also hits the Biden-Harris relationship head-on as Mars (4 Aries) will exactly oppose the Moon (4 Libra) and square the Lunar Nodes (4 Cancer/Capricorn). Last week, I suggested that Kamala Harris was likely to experience a setback around this same time frame in early September since the Mars station would conjoin her Moon at 4 Aries (=sharp conflict). The Biden-Harris relationship chart offers confirming evidence that conflict will predominate around the time of the Mars retrograde station. While the Mars alignment to the Moon will be exact on September 6-10, the influence could have a wider manifestation from Sep 1-15.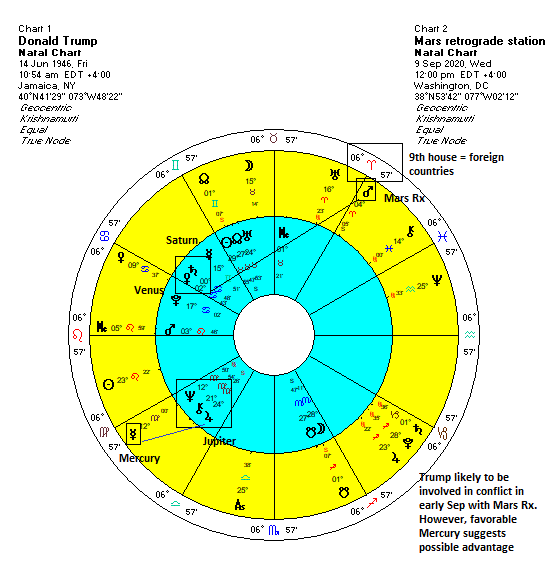 One possible scenario here is that Trump gets entangled in a foreign conflict which puts Biden at a disadvantage, if only because international conflicts push the president into a leadership role. Trump is more likely to make hay from such an incident because Mercury, his 11th lord of gains will be favorably transiting his 2nd house of wealth and thereby also conjoining Jupiter, a benefic planet. The exact Mercury-Jupiter conjunction takes place on September 18 and could mark a positive development for Trump which may well be reflected in an improved polling result.
Nonetheless, I still think Biden will finish fairly strong in the campaign and should win on November 3. What happens
after
November 3 is less clear perhaps given the possibility of legal challenges, although I would still favour Biden to be one who is sworn-in on January 20, 2021.
Weekly Market Forecast
Stocks have drifted higher over the past week in the absence of any clearly negative news. The Fed's QE program buys up debt in order to depress interest rates (e.g. inflation adjusted yields are now negative) and thereby push investors into riskier assets like stocks. So far, it's working perfectly as the S&P 500 and NASDAQ have made new all-time highs in the middle of this Covid pandemic. The expansion of the QE program to now include corporate debt means that the Fed can now buy bonds issued by the likes of Apple and with the Fed's money, Apple then buys up his shares and thereby boosts its share price. This is the roundabout way in which the Federal Reserve is actively boosting the stock market. So it's no surprise that Apple is now trading at an all-time high. This is good news if you own Apple stock but not so much if you are unemployed. Incredibly, it's all legal.
So far, my suggestion of a pullback has fallen flat. The melt-up in stocks has continued into this week despite the supposedly bearish Mars-Saturn square. We saw a minor pullback today (Wednesday) but nothing much to write home about. Nonetheless, the US dollar did rally after the release of the Fed minutes so there are hints that the tide may be turning here. Much of the Covid stock rally has occurred as a direct consequence of the falling dollar as the Fed prints more money to get the economy moving. If the dollar rallies further, then stocks will become more vulnerable.
I still think that stocks are more likely to decline as the Mars-Saturn square will align with the South Lunar Node (Ketu) over the coming days. According to Vedic astrology, Ketu is an anti-materialist influence that exalts the spiritual life over all other considerations. In terms of financial markets, its influence tends to make growth and profit less compelling on a collective level and thus declines are more likely as investors sell their positions.
For more details,