Apple carries the markets higher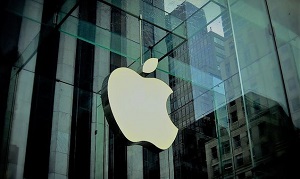 (4 August 2020)
US stocks have continued to defy gravity in recent days despite a 32% decline in GDP and a disturbing rise in Covid deaths. Last week's strong earnings reports from Big Tech confirmed what many already knew: that Apple, Facebook and Amazon are the only stocks holding up the market. While the rest of the market is lagging badly, Apple and the other tech titans remain in a relentless bull market, fueled by the demand of a population held captive by the coronavirus.
Therefore, the stock market is being kept afloat not only by the machinations of the Fed and the Trump administration, but also by Apple, which is now trading at a new all-time high of $438. The Apple chart is currently bullish as Jupiter is conjunct Mars within a three degree orb. Meanwhile, bearish Saturn (3 Capricorn) is not doing much direct damage yet despite its presence in the 1st house.
Based on the transit picture, it seems likely we could see some kind of decline in Apple and the broader markets by next week as transiting Mars (29 Pisces) casts its full-strength 8th house aspect to Venus (29 Libra) and the 10th house cusp as well as its opposition aspect to Pluto. While this will be exact on Friday, Aug 14, it will be within range several days earlier. This suggests that some kind of pullback in Apple is more likely next week at the latest and this should impact global markets also.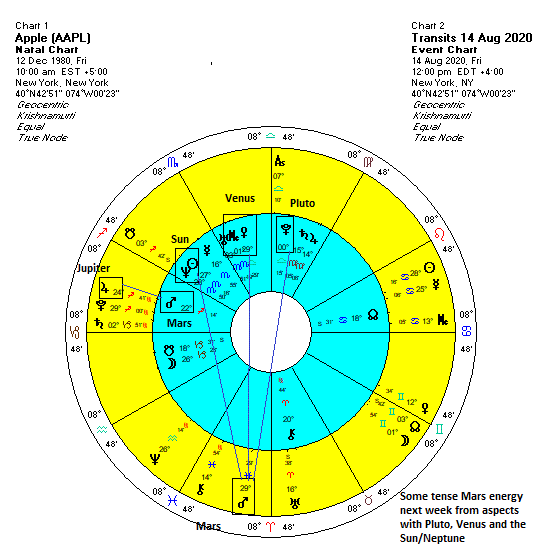 We can also see that the upcoming Saturn direct station in late September should coincide with some additional downside in Apple. Saturn is due to end its retrograde cycle on September 29 at 1 Capricorn and this will align closely with the the natal Mercury (16 Scorpio) in the Apple horoscope by the semisquare 45 degree aspect. Since Saturn will be in close alignment with natal Mercury for much of September, this unprecedented rally in Apple may be harder to sustain since Saturn is a clear bearish influence. Moreover, transiting Ketu (South Lunar Node) will conjoin the Sun-Neptune conjunction in early October and will become an additional burden on market sentiment. In other words, it is hard to see how the current rally can continue for much longer.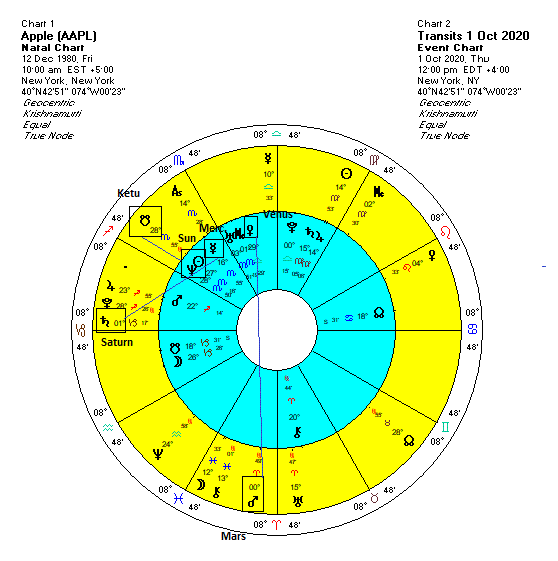 For more details,