Dow Jones hits 30,000 on vaccine optimism and Biden transition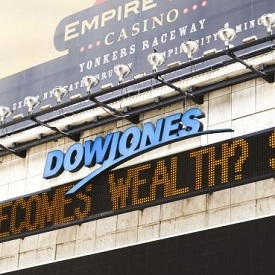 (25 November 2020)
Stocks extended their November rally this week as the latest vaccine announcement reassured investors that the end of the pandemic is now within reach. Markets also cheered the start of the formal transition process of the incoming Biden administration as President Trump finally backed off from his previous objections. The Dow Jones Industrial Average hit a new all-time record high on Tuesday as it closed above 30,000 for the first time.
Despite the lockdowns and widespread economic hardship, stocks have rallied off the March low on unprecedented intervention by the Federal Reserve and other central banks around the world. Markets are now anticipating a return to normal growth in 2021 post-Covid, albeit with continuing support from the Fed.
From an astrological view, the ongoing strength in stocks in recent days is not all that surprising. As I noted in last week's post, the once-a-year entry of Jupiter into sidereal Capricorn late last week is often accompanied by optimism which can take prices higher, if only briefly. What is less certain is how long this positive Jupiter influence can last.
Previously, I suggested that Jupiter's entry into Capricorn meant that it was also approaching its conjunction with Saturn on December 21. This is likely to be a less favourable influence on market sentiment since Saturn is associated with caution and disappointment. But since both planets move quite slowly, the specific time window when declines can occur is more difficult to predict.
For another perspective, let's take a look at the natal chart of the Dow Jones Industrial Average, launched May 26, 1896 after the close of trading. Quickly, we can see why November has been a good month for US stocks. Transiting Jupiter (1 Capricorn) aligns very closely with Venus (1 Taurus) and Mercury (1 Gemini). Usually, this sort of Jupiter alignment is bullish and we can see that the Dow has hit a record this week just as the alignments are exact. In addition to the bullish Jupiter aspects, there is an absence of any strong malefic influences at this time.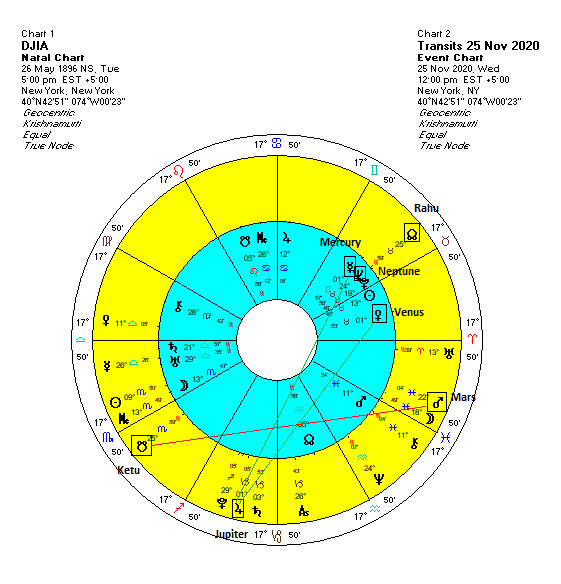 But we should note that optimism usually begins to diminish in the days following an exact Jupiter aspect so it is unclear how much higher stocks could go in the short term. The fading influence of Jupiter here suggests the market rally may be due for a breather, especially as Jupiter conjoins Saturn in December. Any negative effects of the Jupiter-Saturn conjunction could well be compounded by the approaching Mars-Ketu alignment which will be exact in the second week of December.
However, one saving grace is that the Jupiter-Saturn conjunction and the Mars-Ketu alignment will not form close aspects with any key planets in the natal chart. Rahu is conjunct with Neptune, of course, but this is not an especially strong influence in my view. This suggests that any pullback we may see in the days ahead is unlikely to cause much lasting damage to the market rally.
For more details,