Trump still lagging in polls; stocks plunge on European lockdowns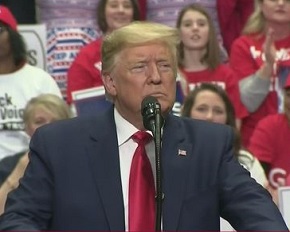 (28 October 2020)
The campaign has now entered its final week ahead of next Tuesday's election. The national polls suggest President Donald Trump is trailing Democrat nominee Joe Biden by about 7 points. However, some key swing states such as Pennsylvania and Florida are much closer races and keep open the possibility of a 2016-style come from behind win by Trump. Therefore, if he can eke out narrow wins in these states as he did in 2016, he could still end up losing the popular vote by 3 or 4 points and remain president. That scenario still seems unlikely since Biden's lead is larger than Hillary Clinton's was, but as we know, polls are not always right.
From an astrological perspective, the planets still don't favour Trump next week. As I have noted previously, the election night transits look worse for Trump than for Biden. Mercury will station direct on Election Day while in an exact square aspect with Saturn. This is a very difficult combination that suggests a range of negative situations including disappointment, confusion, deception, disruption and frustration. At a general level, it suggests the election will not go smoothly. This isn't a very bold prediction, given all of the controversy about mailed ballots and Trump's public declaration to contest the results if he doesn't like the outcome.
Trump's problem is that the Mercury-Saturn square occurs at a pivotal point in his horoscope. It forms another square alignment with his Venus-Saturn conjunction in early Cancer. Square aspects are often difficult and coincide with unwanted situations. And Saturn's double involvement here indicates a stressful and unfavourable period for Trump next week. To put it plainly: this is not an alignment one usually sees in a winning candidate's chart.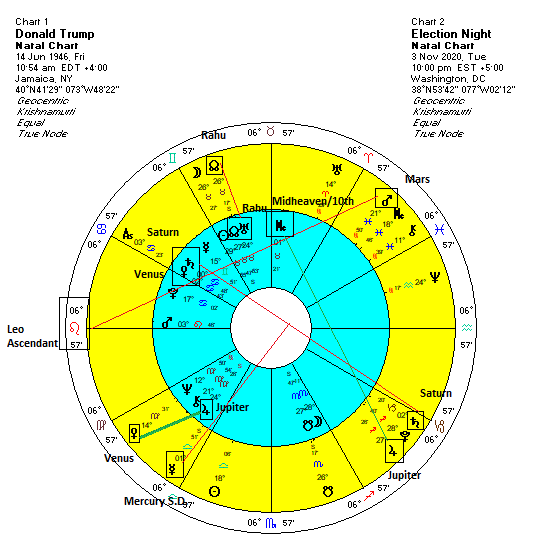 Other transits are also unhelpful for Trump's re-election. Rahu (North Lunar Node) is conjunct its natal position and suggests major changes afoot. Mars (21 Pisces) forms an exact 135 degree alignment with Trump's Ascendant (6 Leo). This is indicative of conflict and anger. Mars is due to station direct at 21 Pisces in mid-November and is one reason why Trump is more likely to have fewer votes than Biden on Nov 3 and why is likely to contest the results. Mars is the planet of war, of course, and Trump will likely go to war with the Democrats over this election.
But as I have also noted before, Trump's chart does improve somewhat later in November and in December as Jupiter aligns with his Midheaven (unequal 10th house cusp) at 1 Taurus. This suggests that post-election developments may be more positive for him, perhaps reflecting legal successes if he contests the outcome. I would think he gets some good news on the week following the election (Nov 9-13) as Venus conjoins his Jupiter.
As I've said before, I still think Biden's chart is better in early January when Congress meets to count the Electoral College votes. For this reason, I think he is more likely to become president on January 20, 2021. But I admit I don't feel too strongly about it, partially because it is now unclear exactly when the election will be decided.
Weekly Market Forecast
US stocks fell more than 3% today as Germany and France announced Covid lockdowns to deal with the second wave of the pandemic. The recent decline seems to reflect the bearish influence of the Venus transit of Virgo, its sign of debilitation. Venus entered sidereal Virgo on October 23 and will leave that sign of November 16. This suggests that stocks are more likely to struggle during that four-week period. That said, it does not mean that the market will fall throughout the transit, but rather it will be marked by declines at different points during the transit.
With market uncertainty likely to rise with next week's election, it seems quite possible that stocks could fall further. The Mercury-Saturn alignment on Election Day is a bearish combination in any event so no matter who ends up winning, market sentiment is likely to suffer. While Mercury-Saturn squares are bearish, this particular one may be especially bearish since Mercury will end its retrograde cycle on November 3 and return to direct motion. This direct station means that Mercury will remain within Saturn's bearish influence for several days, instead of the usual one.
For more details,