Biden wins first debate against Trump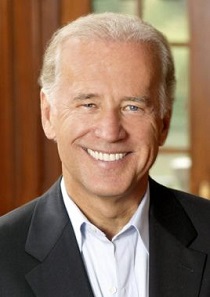 (30 September 2020)
Democratic nominee Joe Biden came out on top after Tuesday's chaotic debate with President Trump. The 77-year old former vice president's steady and reassuring performance against an often-agitated Trump laid to rest concerns about his cognitive abilities. Biden's debate win moved the election betting odds another 3% in his favor after the debate. Biden now holds a comfortable 18-point lead in the political betting markets to go along with his 6-point lead in the national polls.
Biden's win came despite some difficult transits that I noted in last week's post. For example, I had wondered if Mercury's opposition to Biden's Moon might have confounded his attempts to logically communicate his message to voters since this combination tends to be more commonly associated with more imaginative and impressionistic thinking. In a way, we could say that Trump's constant interruptions did prevent Biden from communicating his platform clearly. Arguably, Biden's best debate moments came through his calmer and more avuncular tone when addressing ways to heal the racial discord and the deep political divisions in the US. In that sense, his tone (Moon) was more important than his policy specifics (Mercury).
Trump seems to be in bigger trouble now. Of course, we know that debates do not determine election outcomes since Hillary Clinton was widely seen as winning the first debate against Trump in 2016. But the planets do not favor Trump here as we begin the month of October. The Mars-Saturn square set up against his Venus-Saturn conjunction and pushed him towards a more combative and angry tone in the debate.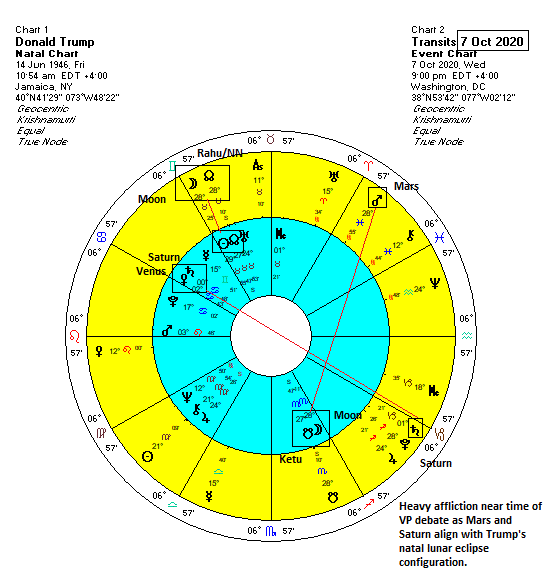 Despite the apparent political gain from last week's nomination of Amy Coney Barrett, Trump is likely to remain on the defensive in the near term. Mars is due to align with Pluto and the Lunar Nodes (Rahu and Ketu) over the next week or so. This nasty combination will, in turn, align with Trump's Sun-Rahu-Moon-Ketu (i.e. the natal lunar eclipse) pattern and could represent another major setback for the US president. And we should still note the prevailing negative influence of the ongoing Saturn (1 Capricorn) opposition to the Venus-Saturn conjunction in early Cancer.
The worst of this configuration coincides fairly closely with the vice-presidential debate on Wednesday, October 7. While this negative development may not be the direct result the debate, it is worth keeping in mind that the debate will take place with the transiting Moon conjunct Rahu (North Lunar Node) and will therefore activate Trump's Sun-Rahu conjunction. The time around the VP debate therefore looks potentially disruptive and negative for Trump.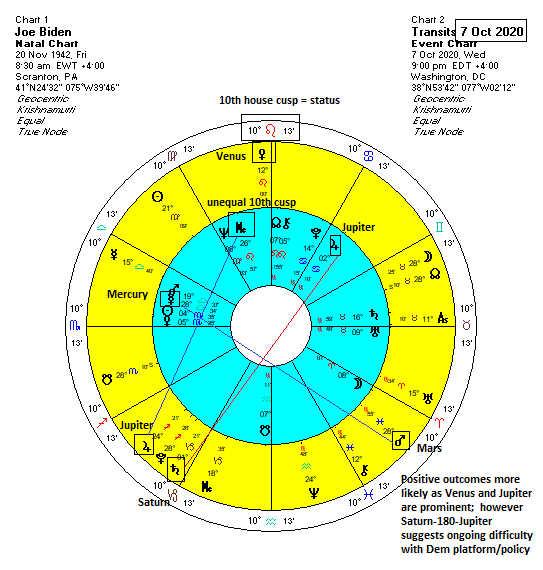 Not coincidentally perhaps, Biden's chart looks fairly good next week. Jupiter will be approaching its 120 degree/5th house aspect to the unequal 10th house cusp (MC) while Venus (11 Leo) will be conjunct the equal 10th house cusp. These are both placements that suggest greater social prominence and success. However, Mars will cast its full-strength 8th house aspect to natal Mercury (28 Libra) and could indicate a rise in frustration and possible conflict with Trump.
Also, we can see that Saturn is still opposite Biden's 9th house Jupiter (=philosophy, policy platform) which may reflect ongoing problems related to the Democratic platform. While Biden is personally popular, there is more skepticism about some of the more radical aspects of the Democrat policies including defunding the police, a softer approach on crime and civil unrest and massive government spending for new green energy programs. This Saturn opposition to Jupiter throughout October suggests Biden may have problems gaining support for some elements of his program.
It may also reflect legal woes, since Jupiter in the 9th strongly represents law and justice. Perhaps this is a reflection of the likely confirmation of conservative, Amy Coney Barrett. If Barrett is confirmed to the Supreme Court, it will force Biden to consider some difficult options in the event he is elected president, including the possibility of packing the court (i.e. increasing its membership from 9 to 13 in order to gain a left/liberal majority.
Weekly Market Forecast
Stocks have bounced in recent days on hopes for a new stimulus package from the US Congress. I thought we might have seen more downward pressure on markets this week with the ongoing Mars-Saturn square but this has not been the case. One possible reason for this bullish respite is the approaching 60-degree alignment between Jupiter and Neptune in early October. While this Jupiter influence is the source of some optimism for markets, further downside also seems likely in the days ahead as Mars aligns with Pluto and Ketu (South Lunar Node).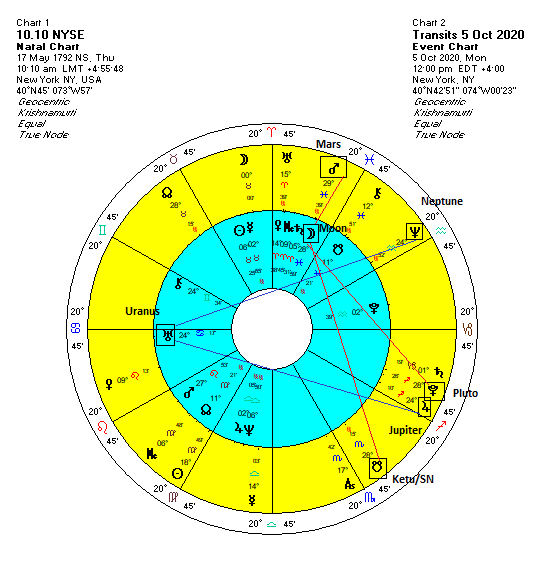 While Mars is now separating from its square alignment with Saturn, it approaches another tense, square alignment with Pluto next week. Pluto is due to station and turn direct on Sunday, Oct 4 and Mars will square it and align with Ketu in the days following. Significantly, this bearish Mars alignment will activate the Moon in the NYSE horoscope. Even if the Jupiter-Neptune influence provides some lift to sentiment here, we are still likely to see some significant negative movements in the stock market.
For more details,