Bitcoin falls 50% in crypto crash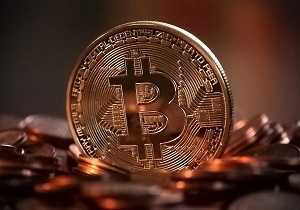 (20 May 2021)
The speculative mania in cryptocurrencies has suffered a body blow over the past week as the price of Bitcoin has fallen 50%. Bitcoin had traded as high as $60,000 in early May but briefly touched the $30,000 level on Wednesday. It has recovered somewhat today and is currently valued at $42,000. Other currencies like Ethereum and Dogecoin have followed suit as the air has suddenly gone out of the crypto balloon. As it happens, the troubles coincided with Elon Musk's much-anticipated appearance on Saturday Night Live on May 8. Musk is a big booster of crypto and his company Tesla even bought a large stake in Bitcoin and was preparing to accept payment for his cars in Bitcoin.
But things changed recently as Bitcoin's massive energy use and greenhouse gas emissions have become a lightning rod for criticism. Last week, Musk himself was forced to admit that Bitcoin's huge carbon footprint essentially disqualified it from becoming a viable alternative currency in its current form. Musk also backtracked on his promise to accept Bitcoin as payment for Tesla vehicles.
The stunning collapse is not surprising to financial astrologers, however. Last December,
I suggested that the rally in Bitcoin
could run out of gas in May as Saturn stationed in a near-exact 30 degree alignment with the natal Sun in the Bitcoin horoscope. While this is not a full-strength Vedic aspect, I have found that any exact 30-degree alignments can be powerful when a planet is stationing (i.e. reversing its direction). Saturn is due to turn retrograde on Sunday, May 23 at 19 degrees of sidereal Capricorn and thus highlights this middle and late May period as one that is heavily influenced by Saturn.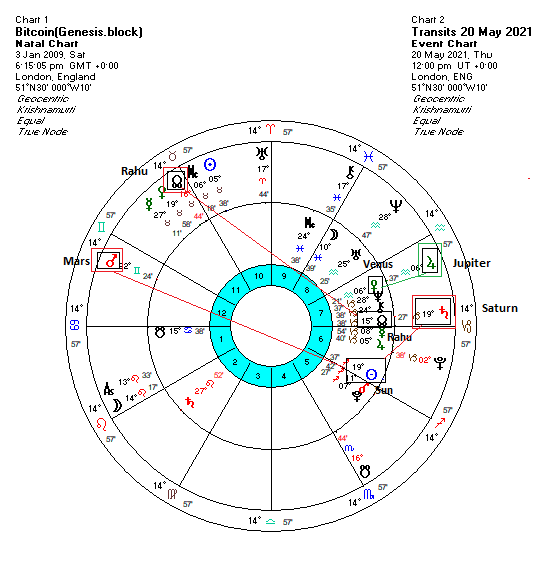 As we know, stationing planets become more powerful in their alignments so that benefics like Jupiter gain an extra capacity to deliver rewards and gains, while stations of malefics like Saturn carry an additional measure of hardship and loss. The affliction was intensified by the Mars opposition to the Sun and transiting Rahu's aspect to natal Rahu.
Interestingly, there is also a near-exact conjunction of transiting Jupiter to natal Venus at 6 Aquarius this week. While this is usually a very positive influence, I find that the negative effects of Saturn transits tend to outweigh the positive effects of Jupiter transits if they happen around the same time. That said, it is also possible to see today's big bounce back over $40,000 in terms of the mitigating effects of Jupiter on the Saturn-to-Sun alignment.
The future may bring more volatility for Bitcoin and the other cryptocurrencies. While some additional upside bounce is likely in the days ahead from that Jupiter-Venus conjunction, the month of June seems bearish as Mars will transit across the natal Ascendant and thereby oppose Saturn. July may be a more likely time for a stronger rebound as Jupiter turns retrograde and again conjoins natal Venus.
Weekly Market Forecast
Stocks have been choppy over the past week as persistent inflation concerns have undermined sentiment despite Fed assurances to maintain its asset purchases and keep interest rates at zero. After some early week selling, US stocks have rebounded over the past two days as the Sun approaches it alignment with Jupiter. As I noted last week, however, we are currently passing through a higher risk period around the time of the Saturn retrograde station. Therefore, rallies may be less likely to be sustainable in the near term, although short term bounces are still possible.
Next week could see some volatility as Wednesday's lunar eclipse looks bearish. Lunar eclipses are not always bearish but this one forms a close 45-degree alignment with Mars and thus we could see some violent or disruptive events shake financial markets. We could therefore see some down days next week, especially around the time of the eclipse.
For more details,