Dow hits new record as Congress passes Covid stimulus bill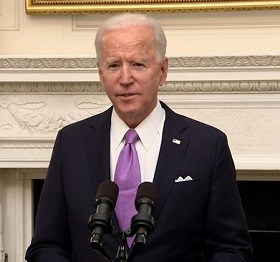 (10 March 2021)
US stocks rebounded strongly from last week's lows as Congress finally passed the $1.9 Trillion Covid stimulus bill today. President Biden is expected to sign it into law on Friday. This bullish outcome was not unexpected as I noted in last week's update that bullish Jupiter would likely assume a greater influence on sentiment this week. Stocks began their rebound when Jupiter conjoined Mercury last Friday (March 5). The market rallied further this week as Jupiter formed a 30 degree alignment with Sun and approached another 30-degree alignment with Neptune.
The month of March is shaping up to be a battle royale between bullish Jupiter and bearish Saturn. March began with some apparent additional fallout from the ongoing Saturn-Uranus alignment that was exact on Feb 17 -- just one day after the interim high on the S&P 500. But this week's rebound suggests that Jupiter may be gaining the upper hand over Saturn. Aside from the quick alignments with fast-moving planets like Mercury and the Sun, Jupiter's upcoming alignment with the slower-moving Neptune is potentially more powerful.
As a rule of thumb, alignments involving slower-moving planets have a greater effect than alignments involving faster-moving planets. Therefore, the exact Jupiter-Neptune alignment on March 20 hints at further upside later next week. We should also note that the 30-degree Jupiter-Neptune alignment could resonate with the 30-degree Uranus-Chiron alignment. Whenever planetary pairs have the same angular separation, their energies are more likely to resonate and reinforce one another. And with Jupiter involved, the amplification is more likely to be positive for stocks.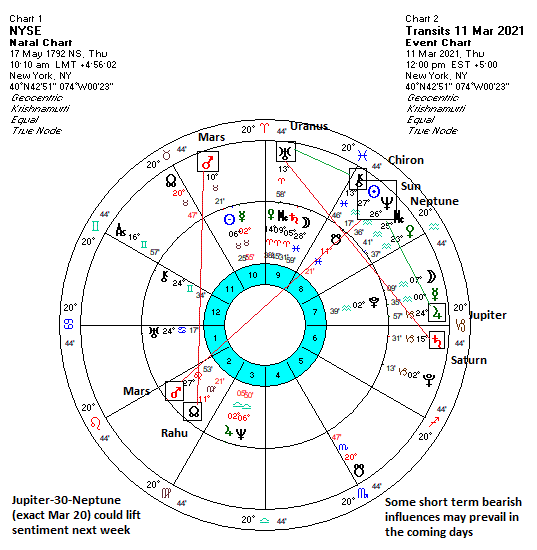 In the meantime, however, stocks may become more vulnerable to pullbacks. Last week, I noted the tense conjunction of Mars to the Ascendant of the S&P 500 horoscope late this week. We can also see some potential trouble in the 1792 NYSE horoscope. Mars forms an exact 120-degree alignment with Rahu (North Lunar Node) while the Sun-Neptune conjunction at 26-27 Aquarius occurs exactly opposite Mars (27 Leo). So a pullback may be in the cards.
For more details,