GameStop short squeeze roils markets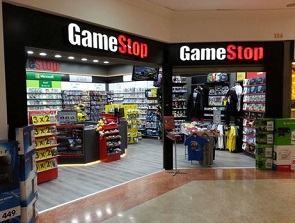 (27 January 2021)
Stocks tanked today as nervous investors headed for the exits amid the GameStop short squeeze. The video game retailer (ticker: GME) has become the focus of intense speculation in the past two weeks as members of the Reddit chatroom, WallStreetBets, co-ordinated a short squeeze against large hedge funds that had heavily shorted the stock, largely through the purchase of highly leveraged call options.
As a result of the explosive 20-fold rise in the share price, the older, established hedge funds have lost billions of dollars at the hands of mostly young, amateur traders. This generational David and Goliath story is taking place when the market is at all-time record highs, thanks largely to injections of Fed liquidity, QE asset purchases and near-zero interest rates. The unprecedented speculative frenzy is leading some observers to wonder if the current financial bubble is about burst.
There is also some worry on Wall St. that these hedge funds may now be at risk of insolvency. This raises the possibility of a systemic disruption in financial markets as the hedge funds are forced to sell other stocks in order to cover their losses. It is possible that part of today's decline may have been the result of this forced liquidation, although many investors may simply have decided to take profits and avoid any other potential turbulence in the days ahead.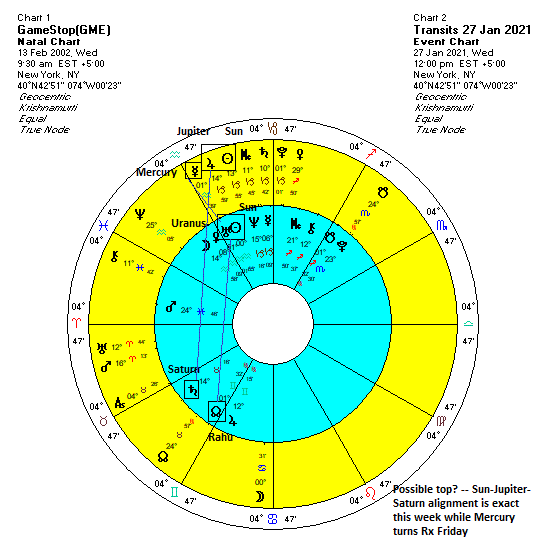 The horoscope of GameStop provides an interesting perspective on this epic short squeeze rally. While I don't know the exact time of its IPO, the first trade occurred on February 13, 2002. Not surprisingly, the chart is very bullish here. The Sun-Jupiter conjunction at 14 Capricorn forms a close 120 degree trine aspect to Saturn (14 Taurus). The condition of Saturn is doubly important in this chart since it is sign dispositor of all four of those Aquarius planets (Sun, Uranus, Venus, Moon). Basically, the positive Jupiter influence on Saturn is thereby 'distributed' back to the four Aquarius planets.
The other really positive influence this week is that Mercury (1 Aquarius) is exactly conjunct the natal Sun-Uranus conjunction, which is, in turn, aligned with natal Rahu (1 Gemini). Both Uranus and Rahu serve as amplifying planets to the core Mercury-Sun conjunction.
But the really unusual feature here that directed contributed to today's 130% gain is that Mercury is approaching its retrograde station and is moving very slowly. As a rule, slow moving planets around the time of their stations become more powerful, for good or ill. For benefic Mercury, the effect of the conjunction was therefore magnified. Mercury is due to turn retrograde at 2 Aquarius on Friday afternoon, just one degree past exact with Sun-Uranus. It's a very powerful configuration.
There are two potential problems for GME, however. The Sun-Jupiter-Saturn alignment will be exact tomorrow (Thursday) and will begin to separate. This suggests a reduction in positive sentiment could occur as soon as tomorrow. It could linger for a few more days perhaps, but most of its positive energy will be released this week.
Second, Mercury will move past its conjunction with Sun-Uranus by tomorrow. This also suggests a diminishing bullish influence. At the time of writing (Wed. evening), GameStop (GME) is already down sharply in after-hours trading. It is very possible that we have seen the top already and that it will decline further tomorrow.
Of course, once Mercury turns retrograde on Friday, it will again transit across the Sun-Uranus conjunction next week. This could provide another boost for the stock price, if only for a couple of days. But the declining positive energy next week from the Sun-Jupiter-Saturn alignment suggests that higher highs above 380 are less likely.
Weekly Market Forecast
Stocks have moved lower thus far this week. The bearish Sun-Saturn conjunction that I noted in last week's discussion of the S&P 500 chart is part of the reason, albeit it manifested a bit later than I expected. The Sun is now approaching its conjunction with Jupiter tomorrow. While this pairing is normally bullish, there is also a Full Moon tomorrow. Full Moons have a bearish bias, even if the statistical effect is fairly modest. There is also an ongoing square alignment with Mars which is another reason to keep an open mind about outcomes.
Tomorrow is also noteworthy as it will feature as Venus-Pluto conjunction. Again, this is normally a bullish pairing although this one comes with a caveat. The conjunction occurs at 1 Capricorn, which is the exact location of the south node of Saturn. Anything to do with Saturn is cause for some concern, so this putative bullish Venus-Pluto conjunction has a rather large asterisk. While I would not be surprised if we got a strong rally tomorrow and/or Friday, the influence of Saturn and the Full Moon introduces some uncertainty into the equation.
The outlook next week is mixed
at best
as the Sun-Mars square will likely bring some additional downside at some point.
For more details,