Trump finale: supporters storm Capitol to block EC vote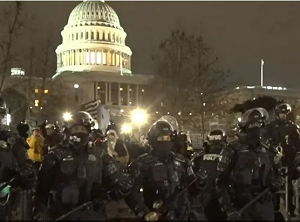 (6 January 2021)
Despite all hopes to the contrary, 2021 has basically picked up where 2020 left off. Today, supporters of President Donald Trump stormed the Capitol in Washington, DC and stopped the formal certification vote of the Electoral College. Following a fiery morning rally in which the President Trump claimed the election was stolen, protestors pushed through police barricades to occupy the Senate in an attempt block the Electoral College votes from being cast for President-Elect Biden. The EC vote was not completed and will resume later tonight in preparation for the Inauguration on January 20.
The shocking turn of events may be seen as an exclamation point to mark the end of the term of Donald Trump. The riot in DC overshadowed the Democrat win yesterday in both Georgia Senate seats which guaranteed Joe Biden a more comfortable path to enact his policies. Based on the approximated chart of Senate Leader Mitch McConnell, I thought the Republicans might have won at least one seat in the elections but it was not to be.
I now wonder if McConnell's relatively positive chart simply reflected his relief in being rid of this Trumpian headache. To his credit, McConnell did make a widely applauded speech today in defense of the Constitution and democratic norms against Trump's attempt to overturn the result.
Today's assault the pillars of US democracy is a possible expression of the conjunction of Mars (5 Aries) to Trump's 9th house cusp (6 Aries). Mars symbolizes conflict and struggle while the 9th house represents law and legal norms.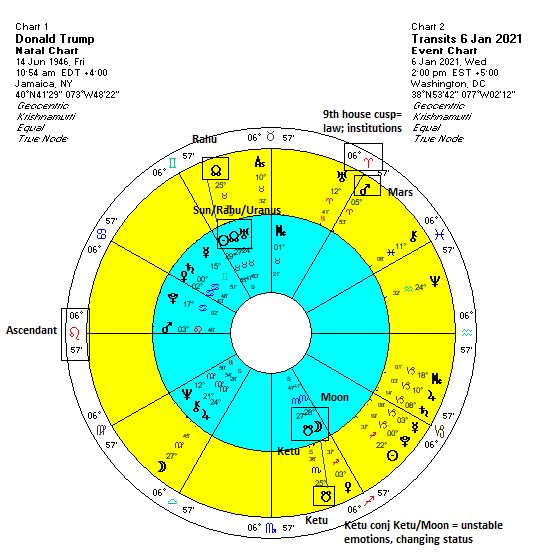 After the events in Washington, Trump has been denounced from all quarters. Ever the populist outsider, Trump's refusal to concede his election loss has greatly damaged his legacy and could have uncertain consequences in the months and years ahead. While Trump has brought even more scorn and contempt upon himself, it is unclear what lies in store for him after the presidency.
Trump post-presidency
Surprisingly, his horoscope suggests a possible uptick in his fortunes later in the year. Currently, Trump is running the Jupiter-Saturn dasha period. As I have noted previously, this Saturn minor period (Nov 2018-June 2021) was likely to be bad for him and was one important reason why he lost November's election. Saturn is a natural malefic, of course, and it is poorly placed in the 12th house of loss and sorrows in his chart.
The immediate post-presidency period looks difficult and carries a strong Plutonian energy. Saturn will station opposite his 12th house Pluto (= isolation, disappointment) in the spring while Ketu (South Lunar Node) will aspect his Pluto in April and May. This double affliction of Pluto suggests defeats through acts of power and coercion, possibly as a result of government action. It is therefore quite possible that Trump could be subject to legal charges at this time and could end up on the losing end of any court battles.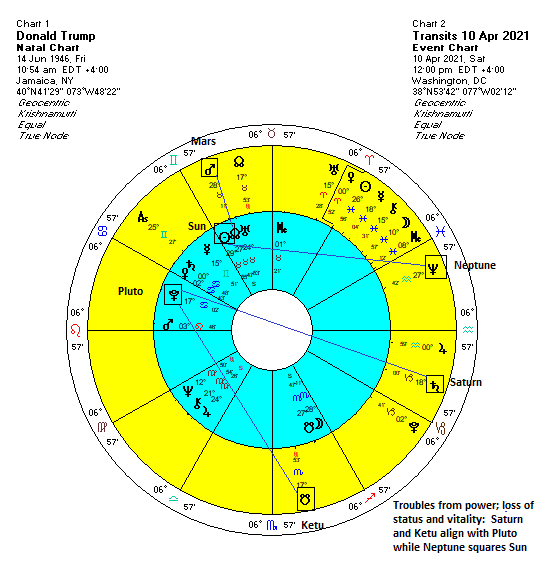 More worrying for Trump is that Neptune is due to station exactly square to his Sun (29 Taurus) in May and June. This transit usually brings unwanted outcomes, especially related to the Sun's significations -- status, power and health. Trump is therefore more likely to remain vilified and ostracized throughout this period. If there are legal procedures initiated against him in the first half of 2021, then he is likely to lose.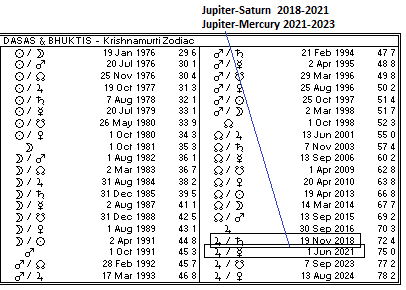 However, Trump's fortunes may improve during the summer, especially in September, October and November when transiting Jupiter (28 Capricorn) stations in alignment with his Sun. More generally, the Jupiter-Mercury dasha (June 2021-Sep 2023) is likely to bring gains in income and prestige since 1) Mercury is a natural benefic and 2) Trump's Mercury is very well-placed in its own sign of Gemini in the 11th house.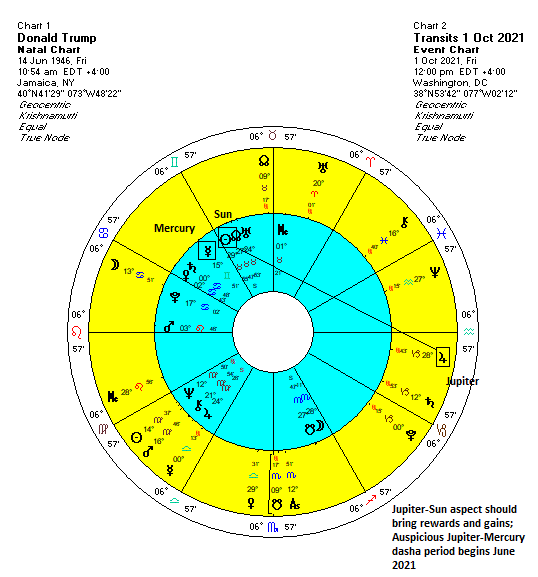 This is not to say that Trump can make some kind of stunning political comeback. Honestly, I don't know how it will manifest but the Mercury influence is clearly positive. It could simply mean that Trump manages to escape jail time and cashes in on his political fame through various lucrative book or broadcasting deals. That said, the Jupiter-Mercury influence means we also cannot rule out the possibility that Trump resurrects his political career somehow. Stay tuned, as they say.
Weekly Market Forecast
Stock markets kicked off 2021 in dramatic fashion. Monday's sharp drop in the US was followed by strong gains, even if today's rally was tempered by the chaos in Washington. This week's gains may well reflect the bullish alignment of Jupiter with Uranus and Chiron, even if Monday's sell-off was unexpected.
The bullish Jupiter influence could persist into next week, at least until Monday's Mercury-Jupiter conjunction. After that, sentiment may become more changeable. Mars and Saturn are due to align with Neptune and Rahu next week, while Mars is gradually approaching its January 20th conjunction with Uranus. Both influences suggest increased volatility and warrant increased caution.
For more details,