Bitcoin tops 50,000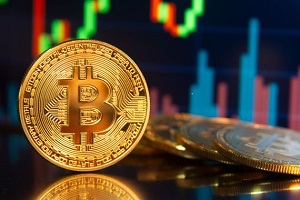 (17 February 2021)
Propelled by a recent endorsement by Tesla's Elon Musk, bitcoin has resumed its rally here in February, hitting a new record today of 52,000. The cryptocurrency is riding high these days as more mainstream companies like BlackRock and Mastercard are adopting bitcoin either as an investment or as payment. While Bitcoin has tripled in price since November, it remains to be seen if this is merely a speculative bubble or the beginning of a sustainable alternative to traditional fiat currencies.
The recent price increase is due, in part, to the favourable transit of Jupiter. The January pullback coincided with a close 60 degree aspect from Saturn to the natal Moon. Near the interim low in late January, bearish Saturn weakened as it moved past its aspect, and bullish Jupiter conjoined Rahu (North Node) and the 7th house cusp (14 Capricorn). Therefore, Jupiter was exactly opposite the most sensitive point in the chart, the Ascendant at 14 Cancer. This was a very good bullish set-up.
Today's exact Saturn-Uranus square has so far not generated any turbulence, despite being just one degree away from hitting the bitcoin Ascendant. Bulls should be careful in the coming days as the Saturn-Uranus square will stay in close proximity while retrograde Mercury backs into a near conjunction with Saturn. While Jupiter could continue to support sentiment, there is a risk of some downside over the next several days.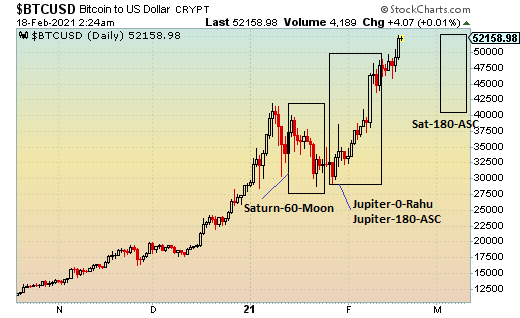 Some further upside seems more likely in early March as Jupiter aligns with the MC (Midheaven) at 24 Pisces as well as Chiron (24 Capricorn) and Uranus (25 Aquarius). However, Saturn's mid-March conjunction with Rahu and the 7th house cusp -- and opposition to the Ascendant -- looks more negative for bitcoin. The roller-coaster ride looks like it will continue.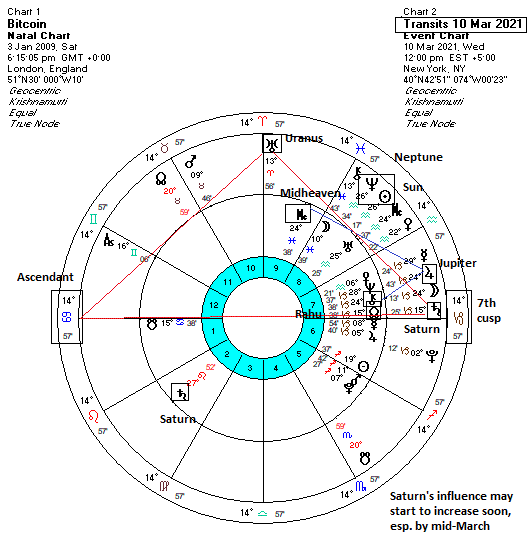 Weekly Market Forecast
Stocks have stayed mostly bullish in recent days although there are signs that the rally may be weakening. Of course, our focus here is on the potential impact of today's Saturn-Uranus square aspect. As I noted last week, this aspect is a generally bearish influence although timing its likely manifestations is not straightforward due to its protracted alignment through its respective retrograde periods across many months.
Nonetheless, there is a
prima facie
case for some imminent downside this week as the first Saturn-Uranus square in the sequence can exert a more immediate effect. Also, we should note the late week Venus-Mars square looks bearish and could well end up acting as a trigger for the Saturn-Uranus alignment. Next week's Mercury-Saturn conjunction is an additional bearish influence, especially with Wednesday's Moon-Saturn opposition.
For more details,