Stocks volatile on bond and inflation worries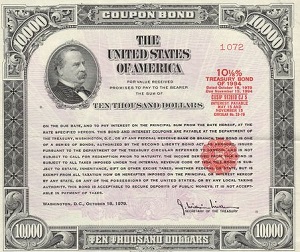 (3 March 2021)
Stocks are looking more vulnerable in recent days in the wake of last week's bond market scare. The yield on the US 10-year Treasury bond has remained elevated after the spike to 1.6% as investors are growing increasingly nervous about inflationary pressures. After the recent rally in commodities such as oil, lumber and copper, the bond market is starting to price in higher inflation as rising costs will be passed on to consumers. Bond buyers are therefore demanding a higher risk premium and this is pushing up interest rates at the long end of the curve. Significantly higher interest rates are the last thing the economy needs right now as highly-leveraged companies could soon find it difficult to service their debt.
The planetary influences look quite mixed here as we begin the month of March. The market is still off its mid-February high which coincided almost exactly to the Saturn-Uranus square alignment. The subsequent pullback was not unexpected although it is less clear exactly when the down trend will end. As I noted in an earlier post, previous Saturn-Uranus squares resulted in sizable declines of 10% and 25% in the days following the exact aspect. So it is definitely possible we could be on the verge of a larger pullback in the coming days.
However, there is a significant Jupiter influence here in early March which seems likely to coincide with some upside. Monday's sharp rise was a manifestation of this Jupiter influence as it approached it conjunction with Mercury and alignment with the Moon and Rahu (North Lunar Node). More bullish Jupiter energy is more likely to occur again late this week around the time of the exact Mercury-Jupiter conjunction.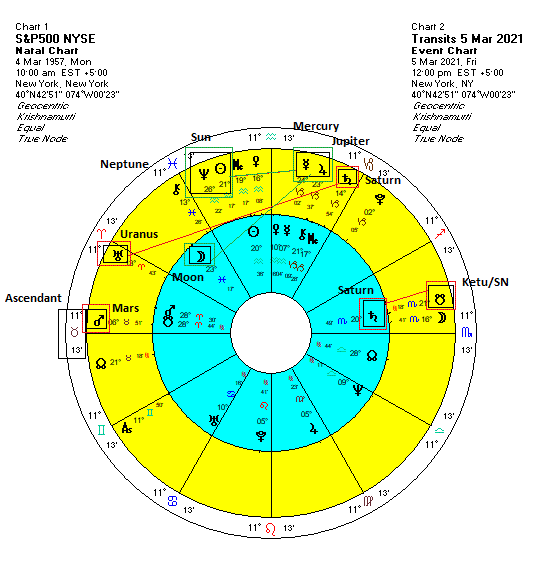 We can also see that Jupiter will align with the Sun and Neptune heading into next week. This is another largely positive influence which seems likely to correspond with some gains. In a way, we can say that Jupiter and Saturn are vying for dominance in early March. Saturn's bearish influence remains a force to be reckoned with as today's decline coincided with the Venus alignment with Saturn and Uranus. However, the ongoing proximity of Jupiter to Mercury, and then Neptune and the Sun next week, suggests that stocks are less likely to simply sell-off sharply from here. The tug-of-war between bullish Jupiter and bearish Saturn is therefore likely to continue for a while yet.
The horoscope of the S&P 500 Index reflects this very mixed picture. The Jupiter-Mercury conjunction forms a 60-degree alignment with the natal Moon later this week and argues for a recovery from today's selling. However, Ketu (South Lunar Node) is quickly approaching its bearish conjunction with Saturn at 20 Scorpio. This conjunction is essentially active now although since Ketu moves slowly it may not fully manifest for another week or two. Another potential warning sign is that Mars is approaching a conjunction with the Ascendant of the chart at 11 Taurus. Mars is usually a bearish influence, especially if it occurs when the chart is simultaneously afflicted by other malefics, as is the case here with Ketu to Saturn. For the record, Mars is exactly conjunct the Ascendant next Friday March 12. The tug-of-war continues.
For more details,