Gold falls below $1700 as dollar rallies on reopening hopes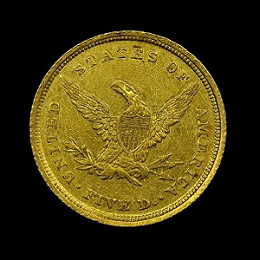 (31 March 2021)
It seems nobody likes gold these days. Bitcoin grabs all the headlines as it approaches $60,000, while gold has been in decline ever since its record high of $2089 last August. More recently, gold has trended lower as optimism surrounding the vaccine rollout and economic re-opening has bid up the US dollar and taken bond yields sharply higher. Typically, gold is inversely correlated with the dollar and long term yields.
This week gold retested its early March low of 1673 before rebounding today to $1715. Gold's weakness this week is a reflection of difficult planetary set ups. In terms of transits, both the Sun and Venus are under affliction by Saturn and Ketu (South Lunar Node).
As a general rule of thumb, the price of gold tends to fall when either the Sun or Venus comes under the influence of malefics such as Saturn or Ketu. Conversely, if the Sun or Venus is well-placed and associated with benefic planets like Jupiter or Mercury, prices tends to rise. As it happens this week, the Sun and Venus are closely conjunct in Pisces and thus both planets form bearish alignments with Saturn and Ketu.
In addition, the gold natal horoscope (Sep 12, 1919) lacks any strong bullish influences this week. In fact, there are some significant medium term bearish influences in effect here as transiting Saturn is opposite Jupiter-Neptune-Mars while Neptune is opposite the natal Sun-Venus conjunction.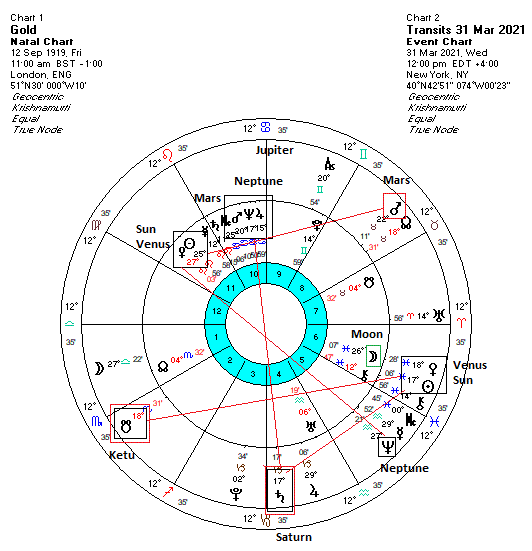 In the near term, it's a mixed picture. Next week, we can see that the Sun and Venus will conjoin with the natal Moon (26 Pisces) while Mars will aspect the Sun-Venus conjunction in Leo. The Mars influence looks negative, especially since it will activate the ongoing Neptune opposition. However, the Sun-Venus conjunction with the Moon should bring some upside.
Looking a bit further ahead, it is hard to see gold rallying strongly as long as Saturn is opposite the natal Jupiter-Neptune-Mars conjunction. This Saturn influence could be a persistent headwind for gold, perhaps until it turns retrograde on May 23. That said, Jupiter's entry into sidereal Aquarius (April 5) should improve the outlook somewhat in April but it may not be enough to power a significant rally just yet.
Weekly Market Forecast
US stocks remain near their all-time highs this week with the announcement of the Biden infrastructure plan. The early week pullback did reflect a bit of the bearish energy of the Saturn aspect on the Sun and Venus, although the pullback was more modest than expected. Stocks rebounded yet again today as Jupiter's bullish influence was activated through its alignment with Mercury and Neptune. Next week looks less favourable, however, as Mars squares Neptune.
For more details,