Stocks rally on bipartisan infrastructure deal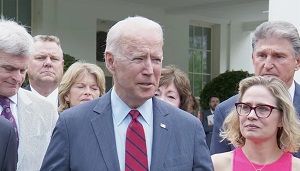 (24 June 2021)
Stocks pushed to new all-time highs today on news of an agreement on a pared-down Senate infrastructure deal. President Biden threw his support behind the bipartisan deal but added that he would only sign it if the Democrats' ambitious reconciliation bill is also passed in the coming months. Investors welcomed the more concrete evidence of fiscal stimulus to keep the recovery going as special Covid unemployment benefits are now ending in a number of states.
We can see the outlines of this legislative success fairly clearly in Biden's horoscope. Jupiter stationed retrograde this past Sunday, June 20 at 8 Aquarius. This set up a very helpful alignment with his Moon (8 Aries), Uranus (9 Taurus) and Ascendant (10 Scorpio). The Jupiter station is much more powerful (i.e. positive) than a simple Jupiter transit since it has no forward motion for approximately 5-10 days. Therefore, it resonates with the natal planet for much longer than would otherwise be the case.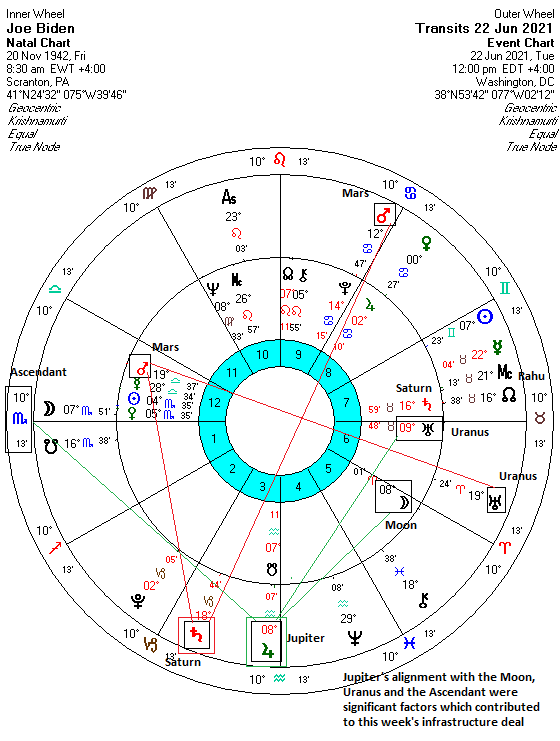 But now that Jupiter is retrograde, the beneficial effects of this alignment may well weaken in the coming days. This suggests that Biden is more likely to encounter more challenging situations where outcomes may be less to his liking. And since the president's horoscope is a stand-in for the country as a whole, we could infer the possibility of less constructive events unfolding as we head into July.
As I have noted previously, we still await the July 1 T-square alignment involving Mars, Saturn and Uranus. This is a tense configuration involving two natural malefics, Mars and Saturn. One malefic planet in a three-planet pattern would tilt towards negative outcomes, but two malefics significantly increases the likelihood of negative outcomes, both in terms of probability and in scope.
Moreover, we can see that the Mars-Saturn-Uranus pattern sets up on Biden's natal Mars (19 Libra). This looks like a very stressful time that is likely to involve some kind of major hardship or conflict or perhaps even a military-type action. Biden's chart is further burdened by the conjunction of Rahu (16 Taurus) to his natal Saturn. Saturn rules the 3rd and 4th houses in his chart and therefore there is an increased risk of some kind of interruption or damage involving transportation (3rd house) or natural disasters (4th house). Biden himself may come under intense pressure or stress.
Weekly Market Forecast
While this week's Sun-Jupiter aspect was tilted in favour of the bulls and suggested some upside, the extent of the gains has been surprising. Next week seems likely to be another story, however, as the Mars influence on Saturn looks bearish.
For more details,