September arrives with stocks at all-time highs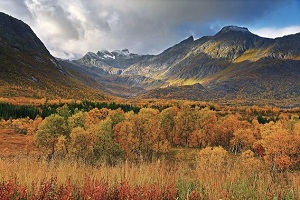 (7 September 2021)
As the summer holiday season yields to the more sobering winds of September, financial markets await a new catalyst. Buoyed by an accommodative Fed and the prospect of the economic re-opening, stock markets have moved higher over the past several months with few significant interruptions. While valuations may be becoming stretched by conventional measures, most investors are reluctant to sell given the absence of any viable alternatives with interest rates pinned near zero.
And it's hard to blame them. Inflation may be at its highest level in ten years but that is of little concern for the Fed since it has pre-emptively declared that inflation is "transitory". Even though the cost of housing and food continues to spiral upwards, Fed Chair Jerome Powell is in no hurry to reduce emergency QE asset purchases, let alone actually raise interest rates. Powell needs to keep the liquidity taps turned on full if there is to be any chance to reduce unemployment back to its pre-pandemic levels, no matter how high inflation may rise. Stock markets have mostly accepted this logic and have tagged along for the ride.
The current planetary picture offers some insights into this bull market rally. Despite a mixed session today following Labor Day, some clear bullish energy is evident in the close Jupiter-Pluto alignment. This 30-degree alignment has been tightening over the past few weeks and is one important reason why stocks have generally melted higher. The strength of this bullish pairing has even neutralized most bearish aspects, including the fairly close Saturn-Rahu aspect. While assessing the relative influence of potentially offsetting aspects is more art than science, a glimpse into the Nasdaq horoscope provides another window on this matter.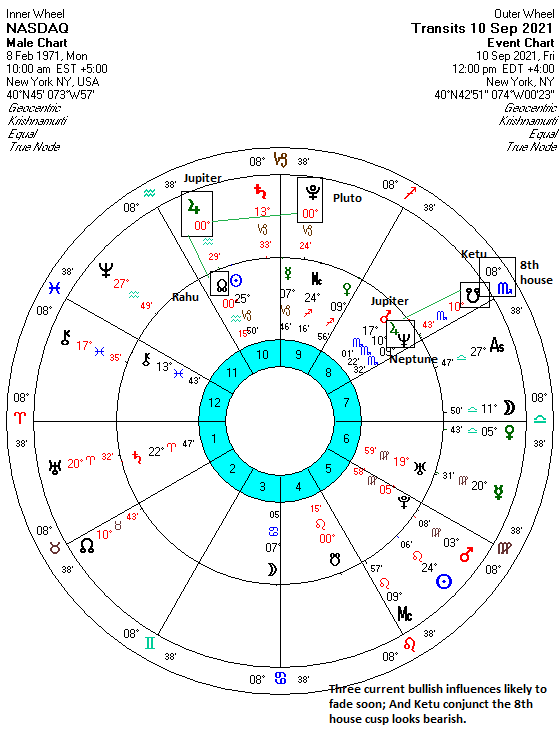 One reason why the Jupiter-Pluto alignment may have outweighed all other potentially offsetting aspects is that it is activating some key points in the Nasdaq chart. First, transiting Jupiter (0 Aquarius) is conjunct natal Rahu. This is a very bullish pairing since Jupiter's bullish influence is usually magnified by Rahu (North Lunar Node). This is even more likely to be the case since natal Rahu is well-placed in the 10th/11th houses in conjunction with the Sun.
While the lunar nodes (Rahu, Ketu) are considered natural malefics in Vedic astrology, any involvement with Jupiter is more likely to convert them into positive influences. And this is perhaps more likely to be the case here since Jupiter is aligned with Ketu (South Lunar Node). This amounts to a double amplification of Jupiter's bullish energy.
Interestingly, transiting Ketu (11 Scorpio) is approaching its conjunction with natal Jupiter (10 Scorpio). This is another potentially bullish influence that may partially explain the relentless rally in stocks, especially in large cap tech stocks. While spiritual Ketu is a less reliable bullish influence on prices than materialistic Rahu, the involvement with Jupiter here nonetheless tilts the scales in favor of positive outcomes.
But the question, of course, is how long will this rally last? Here the planets offer some useful clues. First, we know that the ongoing Jupiter-Pluto alignment will peak this Friday, September 10. Typically, bullish Jupiter alignments tend to lose their bullish energy shortly after this exact peak, often within days. However, this reversal dynamic can vary significantly depending on other factors.
Also, we can see that transiting Jupiter will begin to separate from its bullish conjunction with natal Rahu next week as it slips back into Capricorn. While it will remain in close bullish conjunction, this is likely to be a waning influence in the coming days. And it is much the same story with transiting Ketu. Ketu (True Node) will conjoin natal Jupiter late next week but it will begin to separate in subsequent days. This will likely be another diminishing source of bullish sentiment. Moreover, we can see that transiting Ketu will conjoin the very malefic 8th house cusp later in September. This conjunction looks more bearish, especially with Neptune in close proximity.
All three of these bullish Jupiter influences are therefore very close to their peaks. This suggests that the available bullish energy may become less readily available as we go deeper into September and October. The carefree days of summer may soon be behind us.
For more details,