China stocks plunge after government tightens regulations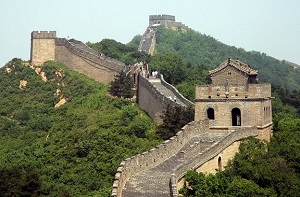 (29 July 2021)
Stocks have fallen sharply in China and Hong Kong this week after the government tightened regulations governing education, real estate and technology firms. The Shanghai Composite Index had fallen by as much as 7% by Wednesday although it managed a modest recovery today. Bonds and the yuan also sold off as investors rushed to the exits as the CCP sought to assert its ultimate control over the freewheeling private sector. While many Western stock markets are trading near record highs, China's market peaked in February and has trended lower ever since.
The decline comes as some analysts have expressed concern about a possible bubble in China's property market as government stimulus and lax lending practices have pushed prices to new highs. While Beijing has a keen interest in keeping its economy humming along, it may be sacrificing the stock market here in order to push the yuan lower. A lower yuan makes exports cheaper and would be one way to generate future economic growth.
We can see the contours of this week's sell-off in the horoscope of the Shanghai Stock Exchange (December 19, 1990, 9.30 am). The Ascendant (13 Capricorn) is under severe stress this week from the conjunction of transiting Saturn and the 120 degree aspect from Rahu (North Lunar Node). Saturn has been within close range of the Ascendant for several months and is one reason why Chinese stocks have been mostly bearish in 2021.
Saturn's malefic impact was likely triggered by the approaching opposition aspect of the Sun and Mercury. Although Saturn is still three degrees from an exact conjunction with the Ascendant, faster-moving planets like the Sun and Mercury typically act as a catalyst for the release of Saturn's bearish potential. In addition, we can see that the Rahu-Ascendant aspect is within just one degree and therefore also partakes in some of that triggering energy of the Sun this week. The Mars-Jupiter opposition is an added burden on this chart as it aligns exactly with the natal Mars at 5 Taurus.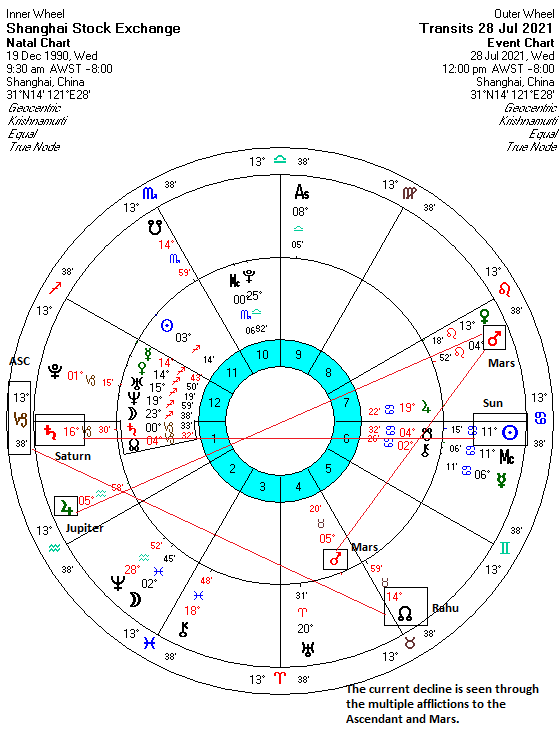 Based on this chart, the outlook for Chinese stocks is challenging. Over the next two months, retrograde Saturn will continue to back into a more exact conjunction with the Ascendant. Saturn is due to station direct in early October at 12 Capricorn -- just one degree past the Ascendant at 13 Capricorn. Rahu will also close in on a more precise aspect during August. Overall, it seems likely that stocks in Shanghai will remain under pressure for some time yet. The immediate future is mixed as Mercury is due to oppose bearish Saturn early next week which may again negatively activate the Ascendant. However, the lessening of the Mars affliction suggests some chances for a rebound.
Market Forecast for week of August 2-6
US stocks have been mixed so far this week. While we did see some early week selling, the Fed carefully avoided any surprises yesterday. I thought we might have seen some downside given today's Mars-Jupiter opposition but so far markets still look mostly bullish. As I noted in last week's post, however, the negative effects of the Mars-Jupiter opposition are usually extended across several days at least. Therefore, it would be premature to assess its impact after just one day.
Next week could see some further volatility, especially early in the week as the Sun and Mercury oppose Saturn. However, the second half of the week may be more positive as Mercury aligns with Venus.
For more details,