Trump organization indicted for tax fraud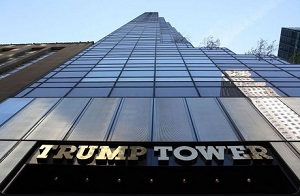 (1 July 2021)
Donald Trump's fortunes have taken a turn for the worse. The organization that bears the name of the former US president was indicted for tax fraud this week by the New York district attorney. On Thursday, the Trump organization CFO Allen Weisselberg pleaded not guilty to the charge. Since Donald Trump was not named in the indictment, he is unlikely to be subject to direct punishment, however.
While Trump has denounced the investigation as a political witch hunt, it seems likely to damage his reputation and could hamper any potential presidential run in 2024. Political betting markets now have Florida Governor Ron DeSantis pulling ahead of Trump as the favored GOP nominee in 2024, 29% to 26%.
This most recent setback for Trump is reflected in his horoscope. In a
January post, I suggested
that the first half of 2021 could be quite difficult for him, especially between April and June, and that legal troubles were possible. He was running an underwhelming Jupiter-Saturn dasha period while Saturn stationed retrograde exactly opposite his 12th house Pluto in May. In addition, Ketu aspected his Pluto at the same time while Neptune squared his natal Sun (29 Taurus). As it happens, Trump's Jupiter-Saturn period actually ended on June 1 according to the Krishnamurti ayanamsha which I generally favor, although it ends in July with Lahiri. It is quite possible that Trump likely knew of the coming indictment several weeks ago, perhaps closer to the time of the Saturn Rx station on May 23.
From the chart, we can see that all of those afflictions are still within range as Saturn, Ketu and Neptune haven't moved much in recent weeks. We should also note that today's indictment coincided with Mars' conjunction with his natal Pluto, thus creating a very powerful opposition with transiting Saturn.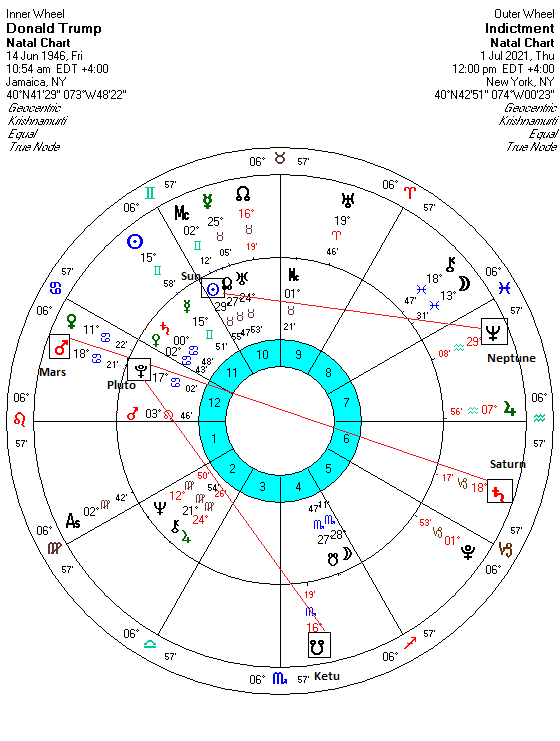 Looking ahead, I think Trump could remain on the defensive for the rest of July. Minor dasha lord Mercury will transit the 12th house and will conjoin Pluto (along with the Sun) opposite Saturn on August 1. At the same time, Mars will conjoins his Ascendant and oppose transiting Jupiter. This could signify an impactful event that may resolve his legal situation one way or the other. Given the active alignments, outcomes are unlikely to be positive. Now just what this may represent is harder to say. Weisselberg may be found guilty or could take a plea bargain for a lesser charge. A plea bargain would be potentially worse for Trump since he could flip and implicate Trump directly.
While it doesn't look good, I still think Trump's fortunes are likely to improve starting in August and especially in September and October. On the whole, the Jupiter-Mercury dasha period is quite positive for the next two years or so, especially since Trump's Mercury is very well-placed in its own sign in the 11th house of gains. Also, transiting Jupiter will station in a close 120 degree alignment with his Sun (and Rahu and Uranus) in October. This suggests a significant boost in his status relative to the preceding period. So in the event that Trump loses the indictment case in the summer, he is likely to avoid any worst-case scenarios because of this beneficial Jupiter transit. Alternatively, it could coincide with a major new political or business opportunity for him. I would definitely not count him out.
Weekly Market Forecast
Stocks have remained in their summer melt-up mode for yet another week as inflation fears have receded. I had thought we might have seen more volatility this week given the rare Mars-Saturn-Uranus alignment. Thus far, this pattern hasn't produced much of anything as trading volumes fall in advance of the July 4 holiday. One possible explanation for the absence of any negative outcomes is that Chiron is forming a 60-degree angle with Saturn. Since Chiron does not form a more malefic hard angle (90,180 degrees) with Saturn, it may be having a softening effect on the whole configuration.
Despite the absence of any bearish developments this week, the alignment still carries some downside risk as we head into next week. Venus approaches its conjunction with Mars (bearish bias) and thereby opposes Saturn on Tuesday. While further upside would not be surprising later in the week, the month of July overall seems increasingly vulnerable to declines as Saturn aligns closely with Rahu (North Lunar Node).
For more details,