Gold falls 5% after strong US jobs report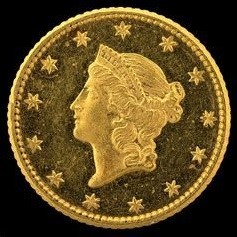 (9 August 2021)
Judging from the sudden drop in the gold price in the past two sessions, it seems Newton's Third Law of Motion also applies to financial markets: for every action, there is an equal and opposite reaction. Gold prices have plunged more than 5% since Friday's strong US jobs report as traders factored in an early start to the Fed's taper of QE asset purchases. A strengthening economy is generally bad news for gold since higher inflation expectations translate into less Fed stimulus and thus a higher US dollar.
Until recently, gold had been enjoying a bounce since its March lows and had tagged its 200 DMA at $1810. But the sharp sell-off saw prices retest their March lows at $1675 in overnight trading before recovering in Monday's session to $1726.
We can see a possible planetary explanation for the decline using the horoscope cast for London on September 12, 1919 at 11.00 a.m. A quick look reveals sources of both short term and longer term afflictions. For the short term, transiting Mars (12 Leo) was exactly conjunct the natal Mercury-Saturn conjunction. This was the likely immediate cause of the sharp two-day decline as Mars usually is a malefic influence.
That said, the somewhat bullish Venus-Neptune opposition could have mitigated some of today's sell-off as Venus was just past its conjunction with natal Venus at 27 Leo. This Venus influence may have been one reason why price rebounded sharply from the overnight low of $1675 to $1728 during the day session.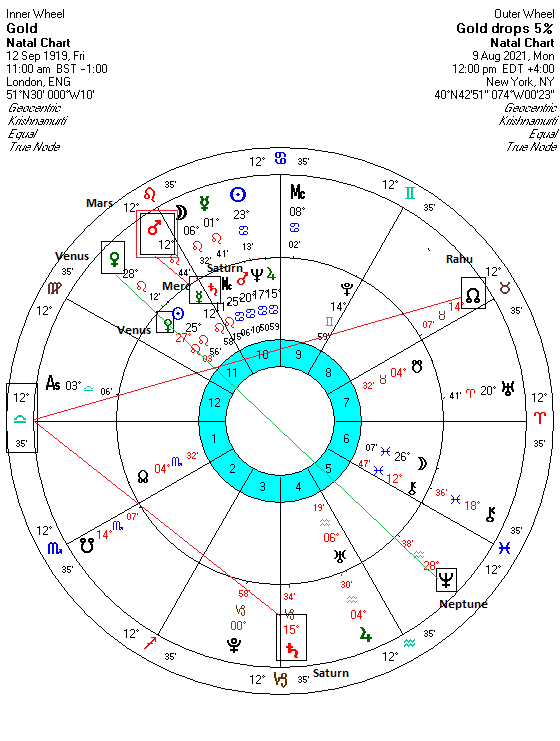 But the longer term influences also likely had a hand in the proceedings as both Rahu and Saturn are within range of the 8th and 4th house cusps, respectively, as they align fairly closely with the Ascendant at 12 Libra. Both Rahu and Saturn are slow-moving planets which may only exert their influences intermittently, such as when there is a third, faster-moving trigger planet like Mars in the mix.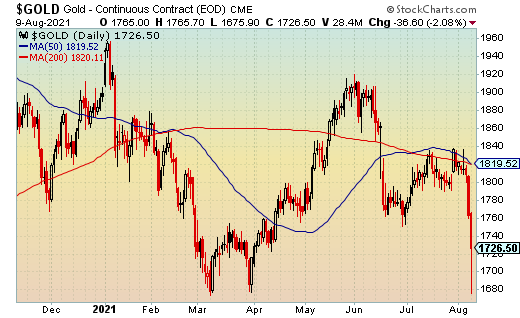 The outlook for gold seems mixed. While the Mars effect may be largely on the wane now, both Rahu and Saturn will remain near those sensitive areas in the gold chart for another month or two. This could make it difficult for gold to stage a significant recovery. Saturn is due to station direct on October 10 at 12 Capricorn -- exactly atop the 4th house cusp. Once Saturn begins to move away from this point after October 10, gold may be in a better position to rally.
Weekly Market Forecast
Stocks remain in their summer melt-up mode here as investors are counting on the Fed to keep the liquidity party going as long as possible. Of course, the indexes are long overdue for a pullback but no one can be sure when it will come.
This week could see a little spike in volatility as Mars first aspects Ketu (South Lunar Node) and then proceeds to align with Saturn late in the week. The other potentially significant development this week is that Venus is due to enter sidereal Virgo on Wednesday. The annual four-week transit of Venus through Virgo, its sign of debilitation, tends to be bearish, although there can be bullish exceptions if Jupiter is strong. It is worth noting that the day of ingress (Wednesday) needn't be bearish in itself as the effects typically manifest when there are other negative alignments in effect.
For more details,