Stocks fall on possible Biden tax hike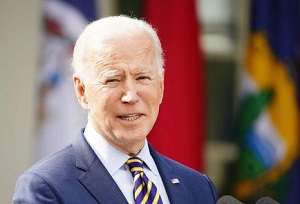 (14 September 2021)
After their relentless summer rally, US stocks have trended lower in recent days as investors have begun to factor in the possibility of significant tax hikes needed to pay for the ambitious $3.5 Trillion Biden budget proposal. While it is far from clear if the proposal will pass the Senate in its current form given the Democrats narrow majority, markets generally don't like taxes as they directly impact the corporate bottom line which is the key driver of stock prices. This market weakness is not too surprising given the current major planetary alignments that I outlined last week.
Stocks started selling the day after the Labor Day holiday while Jupiter was approaching its closest alignment with Pluto. I thought we might have seen a bit more upside last week from the bullish entry of Venus into Libra on Monday, September 6. But while some international markets were up on Monday, any positive influence was already largely spent by the US opening on Tuesday. The theoretical maximum of the bullish influence occurred on Friday, September 10 but stocks drifted mostly lower that day. Since both Jupiter and Pluto are slow-moving planets, their moment of maximum influence should be understood as a multi-day window rather than one specific day.
As Jupiter is now separating from its 30-degree alignment with Pluto, there may be less bullish sentiment to keep a bid under stocks. In addition, Saturn seems likely to become more powerful in the near term as it approaches its 45-degree alignment with Neptune.
While neither of these alignments conform to standard aspecting rules in traditional Vedic astrology, they nonetheless are worth watching. Saturn alignments with outer planets like Neptune are often bearish in their influence, especially when either planet is near a planetary station. That is very much the case here as Saturn is backing into its direct station slated for October 10.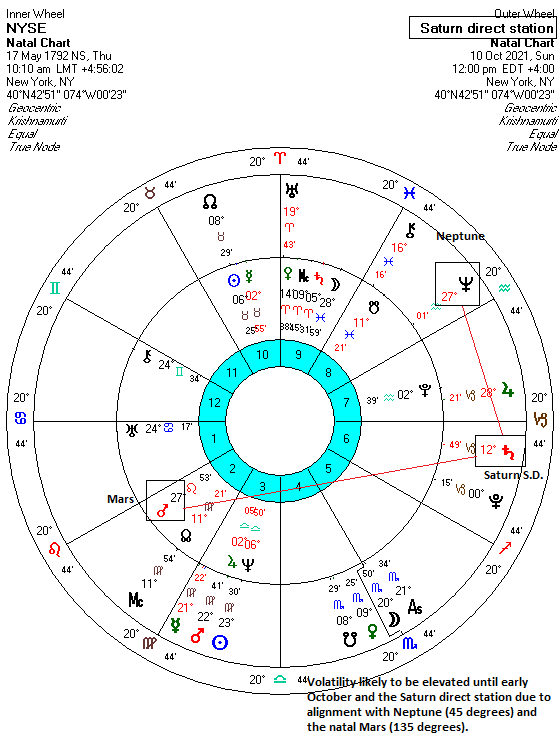 And if we examine the NYSE horoscope, we can see the pessimistic Saturn influence is also likely to be further heightened. Saturn is due to end its retrograde cycle at 12 Capricorn and this will form an exact 135-degree alignment with the natal Mars in the chart. Since both Mars and Saturn are malefic planets, there is a higher likelihood of declines around the time of the direct station in early October.
The periods near Saturn stations -- both direct and retrograde -- aren't always bearish but the odds shift significantly towards the bears whenever it aligns closely with another planet.
Therefore, the next few weeks could see some increased volatility.
Caveat Emptor.

For more details,